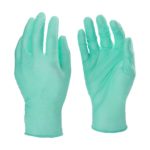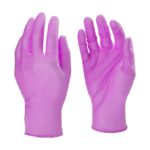 Why Nitrile Aloe Vera Coated Gloves?
One of the main reasons health care workers are not following the procedures is their skin is dried out, chapped and cracked from frequent hand washings. Called contact dermatitis, this condition affects millions of health care workers around the country. This condition is exacerbated by the cold, dry air of winter.
If the skin is uncomfortable, you don't want to put gloves on or wash your hands because you know your hands are going to get dry and irritated, but it's part of the job and you have to do it.
Dry-coated AV (aloe vera) gloves that provide for gradual delivery of AV gel to skin, produced a uniformly positive outcome of improved skin integrity, decreased appearance of fine wrinkling and decreased erythema in the management of occupational dry skin and irritant contact dermatitis.
| | |
| --- | --- |
| MATERIAL | 100% NBR (synthetic rubber) |
| POWDER CONTENT | POWDER-FREE |
| COLOR | ROSE PINK, GREEN |
| THICKNESS | 4 mil |
| CUFF STYLE | STRAIGHT |
| EXTERNAL GLOVE SURFACE | SMOOTH WITH MICRO-TEXTURED FINISH |
| INTERNAL GLOVE SURFACE | ALOE VERA COATED |
| ALLERGY PREVENTION | DOESN'T CONTAIN LATEX |
| GRIP LEVEL | MODERATE |
| DOUBLE GLOVING RECOMMENDATION | OUTER GLOVE |
| TESTED FOR USE WITH CHEMICALS | YES, IN ACCORDANCE WITH EN374-1 TYPE B (K,P,T) |
| FREEDOM FROM HOLES (INSPECTION LEVEL I) | 1.5 AQL |
| STERILE | No |
SIZE

CODE

100 pcs per box; 10 boxes per carton/case; 1000 pcs per carton/case

S

MX9967-ALOE-S

M

MX9967-ALOE-M

L

MX9967-ALOE-L

XL

MX9967-ALOE-XL