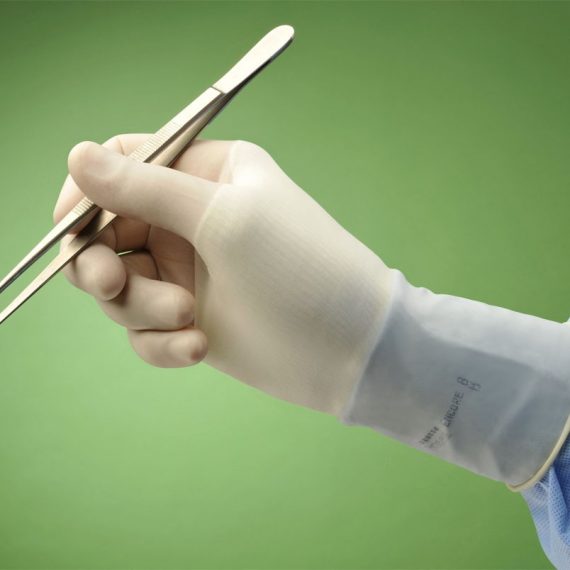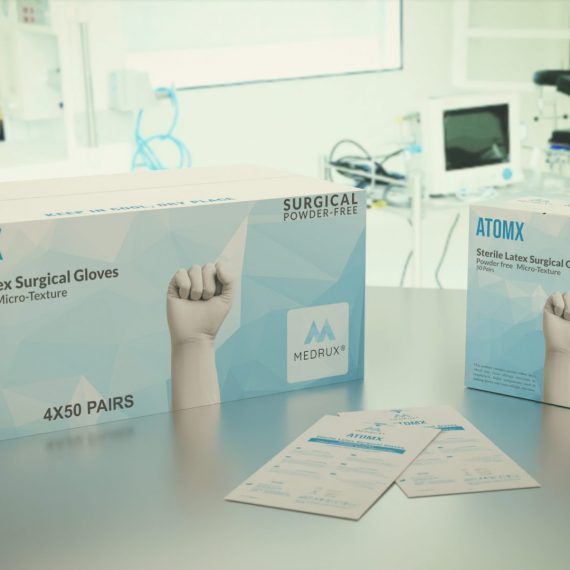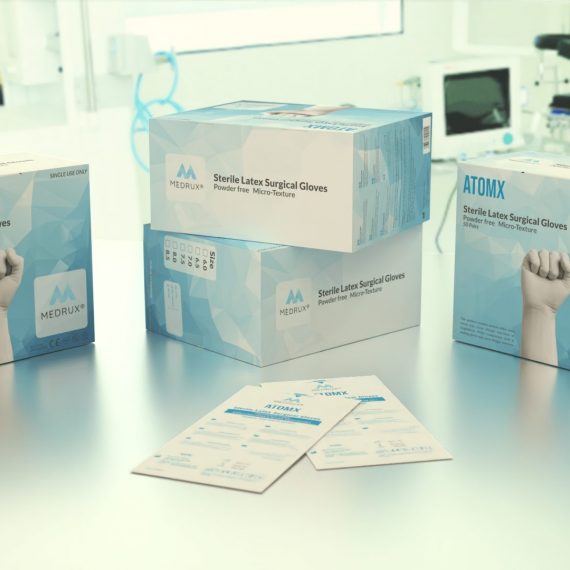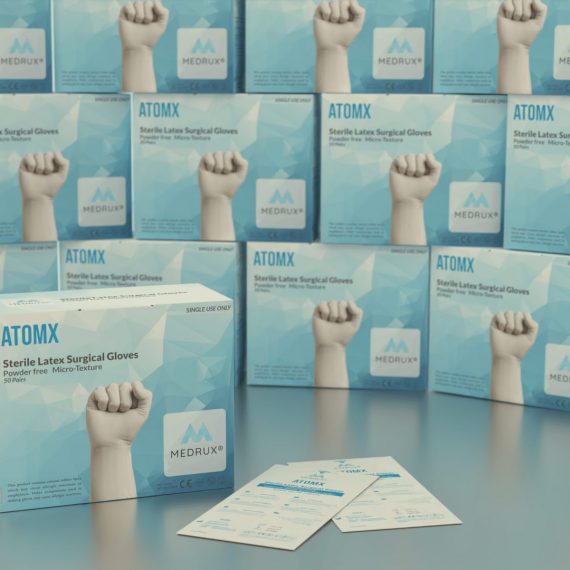 Latex Surgical Gloves, Sterile
$210.00-$210.00
Superior Peformance
The approach taken in meeting the heathcare professionals' increasingly stringent quality requirement is reflected in the outstanding feature of ATOMX® Powder Free Latex Surgical Gloves.
Being powder free, the gloves provide freedom from powder induced allergies, adhesions and granulomas in addition to eliminate the need to wash or wipe gloves before a surgical procedure. Our proprietary manufacturing process ensures that the gloves contain the lowest level of allowance latex protein claim thereby minimizes potential skin allergic reaction related to Type I sensitivities.
The gloves are further characterized by low or undetectable level of chemical residue which reduces the risk of irritant or allergic contact dermatitis (Type IV allergic reactions).
Description
The primary purpose of surgical gloves is to act as a protective barrier to prevent the possible transmission of diseases between healthcare professionals and patients during surgical procedures.
Differences between surgical gloves and medical examination gloves (the type of gloves found in bulk containers in clinical examination rooms) are:
Manufacturers of surgical gloves are required to meet a higher level of quality standards
Surgical gloves are sterile and individually packaged in pairs
Surgical gloves have a more precise range of sizing than medical examination gloves.
Medical examination gloves help prevent contamination between caregivers and patients. These gloves are used during procedures that do not require sterile conditions, for example drawing blood for a blood test. Some of these gloves can also protect the wearer from harm caused by dangerous chemicals or pharmaceuticals.
Download ATOMX Surgical Gloves spec sheet here.
Special Features
Extra strength provides additional protection from surgical debris
Fully anatomical design to reduce hand fatigue
Softness provides superior comfort and natural fit
Micro-roughened palm surface provides excellent wet and dry grip
Beaded cuff makes donning easy and helps prevent roll back
High strength and elasticity
Packaging
Carton contains 4 boxes.
50 pcs of pairs of gloves per box.
Main Applications
Surgery
Medical
Chemo drugs handling
Chemical handling
Product Conformance
Medical Device: in compliance with European Medical Device Directive 93/42/EEC (CE Class I)
EN 455-1:2000, EN 455-2:2015, EN 455-3:2015, EN 455-4:2009
ASTM D3578
Quality Assurance
ISO9001 Quality Mangement System
EN ISO13485 Quality Management Systems
How To Avoid Skin Irritation From Surgical Gloves
Non-powdered gloves are less irritating and drying than powdered gloves. US-FDA rules to ban powdered surgeon's gloves, powdered patient examination gloves, and absorbable powder for lubricating a surgeon's glove, take effect in the USA in January 2017.
If wearing occlusive gloves for more than 20 minutes, use well-fitting cotton gloves beneath them to reduce irritation caused by sweating (1).
It is important that hands are washed thoroughly after glove removal.
Practice a consistent hand care regimen.
Additional information
| | |
| --- | --- |
| Weight | 6 kg |
| Dimensions | 54.5 × 27.5 × 25.5 cm |
| color | White |
| material | Latex |
| type-of-packing | Carton |
| quantity-per-case | 4 Boxes |
| size | 6, 6.5, 7, 7.5, 8, 8.5 |