The Dentist's Experiences with Accelerator Free Gloves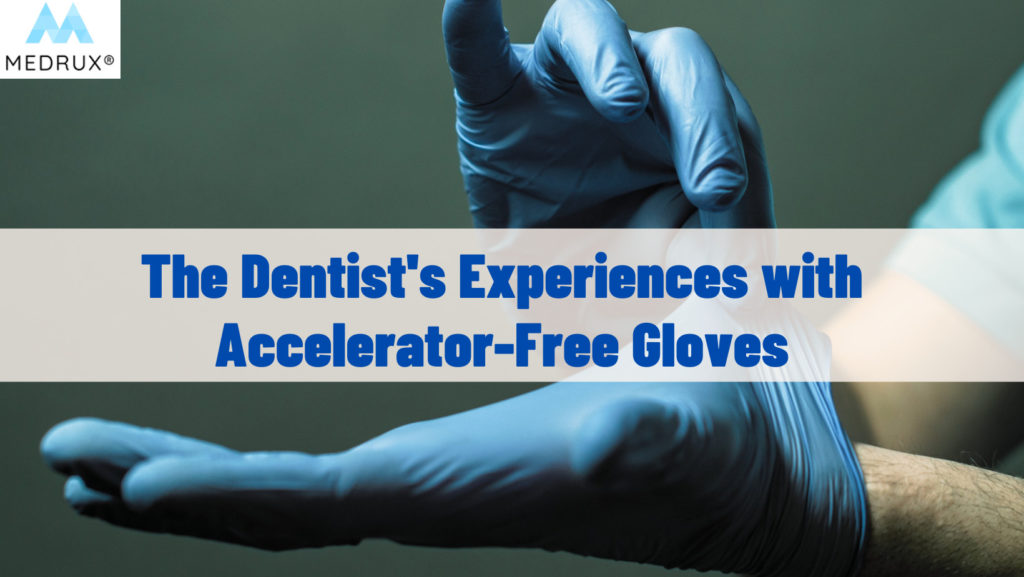 This article is going to be some documentation based on my personal experience.
I am a dentist but also fond of writing. So here I am, writing a few thoughts on gloves.
Gloves are an essential part of a dentist's daily routine.
But we sometimes forget how essential it is to pay careful attention to the material, fit, and quality.
All my colleagues and I initially tried old-fashioned latex disposable surgical gloves.
However, each day after wearing them, I started to experience skin redness and irritation.
After a while, I began to use the famous nitrile glove, as it is promoted as the best kind for a dental practice.
Nitrile gloves are superior all-purpose gloves that are latex-free and suitable for various applications.
Unfortunately, I have a terrible memory regarding this type of material.
I had never imagined that I could also be allergic to nitrile or other rubber gloves. So, today, I'm going to take you on my journey to understand why this happened. 
Besides, I need to find an adequate glove type for me now.
Then, all you need to do now is relax and read slowly. 
Hopefully, you will find it enjoyable.
Can You Be Allergic to Nitrile Gloves?
When considering allergies in the disposable glove world, natural rubber immediately comes to mind.
Skin diseases compose up to 35 percent of all occupational diseases, with contact dermatitis the problem in most cases. 
In 2005, the Society for Investigative Dermatology and the American Academy of Dermatology reported that contact dermatitis was associated with more than 9 million physician office visits, costing more than $1.4 billion on treatment [1].
In the 1990s, synthetic polymers were used to develop a simple solution to this problem [2].
This new material would have the properties of natural rubber but without the protein allergens that provoked allergic reactions in some users.
For this reason, Nitrile gloves were created.
It is not common to develop a skin allergy to nitrile.
However, if you are allergic to latex gloves, you should be aware that any symptoms caused by the chemical additives in nitrile gloves are likely to occur. 
What Causes Nitrile Allergy?
Contact dermatitis is usually caused by an allergic reaction to the rubber accelerators used to manufacture nitrile gloves.
I will explain more about accelerators but let's first know about the production mechanism of these gloves.
More info accelerator Free Gloves
Liquid nitrile is refined and coated onto a ceramic form before curing to create an elastic polymer in the desired shape to make nitrile products.
This process is called vulcanization.
Vulcanization is a chemical process in which the rubber is heated with sulfur, accelerator, and activator at 140–160°C.
The elastic polymer is then chlorinated inside and outside before being finished to meet the requirements of the intended cleanroom environment or general laboratory use.
Manufacturers have been trying to develop better and more efficient production methods for gloves. 
For this reason, the vulcanization process is intended to decrease the time needed for a glove to cure, reduce the cost of the overall material, give the material a softer feel, and generally provide the customer with an affordable high-performance product.
In the end, due to the increased competition, manufacturers have added accelerators or additive chemicals used as catalysts for these gloves.
What are those Accelerators?
Accelerators are the chemicals used in the glove manufacturing process to stabilize the molecules and help to make gloves more durable and elastic.
As we stated, vulcanizing agents are mainly sulfur or other sulfur-releasing substances such as dithiocarbamates.
They serve to cross-link or polymerize synthetic or natural rubber, as we previously mentioned. 
Then, to speed up the otherwise prolonged process of vulcanization between the rubber and the vulcanizing agent, accelerators are added.
Here are some examples of accelerators used in nitrile glove production include [3]:
| | | |
| --- | --- | --- |
| THIURAMS | THIAZOLES | DITHIOCARBAMATES |
| Tetramethylthiuram Disulphide (TMTD) | Zinc Mercaptobenzothiazole (ZMBT) | Zinc Dibutyldithiocarbamate (ZDBC) |
| Tetramethyl Thiuram Disulphide (TMTM) | Mercaptobenzothiazole (MBT) | Zinc Dimethyldihiocarbamates (ZDMC) |
| Tetraethyl Thiuram Disulfide (TETD) | Benzothiazyl Disulphide (MBTS) | (ZDEC) Zinc Diethyldithiocarbamates  |
| | Zinc Mercaptobenzimidazole (ZMBI) | (ZPMC) Zinc pentamethylene Dithiocarbamate  |
| | | Zinc Pentamethylene Dithicarbamate (ZPD) |
Three leading accelerators cause contact dermatitis: carbamates, mercaptobenzothiazole (MBT), and thiurams.
Thiuram accelerators cause over 50% of reactions, carbamates cause about 30%, and mercaptobenzothiazole (MBT) only causes 1-5% of responses [4].
In addition to these types of allergies, some factors could be involved in developing any kind of allergic glove reaction, such as:
Heat exposure, wetness, and moisture can make the skin more susceptible to inflammation.

Friction from rubbing your hand against the gloves can aggravate the inflammation.
Nitrile Glove Allergies Symptoms
Then, how did I know that I'm allergic to nitrile gloves?
Studies reveal that approximately 30% of occupationally induced skin diseases are attributed to chemical allergies [5].
It's pretty evenly split: about 10% of people who wear nitrile gloves are allergic to them, while 10-15% develop a nitrile rash. 
So, if you're considering switching to nitrile gloves, do a patch test first! 
The symptoms of allergic contact dermatitis usually become apparent on hands at a point of contact within two days of glove use. 
Then, what is allergic contact dermatitis?
Allergic contact dermatitis is an allergic skin reaction similar to eczema of the skin. 
Nitrile glove allergy, they are considered "Type 4" allergies. 
Also called cell-mediated or delayed allergies occur when T-cells are activated and produce inflammation in the affected area. 
Type 4 allergies are not antibody related but are a type of white blood cell response.
Notably, allergy symptoms include the following [6]:
This is usually the first symptom that appears due to an allergic response.
It comes in the form of redness on the skin with white raised bumps that may severely itch.
Mostly, hives can be treated by washing the area with mild soap and water, then using hydrocortisone cream on the area of your skin.
You may need to see a doctor for treatment if your symptoms persist.
This is the medical term for swelling, which is the enlargement of organs, skin, or other body parts.
In this case, continued exposure to such irritants typically leads to the convergence of the hives into one big rash. 
Then, a rash may be accompanied by swelling of the hands. This makes the skin on your hands feel tight and irritated. 
In the same way, we try the previously mentioned management. You can also try using a mild, hypoallergenic soap. 
 Seek medical care at a doctor's office or hospital if this does not improve.
In more severe situations, prolonged exposure will cause the skin to crack. Sadly, if sweat runs over your cracked skin, it might burn and sting.
In addition, the cracks could bleed or even become infected if not treated properly.
This kind of reaction necessarily requires immediate medical attention.
Bottomline:
While a nitrile gloves rash can be uncomfortable, it's usually not severe and will go away within a few days. 
It is possible to have other type of symptoms for this type of allergy, including lesions, blisters, and ulcers, besides dry skin. 
If you are not sure whether you are allergic to nitrile gloves, then it's essential to see a doctor.
So, a physician can test you for allergies and provide you with the appropriate treatment.
Meanwhile, how to avoid an allergic reaction to such material?
Accelerator Free Gloves
If you're one of the people who suffer from allergies like me, you should inspect that nitrile gloves can be a real problem. 
The good news is that there are ways to prevent an allergic reaction to nitrile gloves in the first place. [7]
Accelerator-free gloves are developed with a technological capability that eliminates the use of accelerators, powder, and latex, all of which are common causes of allergic reactions.
For this reason, they are a solution to the growing number of cases of type IV allergies.
They are explicitly manufactured from a blend of synthetic copolymers formed by the combination of acrylonitrile and butadiene. 
Furthermore, they are safer for use by those with sensitive skin and are more durable than traditional nitrile gloves.
Benefits of accelerator-free gloves
They will help to reduce the number of professionals who suffer from skin irritation caused by factors other than latex. 
With various options available, switching to accelerator-free gloves will allow people who are allergic to chemicals to keep on working comfortably. 
This will also reduce treatment costs and limit the use of external staff when regular staff members cannot work.
Key Features:
Proven to protect against chemical and biological penetration

Highly durable.

Tested to resist permeation from chemotherapy drugs.

Extraordinary puncture and tear resistance.

Excellent level of grip for max dexterity.

Beaded cuff for easy donning.

Ambidextrous for use on both hands.

Available in the form of one box with 200 pieces.
Standards and certifications of accelerator-free gloves
Accelerator-Free Gloves are tested and proven to protect against chemicals and biological agents for safe use in medical and laboratory environments. 
These are the European Standards that regulate the requirements for workplace safety gloves that protect against various hazards. 
Unfortunately, EN standards can be a little confusing, regardless of your level of expertise in the field.
Therefore, this guide was created to explain the intricate details of the standard.
EN 455-1

(Freedom from Holes)

EN 455

(Standard for Medical Gloves)

EN 455-2

(Physical Properties)

EN 455-3

(Biological Evaluation)

EN 455-4

(Shelf-Life Determination)

EN 374 (Standard for Chemical Resistance)

EN 374-1

(Protective Gloves Against Chemicals and Microorganisms)

EN 374-5

(Terminology and Performance Requirements for Microorganism Risks)

ASTM F1671

(Standard for Resistance to Viral Penetration)

EN 388

(Standard for Mechanical risks and Stresses)
What is EN 455?
EN 455 is the European standard measuring the quality and strength of gloves used in the medical industry. 
Gloves must pass four separate tests before they're considered safe to be used for medical practice. 
These are as follows: 
Part 1: Testing Gloves for Freedom of Holes
This involves a watertight test being conducted to assess how strong the gloves are when filled with one liter of water.
An acceptable quality level or AQL rating of 1.5 is the limit for gaining accreditation under EN 455-1. 
Most gloves will gain 1.5; however, some specialist gloves will reach 1.0 or even 0.65.
N.B:
(the lower the AQL number, the higher level of quality the gloves have).
Part 2: Tests for Physical Properties
This test involves testing the force required to break the glove fabric down. 
Whether nitrile, latex, or vinyl, this is a vital step for guaranteeing freedom from infection, virus transmission, and the transfer of potentially harmful bacteria. 
The test places stress on the gloves to measure the point at which it will break. 
| | |
| --- | --- |
| Type of Glove | Force Needed to Break (Newtons) |
| Surgical Gloves | 9.0 Newtons |
| Rubber Gloves (inc. Latex) | 6.0 Newtons |
| Thermoplastic Gloves (Vinyl) | 3.6 Newtons |
Part 3: Tests for Biological Evaluation
This ensures that your hands are protected against irritation and flare-ups. Part 3 also contains 4 different tests designed to guard against irritation and allergic reactions. 
The tests are as follows: 
Chemical Residues:  A test is conducted to understand the levels of chemical residue left on the glove by the manufacturer.
Latex: This test is carried out to discover latex protein levels in a glove. The higher the level, the higher the chance of irritable skin.
Powder: A level that exceeds 2 mg per glove is the maximum powder content threshold for a powdered glove.
Endotoxin: The endotoxin level must be below 20 EU per pair of gloves for sterile gloves (EU = Endotoxin Units).
Part 4: Determination of Shelf Life
This test ensures that the glove will not degrade while in transit, a warehouse, or awaiting use.
So, it specifies that medical gloves can only be stored for up to 5 years, which is the maximum shelf life for a glove.
What is EN 374?
Chemical safety gloves must meet the requirements of European standard EN ISO 374-1. 
This standard has undergone fundamental changes in terms of certification.
Part 1 (Terminology and performance requirements for chemical risks) contains essential modifications:
Expansion of test chemicals from 12 to 18

Omission of beaker glass for "water-resistant safety glove with low protection against chemical risks."

Standardization of types of gloves into types A, B, or C

Modification to labeling on the product: Pictogram of Erlenmeyer flask with differing numbers of letters for test chemicals depending on the type
Gloves that bear the EN 374 symbol will be marked with symbols to represent the chemicals they protect against and details of their resistance to microorganisms.
What is ASTM F1671?
Whether examining patients, handling medical waste, or testing blood in a laboratory, you need reliable gloves to prevent the spread of disease.
This test measures the resistance of materials used in protective clothing to penetration by blood-borne pathogens using a surrogate microbe under conditions of continuous liquid contact. 
Gloves should undergo rigorous testing to determine their resistance to viral penetration and are rated accordingly.
What is EN 388?
Safety gloves that carry the EN 388 symbol protect hands against mechanical risks, including those associated with handling rough or sharp objects that could harm skin, such as glass, thin metal sheets, and masonry blocks.
So, this refers to a standardized way of testing the extent to which a glove can protect you against four different hazards. 
These are:
Abrasions

Cuts

Tears

Punctures
Although many gloves still follow the EN 388: 2003 guidelines, the standard was revised in 2016 to add two new elements to the test. 
These are:
Straight blade cut resistance

Impact protection
Therefore, for new gloves, you could see up to six numbers and letters.
An example of this would be: 4 4 1 2 D P, which would correspond to the following results:
| | |
| --- | --- |
| Resistance | Performance Level |
| Abrasion Resistance | Level 4 |
| Circular Blade Cut Resistance | Level 4 |
| Tear Resistance | Level 1 |
| Puncture Resistance | Level 2 |
| Straight Blade Cut Resistance | Level D |
| Impact Resistance | Passed |
Other Alternatives
If these gloves are unavailable, then you would probably use nitrile gloves but with different perspectives.
Here are some tips for you: [8]
Wash your hands before putting on nitrile gloves. This will remove any irritants that may be on your skin.

Avoid using lotions or creams before putting on nitrile gloves. These can act as an irritant.

Avoid using nitrile gloves if you have any cuts or open wounds on your hands. 

If you have a cut or sore on your hand, cover it with a bandage before putting on nitrile gloves. This will protect the wound from further irritation.

Remove nitrile gloves instantly after you finish your task. 

Avoid touching the inside of the glove with your bare skin.

Wash your hands thoroughly after removing nitrile gloves. 

If you experience an allergic reaction, remove the gloves carefully and seek medical attention.

You can always seek to use other kinds of hypoallergenic gloves. 
There are also a few "DON'Ts" to follow too: [9]
Wear gloves for too long.

Wear latex gloves, especially if you have a latex allergy.

Use powdered gloves; they are likely to cause contact dermatitis.

Wear wet gloves, and do not wear gloves while your hands are wet

Use perfumed soap, harsh soaps, and detergents.
But, if prevention wasn't enough, then quick management and home remedies could help you a little.
Here are a few things to try at home:
Cold Compress for 10 -15 minutes.

Applying Natural oils such as coconut oil, vitamin E and honey.

Lukewarm Baths or Oatmeal Baths help to relieve the pain.

Baking soda baths or paste help to reduce inflammation and also have antifungal properties.
Are Rubber Gloves Marketed as Accelerator-Free gloves?
By now, I had tried to fully comprehend the main points about accelerator-free gloves and how to choose them.
Unfortunately, I have found this study that was made to confirm whether these gloves are truly free from accelerators, as claimed on the market.
Despite advertising that claimed the contrary, study results found that at least one accelerant was detected in all tested gloves. 
A thiuram, dipentamethylenethiuram disulfide, was discovered in all 16 gloves. 
Half of the gloves, which means 8 of 16, contained more than one accelerator, with one glove containing five rubber accelerators.
This was a huge bummer for me.
However, I believe it is not the end, and manufacturers will do more research to improve these gloves or others.
Finally, to obtain high-quality products, always purchase protective gloves from trusted and well-known sellers.
Conclusion
Because the skin is an essential barrier to bloodborne pathogens and disease, individuals with broken skin are more likely to get infections and other diseases.
Therefore, gloves are essential protective gear for several industries.
Gloves are designed to protect your skin from harm, infection, and injury while performing certain tasks and daily chores.
However, if you have been wearing a specific type of glove for a long time, your hand may develop rashes and become itchy after wearing them as usual.
For this reason, switching to hypoallergenic and skin-friendly gloves is the trend.
These gloves are made specifically to minimize all types of common allergic reactions. 
Even those who do not have allergic contact dermatitis should consider using an accelerator-free glove or any other non-allergic material.
Because prevention is fundamental, it is critical to limit your exposure whenever possible.
 Eventually, the glove business has been growing at a rapid pace. 
This progress aims to continue providing us with the most comfortable and safe gloves possible.