Know the Features and Uses of Nitrile Coated Gloves Now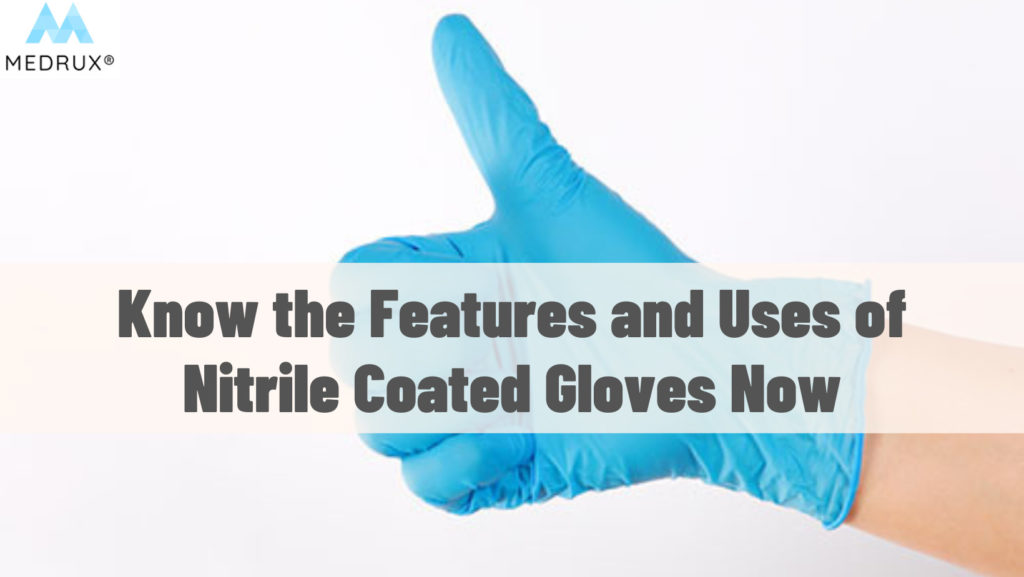 Reusable work gloves are a sort of personal protective equipment (PPE) that is meant to save the user's hands and fingers from unnecessary wounds such as cuts, blisters, splinters, skin punctures, or heat and chemical burns.
Work gloves are typically worn during work to cover and protect the hands from the wrist to the fingers. 
They may also be known as safety gloves, supported gloves, or protective gloves.
These gloves vary in material type depending on the work environment.
Numerous types of work gloves are available due to the various hazards and conditions encountered by various professionals. 
Therefore, the type of glove required by a professional will be determined by the nature of the task.
However, manufacturers did their best and developed coated work gloves for superior protection and optimal tool handling. 
One of these is famous among workers known as the nitrile-coated glove.
Because these gloves are reusable, you should invest your money in a high-quality pair.
In this article, we will explain more about nitrile-coated gloves, which are the main topic for today.
Besides, there will be lists of their uses and most essential features.
All you have to do now is relax and try to read slowly.
Hopefully, you will find it enjoyable.
Let's start now with the first question.
What are Nitrile-Coated Gloves?
First of all, what is Nitrile?
Well, nitrile is a synthetic rubber copolymer of acrylonitrile and butadiene.
So, Nitrile gloves are made of nylon knitted gloves that are coated with Nitrile Butadiene Rubber or (NBR) on the entire palm. 
If I am not mistaken, Nitrile-coated work gloves are very famous and are generally worn by workers in different industrial fields.
This is because nitrile is an incredibly versatile material for manufacturing gloves that provide exceptional grip and protection from various hazards.
These gloves are ideal for various industries and applications, from construction to handling to chemical resistance.
Moreover, they can have different designs of coating, either fully or partially coated, according to the purpose they are made for.
As well as offering the protection you require, there is also a large selection of sizes and styles, so you can find suitable gloves for you.
Who needs Nitrile-Coated Gloves?
Nitrile-coated gloves offer a less expensive alternative than leather or palm gloves.
Besides, this synthetic version of latex is perfect for people who suffer from allergies.
Workers can perform their duties while remaining efficient and confident. Moreover, they have also developed the name construction gloves.
These gloves are lightweight and provide superior performance in various applications and industries.
There are several applications where it may be beneficial to use these gloves rather than other types.
So, examples for some uses are as follows:
Masonry Construction work

Automotive applications

Box Handling 

Agriculture or farming jobs

People working in Mechanical Engineering 

Electronic Assembly

other industries involving Machinery

Gardening landscaping Yardwork

Household logistic warehousing

Fishing and hunting

Handyman services

Painting

Home improvement DIY
What are the defining features of Nitrile-Coated Gloves?
Glove-coating is critical for revealing many of the glove's qualities and providing a variety of character traits that affect grip and dexterity.
These gloves provide excellent puncture, cut, snag, abrasion, and tear resistance—up to three times more than those natural rubber latex-coated gloves.
Furthermore, Nitrile coatings are more chemically resistant and thus can withstand oils, fuel, and some industrial liquids.
Nitrile, on the other hand, is not very heat resistant; nevertheless, it did perform well in a temperature range of -4 °C or (25 °F) to 149 °C or (300 °F).
Why choose Nitrile-Coated Gloves?
As previously mentioned, work gloves were traditionally made of leather or a thick, bulky material that hindered dexterity and tactile sensation.
Because of this, work gloves with a synthetic rubber coating have become very popular and are used worldwide. 
The traditional cotton liner gloves, with a nitrile coating, have a higher nitrile content, making the glove less flexible but long-lasting and more puncture-resistant.
Notably, these gloves are comfortable to wear for all-day and very easy to use.
They are generally bought to ensure that your hands get the delicate use you need.
Besides, there are many other benefits of nitrile-coated gloves, which we tried to put in a list below:
Protection from cuts, punctures, chemicals, hazards

Precision assembly

Handling tools in both dry and wet conditions

Reduce hand fatigue

Dexterity, Grip, and Durability 

Ideal for machinery tasks involving your hands
How do Nitrile-Coated Gloves get manufactured?
Let's start with a look at the history of glove technology and how the industry has already developed into a new era.
History of Coated Work Gloves Manufacturing:
Previously, creating coated gloves was complex, labor-intensive, and fraught with issues.
In general, the development of glove technology can be divided into two major periods: 
Before coated gloves and after coated gloves. 
There are two basic manufacturing mechanisms for coated gloves. 
Here you are:
Dipping fabric liners into glove polymer compounds or assembling the glove from coated fabric pieces.
Initially, significant scientific progress was achieved in three areas: Knitting, manufacturing, and polymers.
Therefore, this eventually led to the growth of flat dip technology, which is currently used for creating coated gloves.
This new tech originally appeared on the scene in Japan.
Hence, with time, other methods became inferior to this revolutionary advance.
Ultimately, with the development of flat dipping technology, consumers were provided with an improved and excellent version of the glove.
Understanding Flat Dip Technology:
Recently, Flat dip technology has been manufacturers' most common coating tech.
This technology, in essence, refers to a precise fabrication method in which gloves are placed on molds.
These molds or formers, made of porcelain or metal, are in the shape of variously sized hands and are mounted on a fully automatic machine with a rack.
These molds are covered with knit or woven cloth gloves and dipped into a polymeric suspension.
This polymer coating covers the hands from the palms to the sides of the fingertips.
Then, the glove is dipped into a Nitrile polymer coating to make this type.
This step is different from other glove coating methods because of the even distribution of the coating and the accuracy with which it is applied.
For this reason, this advanced technology of dipping gloves results in a seamlessly coated glove that provides superb comfort and durability.
There are three alternative methods of dipping gloves:
The former or mold is dipped into a coagulant solution and then into the polymer suspension.
The viscosity of the polymer suspension is increased so that fabric penetration is controlled by immersion. 
Following the first dipping, additional dipping can be used to increase the thickness of the polymer layer.
The former is fitted with a liner, heated to 60 °C or 140 °F, and then immersed in a polymer suspension.
When the former is heated, it creates a thermal gradient across the fabric, which allows the polymer to penetrate only the surface before the heat converts the compound to gel.
In the end, dipped gloves are typically dried and vulcanized in a hot air oven. 
Vulcanization is the process of hardening a polymer.
If you are interested in more about the glove manufacturing process in general, check these links 1, 2
Types of Nitrile Glove Coatings (Coating Styles)
As we mentioned, these gloves can be fully or partially coated in areas like the palms, fingers, or back.
Full Dip:   covers the entire hand up to the lower wrist

¾ Dip:      covers the entire palm, fingers, and knuckles

Palm Dip: covers the entire palm and tips of fingers
Also, glove coatings are available in different textures that affect your grip.
Then, how do you know which is right for you?
Let's make it easy for you and explain each one below.
Gloves with a flat nitrile coating are tough and durable, with good abrasion and puncture resistance. 
However, they are not recommended for intricate assembly work as they are less dextrous than other nitrile coatings. 
Flat nitrile-coated gloves work well in several lightweight industries as they stand up well to oil, grease, and liquids.
Applications may include food Packaging, warehousing, construction, furniture manufacturing, electronics, petrochemical, automotive, glass manufacturing, metal fabrication, and construction.
The Nitrile coating can also be available as a 'foam' nitrile.
Foam Nitrile is created by taking flat Nitrile and whipping it into a foam. 
It is often used as a palm coating.
This type of coating has a spongy feel which is better with oily surfaces.
Furthermore, this sponge-like surface soaks up oils, displacing them without compromising grip strength.
It also allows the hand to breathe, meaning improved comfort for wearers. 
However, it is essential to test them in the liquid you will use.
Because testing gloves before use will help you determine if foam Nitrile gloves are best for your job.
So, it is more suited to be used in these applications such as material handling, wiring, durable goods assembly, and Machining operations.
Micropore Nitrile Gloves:
Micropore nitrile gloves are also created from flat nitrile. 
But this is a thinner version of the foam nitrile.
The manufacturing process for Nitrile micro-foam gloves is done by dipping them in nitrile and then spraying them with a shower to create a foaming effect. 
Micropore is a technique that leaves gloves with distinct little bumps and divots in their nitrile coatings. 
These divots create a suction effect that aids in delivering exceptional grip.
This is perfect, especially when working with oils, and unlike foam Nitrile, it does not absorb liquid.
Moreover, these pores also increase breathability and dexterity to minimize hand fatigue. 
However, the open pore structure of foam nitrile can become saturated when subjected to heavy oil and liquids.
For this reason, they are more suited to be worn in dry or light-oil environments.
Finally, their applications may include electronics manufacturing, maintenance, automotive assembly, and packaging.
Sandy Nitrile Coated Gloves
The manufacturing process for Sandy nitrile gloves is done by dipping in nitrile, then micro-foam nitrile, followed by salt.
Thus, they are washed to remove the salt, which reacts with the foam to create a sandy feel.
Sandy Nitrile is pretty rough to the touch, leading, of course, to be well-known for its high abrasion resistance.
It is also more elastic and form-fitting compared to other nitrile coatings. 
Therefore, these gloves are an excellent choice for chemical protection in oily situations and are very good in wet environments.
Please check our articles for other oil-resistant gloves and types of chemical-resistant gloves.
Back to the sandy nitrile glove, a utility glove ideal for general light- to medium-duty tasks.
Finally, it can be used in many different applications, such as:
Construction & Utility

Manufacturing & engineering

Waste management

Maintenance

Oil & Gas 

Warehouse work

Gardening

Automotive assembly

Plumbing

Home Improvement
Are there any other types of glove coatings?
There are some other well-known coated work gloves.
Many coating materials are available, including nitrile, latex, PU, PVC…etc.
Some gloves are coated with a combination of two materials, like PU-Nitrile Coating.
PU-nitrile coating is highly preferred and used in all-purpose gloves.
It is important to note that each has its merits, which you choose will ultimately depend on your task's purpose. 
Let's get into more detail about them.
Natural Latex Coated Gloves:
Latex gloves have been a popular choice because they were the first coated glove in the glove market.
The manufacturing process for Latex gloves is done by dipping them first in an anti-penetration agent, then in latex. 
Check out this one if you are curious about how Latex gloves are made.
Finally, if the gloves have a crinkled palm, they are dipped in a coagulate. 
Natural Rubber Latex Coated work gloves, in contrast, have a very high elasticity (stretch) compared to other glove materials.
This is especially true for textured or crinkle latex, which offers a superior dry grip.
Besides, this coating provides more abrasion resistance than PU and nitrile and thus is excellent for handling building materials.
These gloves are an excellent choice when puncture resistance is critical and resist tears too. 
Moreover, they are soft and flexible even in extreme temperatures, which decreases the possibility of hand fatigue. 
Finally, Latex resists alcohol and some ketones.
A downside to latex-coated gloves is that latex has poor resistance against oil, most hydrocarbon, and organic solvents like gasoline.
Also, it contains a protein that can occasionally cause allergic reactions in many people.
Here are some causes of contact dermatitis when wearing gloves, found at this link.
If allergies to latex are a concern, it is preferred to choose nitrile, polyurethane gloves, or other non-latex gloves.
Latex-coated gloves are ideal for many several tasks, including:
General Maintenance

Shipping & Receiving

Masonry Construction

Glass, utilities

Waste management

Landscaping 
(PU) Polyurethane Coated Gloves:
PU= is polyurethane
Polyurethane (PU) is often considered the ideal coating for lightweight, general-purpose jobs.
This is usually used with vinyl gloves.
As a result, it reduces the tackiness and makes better hypoallergenic gloves easier to don and doff.
If you are interested, check this article for other hypoallergenic gloves.
Now back to our topic.
PU is durable and flexible, delivering high tactility and making it an excellent coating for better dexterity or precision assembly.
This material is thin but strong that has excellent stretch.
The manufacturing process for Polyurethane gloves is done by dipping once in the coating, which permeates through the glove, making it a bit thinner than other types.
To be honest, nothing beats a firm grip on work. 
Polyurethane coating has a non-sticky "bare hand" grip so it doesn't need powder like some rubber products. 
This is why it is mainly used to get cut resistance, good grip, and control.
Besides that, its soft and stretchy properties still provide good puncture and abrasion resistance, making the glove versatile.
Chemically, PU-coated gloves are ideal for dry conditions and offer superior resistance to oils, solvents, fats, greases, gasoline (unlike rubber), oxidation, and ozone.
This coating tends to have higher penetration levels as a downside and can cause skin sensitivity issues. 
Furthermore, PU is also a non-breathable coating, so it is often used as a finger or palm dip style to reduce perspiration inside the gloves.
In the end, it has poor resistance to hot water, a low tear resistance, poor wet or oily grip, and should not be used above 79°C (175°F).
This coating is trendy and sufficient for a wide range of applications.
Polyurethane or PU-coated gloves are outstanding and ideal for multiple applications such as :
Aerospace, cleanroom industries, delicate parts handling, electronic assembly, detailed precision assembly, and inspection.
It has recently been used more in the medical industry on medical equipment for its low allergy-causing properties.
Polyurethane Coated Nylon Gloves
In today's market, those gloves are recognized as Superior Touch nylon. 
This abrasion-resistant polyurethane coating also provides exceptional grip.
The seamless, 100% nylon material is ideal for delicate or precise operations such as handling small parts and samples without fingerprint contamination.
They are usually used in electronics assembly, cleanroom, and pharmaceutical work.
PVC-Coated Work Gloves
PVC = is Polyvinyl Chloride
A PVC-coated glove is an inexpensive synthetic material that doesn't cause an allergic reaction. 
It is stronger than latex or nitrile and offers good abrasion resistance, but it may be susceptible to punctures, cuts, and snags.
Although it is flexible, it does not provide the tactile sensitivity to the touch associated with most rubber products.
It performs well and stays flexible in lower temperatures, making it the best to wear as a winter glove or in cold working conditions.
Besides, it is a synthetic thermoplastic polymer that provides excellent resistance to most acids, fats, and petroleum products. 
Furthermore, Polyvinyl Chloride Coated Gloves are great for use with adhesives.
This is because adhesives will not stick to the glove's surface.
Therefore, it is perfect for glue-related jobs in furniture manufacturing, woodworking, automotive assembly, trim application, or applying sealants. 
Finally, a PVC dot pattern can be added to different glove styles, especially in the palm area.
For this reason, this form is commonly used for any application requiring manual handling, utility knife use, or enhanced grip.
Neoprene Coated Work Gloves
Neoprene Coating is a synthetic rubber with high chemical stability and heat resistance.
Because of this, it is commonly used on gloves for arc flash and fire-retardant applications.
What are arc flashes?
Simply put, an arc flash is a phenomenon where a flashover of electric current leaves its intended path and travels through the air from one conductor to another or the ground. 
The results are often violent, and serious injury and even death may happen when a human is near the arc flash.  
Neoprene resists oil and has a low abrasion resistance despite having excellent dry, wet, and oily grip.
Occasionally, you may find a neoprene-nitrile blend coating, which will have an abrasion resistance superior to latex.
This blend is perfectly suitable for people who are allergic to latex.
Standards for Coated Work Gloves
During the 1970s, the Occupational Health and Safety Administration in the United States focused on glove performance by establishing new requirements for protecting workers from various workplace hazards.
Later that same decade, the American Society for Testing and Materials (ASTM) established a committee on protective clothing.
This committee established standard test methods for measuring chemical resistance and other glove performance properties in reaction to the necessity of having better-defined protective clothing performance.
why?
Because of these general regulations and standards, there is a greater awareness of glove performance and apprehension about selecting appropriate gloves.
There are two major global standards used to evaluate the protection levels of work gloves: 
ANSI/ISEA 105 (U.S. Standard) and 

EN 388

(EU Standard)
The last one is usually cited in other parts of the world, such as Canada, AUS/NZ, and South America.
There was a time when the ANSI standard may have been preferred because of its more accurate and straightforward testing method. 
While ANSI/ISEA 105 may still be more straightforward, since the changes to the standards in 2016, both ASTM & ISO Cut Tests (which each use the TDM-100) allow for a more accurate comparison of a glove's level of cut resistance when tested to either global standard (however, that doesn't mean they're interchangeable).
The American National Safety Institute (ANSI) creates safety standards by which gloves are tested in the US. 
This organization is also influenced by industry experts, consumer groups, and government bodies to help classify safety equipment. 
Many factors are included in the standard to best test glove safety for dipped gloves. 
These factors include cut resistance, puncture resistance, abrasion resistance, and impact protection.
Each of these factors is measured on its scale, and the glove and its packaging denote the level of protection.
For example, Nitrile-coated gloves score well in the EN388 Mechanical Handling test for abrasion.
Most of the gloves score 3 or 4 out of 4.
A high score for the abrasion test means these gloves are tough and long-lasting.
There are also the ISEA standards.
ISEA, or the International Safety Equipment Association, is the association for personal protective technologies, equipment, and systems. 
These standards govern the development of products and technologies for worker protection, detection, analysis, classification, and measurement of hazards.
The ANSI/ISEA 138 standard instituted the testing of knuckles and fingers for protection from crushing and pinch points. 
Gloves with protection on the back of the hand are tested to measure their effectiveness against impact hazards.
ANSI/ISEA 138 pictograms state the overall level of impact protection.
Level One:   Glove absorbs 55% of the impact

Level Two:    Glove absorbs 67.5% of the impact

Level Three: Glove absorbs 80% of the impact
Conclusion
In the world of safety gloves, a little bit of skin protection can make a huge difference.
Gloves can decrease the chances of a hand injury in the workplace by approximately 70 percent.
Coated gloves provide additional protection in the high-risk area of the hand. 
You can choose from several different gloves and coating materials to help you care for specific, work-related hand protection issues.
Just be sure to look for the ISEA or ANSI rating for your particular glove and be familiar with other regulations related to it.