3 Electrician Glove Options That Are Guaranteed To Keep You Safe From Electric Shock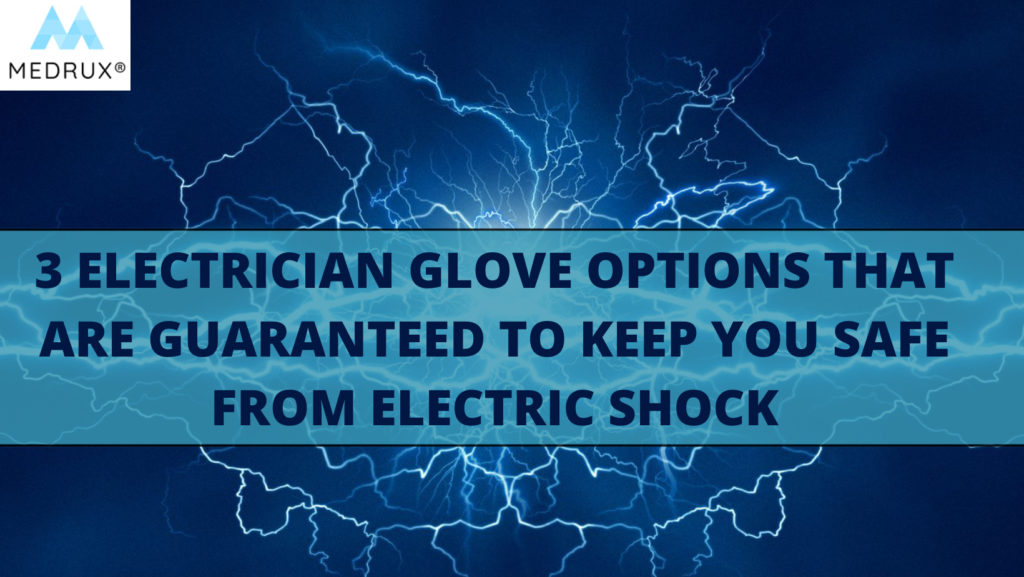 It's essential to wear the proper safety gloves when performing tasks. 
Furthermore, the importance of proper safety equipment cannot be underestimated because employees are more at risk at work in many ways.
A hand injury could leave a worker permanently disabled.
Therefore, safety gloves are coverings that provide protection for your hands, fingers, thumbs, and wrists against specific external forces, chemicals, elements, and industrial hazards.
Safety gloves must protect the user from danger and allow for better productivity and efficiency. 
There are hundreds of different types of safety gloves.
The electrician glove is one of these well-known safety gloves.
Thus, these Heavy-Duty Insulated Gloves are very common and effective in preventing shock and burns from electrical contact.
So, this article aims to provide a brief guide on electrician gloves, including their kinds, applications, and design.
The only thing left to do is to relax and read it slowly.
Hopefully, you will find it enjoyable.
What is Electrical Safety Gloves?
These Electrical-insulating gloves are one of the essential protection for electrical workers.
They are usually made of dielectric materials to protect workers from electrical shock.
Lineman work gloves are another name for them.
Why?
Because these gloves are usually worn by electricians or linemen working on power lines.
What is a Lineman?
An electrical lineman who typically works for utility companies. 
He is responsible for installing and maintaining lines supplying electricity to homes and businesses. He is also the one who installs and maintains telephone or telegraph lines.
Finally, he can also be known as a powerline technician or a powerline worker.
Electricians often use traditional work gloves while climbing poles and completing other job-related tasks.
Lineman gloves provide abrasion resistance, dexterity, improved grip and slip resistance, and hand protection while doing routine tasks.
Why do we need ELECTRICAL GLOVES?
The US Bureau of Labor Statistics reported nearly 2,000 electric burns and electrocution injuries in 2019 alone.
On top of that, burn injuries, including electrical burns, can now cost an organization up to $48,000 in compensation, according to a recent report from the National Safety Council.
This means that apart from severe risks with electric hazards, the cost has also become a significant consideration when workers are not equipped with the proper personal protective equipment (PPE).
Therefore, as we mentioned, these electric gloves protect technicians working on energized electrical equipment and power lines. 
In addition, these gloves are vital for the safety of electrical workers, as they prevent injuries from electric shocks. 
Besides, the automotive industry has also grown more complicated throughout time and currently uses more electrical and mechanical parts than before.
Because of this, manufacturing workers now need more protection from electric shock, arc flash, and other heat-related injuries.
Electrical Glove Applications
Here, to sum up, they are used whenever a worker may come into contact with energized electrical equipment, specifically in any of the following industries: [1]
Utilities and public works 

Gas and oil 

Transportation works

Automotive

Electrical maintenance

Elevator installation and repair 

Field services
Other sectors and applications too:
Amusement parks

Hospitals

Water plants

Manufacturing plants

Office buildings

Schools
Electrician Gloves Properties
Electrical safety gloves take a combination of characteristics to succeed in their goal.
First and above all, they must have dielectric properties.
Secondly, they must be solid and long-lasting while allowing the worker sufficient flexibility to perform their duties.
The OSHA 29 CFR 1910.137 standards and guidelines [2] state that these gloves must be specifically rated for the voltage an employee may be exposed to.
Electrical Gloves Classification
Electrical gloves are divided into six categories based on the voltages you will be dealing with.
Both low-voltage and high-voltage electrical gloves are categorized into these six classes. 
The American Society for Testing and Materials, or ASTM did a great job of keeping this class system simple, and OSHA lays out all of these guidelines in standard 29 CFR 1910.137.
The following are the classes of electrical gloves:
Class 00

protects workers up to 500V AC and 750V DC

Class 0

protects workers up to 1,000V AC and 1,500V DC

Class 1

protects workers up to 7,500V AC and 11,250V DC

Class 2

protects workers up to 17,000V AC and 25,500V DC

Class 3

protects workers up to 26,500V AC and 39,750V DC.

Class 4

protects workers up to 36,000V AC to 54,000V DC.
Manufacturers must mark electrical gloves to display their class.
Types of Electrical Safety Gloves
In addition to the OSHA rating, Electrical safety gloves are also divided into whether or not they are resistant to ozone (which can be generated from oxygen by many electrical processes).
So, these gloves are divided into two categories based on material resistance:
Type I

(not resistant to ozone) 

Type II

(resistant to ozone).
What kind of materials are used for Electrical Gloves?
Electricians typically wear three kinds of gloves on the job or sometimes three layers, and each item serves a purpose in protecting workers. [3]
So, the gloves are usually used with an outer leather protector to prevent damage to the rubber gloves. 
Besides, inner cotton liners can be added to provide additional comfort.
Then, Electrical Safety Glove Components including:
Rubber Insulating Gloves

Leather Protector Gloves

Cotton Liner Gloves
Rubber Insulating Gloves:
Those gloves are made of highly dielectric, strong natural or synthetic insulating rubber, which is good at preventing shock and burns from electrical contact.
This is essential for any electrician's safety gear because rubber doesn't conduct electricity.
Also, they are available in various colors and cuff styles.
Based on OSHA voltage ratings, [ Type I ] gloves are typically manufactured from natural rubber and do not exhibit ozone resistance. 
But, [ Type II ] gloves are generally made from synthetic rubber and are ozone resistant. 
Only Class 00 and Class 0 gloves are available in Type I and II. 
All other gloves are made with [ Type I ] Rubber.

These gloves are often designed to be used as part of a system.
Therefore, electrical-insulating glove kits include rubber gloves and leather protectors together.
In this case, rubber gloves protect you from electrical shock, and leather protectors protect the rubber gloves from mechanical wear. 
The leather protectors do not provide any electrical protection and cannot be worn alone.
In other words, workers wear leather protectors over rubber insulating gloves to prevent cuts, pinholes, or punctures that can damage rubber gloves.
Finally, They come in a wide range of forms.
The most common materials used to make them are goatskin, buckskin, cowhide, and synthetic leather.
These short under gloves are the first line of hand protection in case of electrical safety.
In addition to adding comfort while wearing rubber gloves, liner gloves provide warmth throughout the cooler months.
They are available in natural, pure organic cotton material and usually come in white.
Moreover, this innermost layer comes in contact with skin, absorbing sweat in warmer summer months.
This moisture-absorbing feature helps with better mobility and reduces conductivity risks.
Electrical Safety Glove Designs
Rubber insulating gloves can be available in several cuff styles and color designs.
They come with different cuff designs, including straight, bell, and contour cuffs.
Classes 00, 0, and 1 are only available in straight cuffs.  
But, Classes 2, 3 and 4 are available in all three cuff styles.
Gloves are available in red and black colors, which are the most common for the lower classes 00 and 0.
In addition to the dual color gloves, the most common for all other classes.  
There is no difference in integrity between the colors; it is simply a personal preference.
Can Disposable Rubber Gloves prevent electric shock?
Yes, but there are limitations.
Since rubber and latex are not substances that allow electricity or heat to go through them. 
Then, latex and rubber work gloves are good picks for protection against electric shock and other hazards.
First, latex gloves can protect us only from electric shock if made from 100% pure latex. [4]
However, a latex or rubber pair designed for cleaning the dishes or gardening cannot keep you safe against electrical hazards.
Therefore, we should not rely on thin latex gloves to keep us safe against 35 000 volts.
Secondly, Nitrile work gloves can also be used as electric-resistant gloves. [5]
This is only if the rubber gloves are produced and tested to meet the protective requirements against electrical shocks.
They usually have a coating to provide additional protection.
Meanwhile, electrical work gloves should fit snugly and have an excellent grip due to the delicate nature of the activities they are used for, such as wiring and circuit maintenance.
For this reason, rubber or latex gloves seem to be the best choice because of their superior dexterity and firm grip.
Insulated work gloves that are bulky and stiff will impair an electrician's productivity.
They take time to get used to and practice learning to work while wearing them.
But layers are necessary in most cases.
Therefore, the electrician may refuse to wear the typical bulky gloves, so an accident would occur as a consequence.
These disposable rubber gloves are mainly manufactured to prevent the transmission of microbes, not electrons.
Because of this, not every disposable glove can be an electrical work glove.
For example, soft and thin rubber gloves wouldn't help much; they are simply made with no electrical insulation and are easily punctured.
Also, your hands will be much more sweaty underneath them.
How do I determine the Right Glove?
It may initially seem challenging to select the proper kind of glove, but it is much easier than it looks.
As the first step, it is crucial to determine the maximum voltage that you may be exposed to.
Then, consider the following factors when buying insulation gloves concerning your work environment and safety standards:
OSHA Class category

Voltage resistance

Color code

Sizing

Types and safety standards
Electrical Glove Testing
All electrical gloves must undergo regular testing before being put into service.
First, users should follow OSHA 1910.268, which requires electrical testing of insulating gloves before first use.
When new electrical gloves are put through their initial testing by the manufacturer, a date stamp is applied to the gloves to show the test date.
Additionally, manufacturers must continuously test the gloves at a specified proof test voltage before putting them on the market.
Afterward, the gloves must be used no later than 12 months following the initial testing date.
But if a pair of gloves are not used for the first time within 12 months of the testing date, then they must be tested once more before being put into service.
Once electrician gloves are used, they must undergo another visual and electrical test every six months.
The second scenario is if the electrically insulated gloves show defects such as tears, holes, swelling, etc.
Then the best course of action is to send gloves to certified test laboratories for testing.
These gloves should be temporarily removed for cleaning and retesting or replacement.
Not only should repaired gloves be retested, but also gloves after use without protectors.
Electrical Glove Inspection
Once the gloves are delivered to the end user, regular maintenance of the rubber safety gloves is required for worker safety.
Because of this, OSHA commands that any technician using the gloves must inspect them carefully for damage, swelling, and defects before every use.
Then, as we mentioned before, gloves cannot be used if they have imperfections, cuts, or pinholes.
Users should send them for repair and retesting.
According to ASTM standards, these are the steps to inspect your electrical gloves each time before wearing them: [6]
Start by rubbing the glove's rubber base between your hands.

Check the glove for any potential flaws or damage on the inside and outside.

You should pin the gloves between your fingers to properly examine the area if you observe anything suspicious.

Check the base and tips of the fingers and thumb.

Examine the gaps between the fingers for damage or other defects by pulling each finger apart.

After the visual inspection, you must do an inflation test to look for air leaks.

Inflation tests can be performed either manually or with a glove inflator.

Be careful not to overinflate the glove when you do it.

Hold the inflated glove to your ear and listen or feel for air leaks.

If there is any sign of air leakage, the glove must be instantly taken out of service, destroyed, and discarded.

Additionally, gloves with swelling, which is frequently a symptom of chemical contamination, should be taken out of service and cleaned, then retested.

Finally, all gloves must be used within the standard testing periods.
Electrical Glove Storage
It is necessary for workers after each time to properly store the gloves inside a canvas bag designed explicitly for electrical gloves to avoid direct sunlight or sources of ozone that may damage the gloves.
In particular, do not fold, crease, turn inside out, compress, or stretch the gloves whenever storing them.
Then, store the bag with your gloves in a cool, dry place free of chemicals, oils, vapors, and fumes.
Moreover, keep them away from sharp or heavy objects, sunlight, or potential electrical discharge.
However, if the glove is inspected and still contains residue, it should be re-washed to avoid further damage.
Only clean them using warm water with a light detergent or denatured alcohol.
After washing the gloves, air dry them at temperatures below 120°F before storing them.
Conclusion
The human hand is a highly developed tool that can carry out various tasks.
Therefore, if it experiences a significant wound, it may lack the strength and precision required to complete essential duties.
Electricain gloves are essential PPE and the initial line of defense against electrical shock, arc flashes, and arc blasts for linemen.
These gloves allow workers to perform jobs with dexterity, comfort, and reliability.
Because of this, linemen and other utility workers who deal with electrified equipment must understand how to choose suitable gloves for the job.
Furthermore, they should also know how to inspect them for damage and flaws.
Also as how to clean and store them properly to get the most protection and extended life out of their gloves.
Finally, If final standards and regulations make it easier for you to work safely, we recommend that you always reconsider purchasing solely based on price.