Looking for the best oil resistant gloves? Here we go!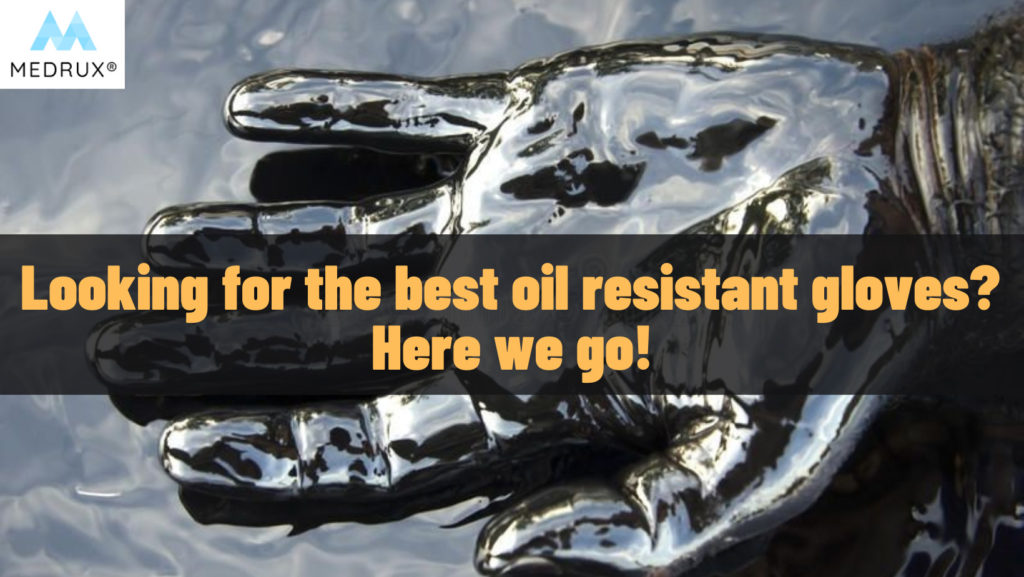 Searching for the best oil-resistant gloves or any other type of gloves within the market is not an easy task due to the many options with endless features! Let's start step by step and explore the best oil-resistant gloves for you!
Our hands act as a critical link between ourselves and our work. 
To keep our hands fully effective, we must keep them warm, dry, and free of physical dangers such as abrasion, crushing, injuries, vibration, and impact.
Gloves don't cover much of the human body, but they significantly prevent 25% of occupational accidents, including hand and finger injuries.
In particular, in the case of heavy-duty work, such as in the construction and manufacturing industries, where jobs need the application of excessive force and physical power.
Aside from force and physical strength, chemical compounds, liquids, and oils that may interfere with the task must also be avoided by wearing gloves.
But, can you be protected by any glove? That is the topic of discussion today in this article.
For this reason, I've attempted to provide a simple guide for you to select the right glove type for the task. All you need to do is to relax and try to read slowly. 
Hopefully, you will find it enjoyable.
Why Should You Choose Oil-Resistant Gloves?
Oil-resistant gloves are industrial work gloves. Let us first discuss the general function and characteristics of industrial gloves.
Industrial Gloves 
These gloves are personal protective equipment (PPE) that covers and supports the hands from wrist to fingertips.
Also, while handling any object, industrial gloves protect the user's hands and fingers against cuts, bruises, glass shards, tissue wounds, wood splinters, and heat or chemical burns, among many other things.
For this reason, those safety gloves are available in various shapes and designs, depending on the work environment.
Furthermore, these gloves must also be tear-resistant, simple to wear, comfortable, and flexible.
Industrial gloves are made of many strong and durable materials, primarily if you work in an environment where your hands are continuously exposed to grease, oil, and other greasy compounds.
This is why industrial gloves are usually made of thick materials with irregular patterns on the palm for better grip and less muscle fatigue.
They can be made of rubber, latex, cotton, leather, Kevlar, and nitrile. 
They are also available as reusable or disposable gloves. Let's now jump onto the glove application; keep reading!
What Are The Applications Of Oil-Resistant Gloves?
Not every industrial or safety glove is oil-resistant. Therefore, it is vital to assess which types of jobs and industries can prosper from their application.
For example,
Workers in the

automotive industry

may come into contact with oily machinery.

Staff in the

construction industry

are frequently involved in duties such as drilling and refining.

Engineers

and

mechanics

in

factories

or during maintenance tasks.

Professions in

the oil and gas

industry.

Because of this, these gloves are also known as

fuel gloves

and

oil field gloves.

Finally, people are often exposed to harmful

chemicals
Let's now explore the main characteristics you should be looking for in this type of glove…keep reading!
What Are The Features of Oil-Resistant Gloves?
Oil-resistant or oil-proof gloves have been designed specifically to meet the needs of those working with oil or grease regularly. 
These gloves usually have a specialized grip capability and give more protection, enabling you to complete the job more comfortably and accurately.
As we mentioned, the primary feature is to provide maximum grip for workers because lifting greasy objects is a regular part of their job.
In addition, their hands must be armed with a protective coating that allows them to maintain a firm grip on the objects they are handling.
Besides having a good grip, oil-resistant gloves provide us with several other advantages.
What are the extra features that oil-resistant gloves must have?
For example, manufacturing workers, in the case of welding jobs, are vulnerable to arc flash.
To understand the actual meaning of arc flash, check out the following quotation from OSHA [1]:
" Arc Flash is a phenomenon where a flashover of electric current leaves its intended path and travels through the air from one conductor to another or the ground.
The results are often violent, and severe injury and even death can occur when a human is near the arc flash.  "
One personal protective equipment or PPE workers wear in such scenarios is oil-resistant safety gloves.
Rubber gloves, for example, have a dual purpose since they guard against oil, shock, and arc flash.
Some of these oil-proof gloves also have a chemical-resistant protection feature.
Since workers who work with chemicals are continuously at risk of chemical injuries, such as severe skin damage and chemical burns.
Not only are these gloves oil-resistant, but they also provide excellent back-of-the-hand impact protection. The impact protection feature aids shock absorption and reduces injury severity.
Now, you might wonder and want to know how oil-resistant gloves are made? Keep reading!
What Are The Materials Used to Make Oil-Resistant Gloves?
OSHA recommends that staff select gloves based on
Worker's job duties
 Work environment
 Performance and construction characteristics of glove materials.
For example, Leather, canvas, and fabric gloves can protect your hands from dirt, splinters, abrasions, cuts, and heat, but they won't protect you from liquids or strong chemicals.
But gloves made of neoprene, nitrile, vinyl, and rubber can protect against liquid and chemical hazards.
Therefore, each material is only rated to protect against specific types of chemicals.
Oil-proof or fuel gloves, like many other work gloves, fall into two categories based simply on whether the gloves are disposable or reusable. [2]

Reusable Oil-Resistant Gloves
Finding an excellent reusable material that is strong enough to use as an oil repellent is rare and difficult. However, you can find ones as follow;
1. Goatskin
reusable gloves
Goatskin leather is a great glove material because of its lightweight flexibility and resilience to heat, weather, and oil.
2. synthetic leather
reusable gloves
Compared to natural goatskin leather, this synthetic material allows for more breathability.
Not only does this advantage exist, but it also provides the same lightweight flexibility and heat and weather resistance as the natural alternative. 
Synthetic leather is also machine washable, oil and grease repellant.
Both types may contain additional protective layers made of rubber, plastic, and nylon, guaranteeing that cutting through to your hand would take a lot of effort or bad luck.
Bottom line:
Compared to disposable oil-resistant gloves, these reusable types may have a significant disadvantage because they are too expensive.

Disposable Oil-Resistant Gloves
Many repairs and maintenance procedures might end in your hands being covered in oil, grease, or other chemicals.
So, disposable gloves are widely used in professional automobile shops, marine repair workshops, and other industrial settings. It is far quicker to discard a pair of gloves than to clean them between appointments.
Depending on how often you'll use these gloves, a box of disposable gloves may be more convenient than a single pair of reusable gloves.
Remember that disposable gloves are more vulnerable than reusable gloves, so they should only be used for light-duty tasks.
The material used could be one of the following: [3]
1. Nitrile 
It is a synthetic rubber latex frequently used as a natural rubber substitute.
What is the best about nitrile gloves?
Excellent

general-use

glove material for its highly elastic characteristic and high adaptability.

Contact

dermatitis

is

less

likely due to the treatment applied to the inner surface.

 Good performance

with solvents, oils, greases, and some acids and bases, as well as many agricultural pesticide formulations and chemical and biological harmful substances.
Additionally, nitrile gloves are more durable if you want to use disposable gloves. 
For more about nitrile glove's attractive qualities, click here!
2. Vinyl 
 This material comprises polyvinyl chloride (PVC) and various plasticizers that impart specific properties.
What are the advantages of vinyl gloves?
They have good resistance to abrasions and cuts.

It is the

most hygienic

material and is more

environmentally friendly

in its manufacture and recovery.

These gloves

perform well

in the presence of alcohols, some organic acids, oils, fats, peroxides, amines, and solvents.
However, It is not recommended for use in laboratories, chemical production, or other similar industries.
Its properties make it an affordable option for tasks that do not demand high levels of protection.
3. Neoprene 
This glove is extremely durable!
What is the best about Neoprene gloves?
It is a good material for

most hazardous chemicals

It includes moderate cost and medium physical properties

The glove is highly weather-resistant is, resistant to a wide range of chemicals and abrasion

It offers high protection against a broad range of acids, bases, fuels, peroxides, hydrocarbons, and phenols
What are the disadvantages of these gloves? 
The disadvantages of neoprene are that it is less resistant to punctures, abrasion, and cuts than nitrile or natural rubber. 
Moreover, it is poor for halogenated and aromatic hydrocarbons.
Global oil-resistant Gloves Market
According to this study, there are some famous brands for that particular type of Industrial work glove. [4]
The major global manufacturers of oil-resistant gloves include Ansell, Mapa, SHOWA Gloves, Arco, 3M, Superior Glove, Magid Glove, MCR Safety, Midori Anzen, etc.
I tried to search for some of those names to notice the differences.
1. Ansell
Firstly, take a look at the Ansell site for oil and gas safety gadgets, including, of course, oil-resistant gloves.[5]
What are the available products?
One of these is EDGE 48-919, a cost-effective solution for lightweight applications requiring a durable coating and secure grip in oily environments.
This glove has a double-layer nitrile coating that keeps hands dry and comfortable when handling oily parts and tools.[6]
2. SHOWA gloves
Secondly, SHOWA gloves try to convince the customers by mentioning that approximately 50 to 80 percent of industrial injuries are in the oil and gas industry.[7]
What are the available products?
SHOWA 660 ESD is one of the SHOWA oil-resistant gloves designed with a PVC coating on their website.[8]
It has an advanced feature: a soft cotton liner and a better length to cover most of the hand and a part of the arm.
There is also another well-known company for mechanical and automotive work gloves, which is called Mechanix.
Mechanix wear is not only concerned with safety gloves but also glasses and other personal protective gear needed, especially for professional racing and automobile industries.[11]
SPEEDKNIT SHIELD C4 on their website has a full nitrile coating for preventing oil and other liquids from sneaking in during dirty jobs.[12]
It is constructed with a seamless 18-gauge nylon shell that protects working hands with EN 388: 2016 Level C & ANSI A4 cut resistance.
3. MCR gloves
Finally, MCR safety gloves also mentioned the number of workplace injuries every hour.[9]
The ForceFlex mechanics glove is one of the most purchased MCR gloves.[10]
It is designed with a synthetic leather palm pad and rough Kevlar Palm w/EVA Padding.
Also, it has a neoprene slip-on cuff that provides a comfortable fit and high visibility for low-light environments.
Final thoughts
There are dozens of brands and names on the internet for several types of work gloves.
Therefore, it is necessary to take your time in searching and finally compare them according to your demands.
However, previous customer reviews on purchasing websites such as Amazon might help you make up your mind.
Conclusion
Oil-resistant gloves are one of the industrial types of work safety gloves. Moreover, not every glove material could be oil-resistant.
This is why OSHA suggests that workers choose gloves based on their job duties, the workplace environment, and the glove's raw material.
These gloves are available in the market in both reusable and disposable forms.

Disposable oil-resistant material as nitrile, vinyl, and neoprene gloves

Reusable oil-resistant gloves material like goatskin and synthetic leather

Oil-resistant gloves have different other well-known names, such as oil-proof, oil field, and

fuel gloves

Many disposable gloves are only meant for one use and are susceptible to tearing.

However, they benefit from light-duty jobs and also save time

Customized gloves can be worn to protect against crushing injuries, heavy vibrations, and situations with various risks
In the end, it is up to you to select the appropriate type of material for the task at hand.