How To Source Purple Medical Gloves At an Irresistible Price From Malaysia?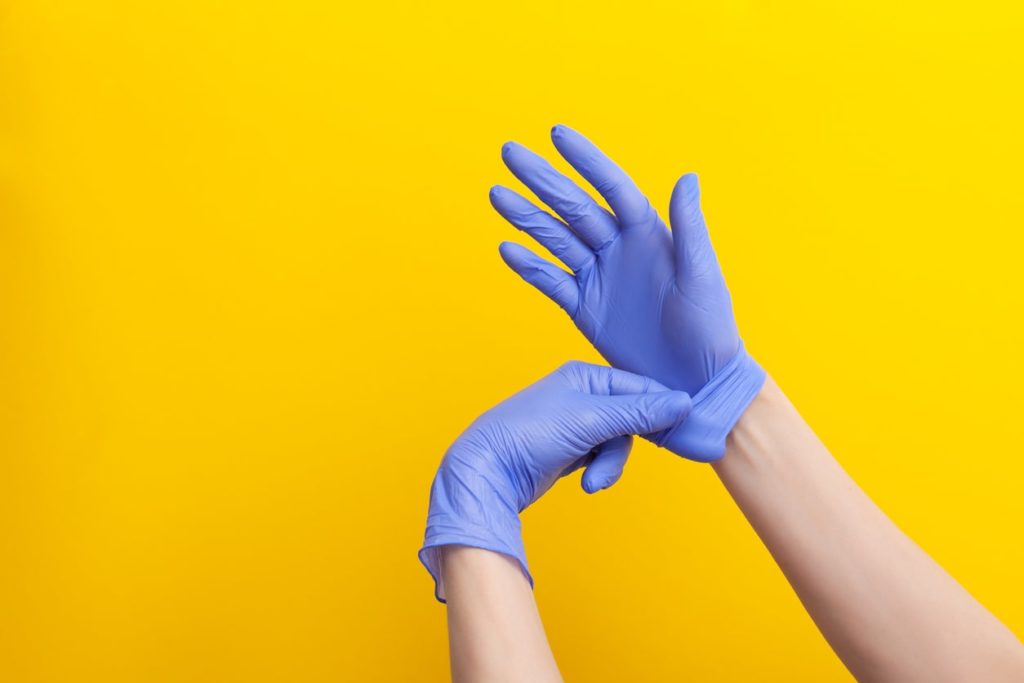 Protective gloves have become an indispensable part of human life due to the ongoing pandemic. With Malaysia being one of the leading producers of medical gloves, the country faces a booming demand for protective gloves like never before.
By maintaining the safety standards, medical gloves are now manufactured faster in Malaysia to meet the increasing demands.
Medical gloves are essential to help prevent the spread of infections and microbes in most healthcare settings. This personal protection equipment is meant for single-use and must be disposed of properly.
Purple-colored medical-grade gloves are mainly used when dealing with chemotherapeutic drugs, emergency healthcare services, and medical research.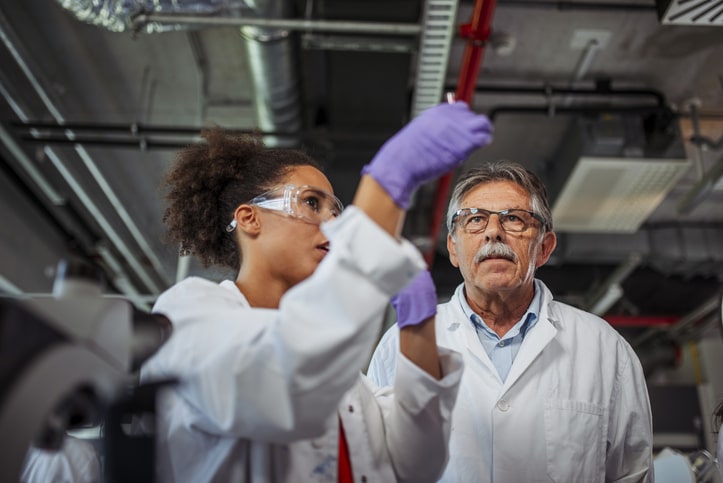 Are you looking for quality purple medical gloves at a reasonable rate in Malaysia?
Read on to find out more about the best medical gloves to stay protected.
Upsurging Demand For Medical Gloves From Malaysia. 
With the demand for protective equipment continuing to rise (1), WHO estimates that more than 90 million medical gloves are needed monthly to respond to the pandemic.
Being the supplier of 65% of the world's rubber gloves, Malaysia is the key driver in meeting the global demand at an affordable rate. Due to the latest innovation, robotics, and automation of the production lines, more than 50,000 pieces roll out each hour.
What are Medical Gloves?
Though initially designed for non-surgical procedures, now medical grade gloves are primarily used in the healthcare sector. Also known as examination gloves, they are commonly used in operating theaters, medical laboratories, and health research centers.
They are best suited to prevent contamination risks while coming in contact with bodily fluids and blood pathogens. 
To get the medical-grade label, it must adhere to the quality assurance guidelines set by the FDA.
These regulations evaluate if the gloves are reliable and durable to be used in a medical environment.
Any punctures, tears, or failure in quality will cause patients and healthcare practitioners to be vulnerable to harmful contaminants and pathogens.
So, it is a must for medical gloves to have a lower AQL score of 2.5 or below with very few defects in a set.
Furthermore, manufacturers need to get a 510K certification to guarantee quality control and label their gloves as medical grade. 
The Need For Purple Medical-Grade Gloves 
The purple-colored medical gloves are primarily used in high-risk situations where the hands and arms need maximum coverage.
Medical professionals in the oncology department, ICU, central sterilization, medical research, and emergency medical services are more often exposed to harsh conditions and hazardous chemicals.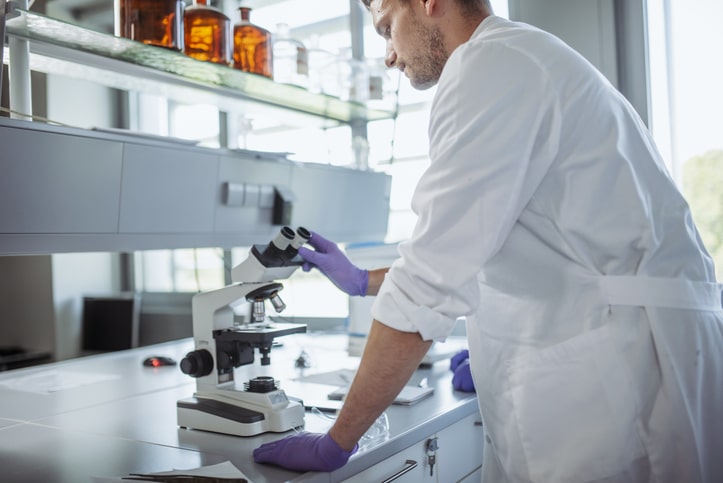 Slight exposure to such extreme environments may result in severe health conditions, even death.
These single-use disposable gloves offer proper hand protection and prevent cross-contamination, especially for cancer center specialists and dental practitioners.
It serves as crucial barrier protection that ensures personal safety in high-risk circumstances and keeps the hands of the health workers safe.
These gloves provide the highest level of protection against chemotherapeutic drugs, potentially hazardous substances, and chemicals with moderate to high-risk exposure.
Essential Features To Consider While Purchasing Purple Medical Gloves 
The medical-grade gloves you select must have all the barrier protection properties that will keep you and others safe while handling hazardous substances.
It'll also enable you to perform your tasks effectively without worrying about contamination risks.
Here are some of the essential aspects you need to consider while choosing purple medical gloves in Malaysia.
Specific medical tasks need a high level of touch sensitivity and precision. To feel through the glove material, you need to opt for gloves types with high tactile sensitivity.
Such sensitive gloves consist of lightweight material and will give A similar feel to an ungloved hand.
It is the best choice for healthcare practitioners who have to grip small instruments and conduct precise tasks for extended hours.
Touch-sensitive gloves are also used in pharmaceuticals, electronic manufacturing and handling, and food preparation.
Purple medical grade gloves usually come with an extended cuff length that ranges between 12 to 16 inches.
By complying with the government regulations, it is crucial to use the right level of protection that goes all the way to the mid-forearm to prevent cross-contamination.
Work with confidence using this innovative design that prevents exposure while doing high risks tasks.
Medical gloves must be highly resilient to tackle high-stress-related tasks without the risk of getting torn.
The glove material must have a snug fit where the user does not experience too much stress on their fingers and hands.
While performing long-term tasks, it's advisable to opt for ones with thicker materials.
Resistance To Puncture And Tearing
Though no glove material is completely punctured proof, certain materials offer better resistance to stress than the rest.
Medical gloves having higher tensile strength are more resistant to tear will donning and doffing (2).
If you happen to work with sharp instruments or needles, it is advisable to opt for ones having excellent tensile strength.
Medical practitioners, healthcare specialists, and caregivers are advised to use two layers of gloves, otherwise known as double gloving, for added protection against splitting and testing.
Medical gloves should not hinder your hand movements and ability to grip onto tools, instruments, and other tiny objects while treating patients or performing surgical procedures.
Perfect fit and glove thickness can affect the level of dexterity.
Though thicker gloves ensure better barrier protection, the thinner ones have a higher level of dexterity.
Risk of Allergic Responses
The allergy reactions occur when your hands come in direct contact with the latex protein powders in the glove or when the powder comes in touch with the air (3).
The symptoms vary for each individual, ranging from mild inflammation to severe skin conditions like anaphylaxis. Those facing the risk of allergic reactions while using latex gloves can opt for other glove types, such as:
Vinyl gloves.
Nitrile gloves. Or
Chloroprene gloves.
Resistance to Harsh Chemicals
Generally, disposable rubber gloves cannot handle highly toxic and harsh chemicals when they are in contact with chemicals for extended hours.
However, purple medical gloves ensure better barrier resistance to corrosive chemicals and chemotherapy drugs.
Based on your line of work and the hazardous chemicals you need to guard against, you need to choose the suitable glove material. Some gloves provide splash protection against most chemicals such as hexane, formaldehyde, organic solvents, caustic substances, weak acidic solutions, and other fuels.
With nitrile gloves having the best chemical resistance, it is mainly used in medical laboratories and research centers. Chloroprene gloves deliver the best resistance against acids and bases.
No glove material offers the same protection as the rest, so you need to choose the right one based on your specific requirements.
Purple Medical Gloves: Guidelines For Chemotherapy 
Being one of the most tested glove types in the market, purple examination gloves undergo rigorous checking to ensure they are free of defects.
As per the FDA recommendations, they must adhere to some of the guidelines to get the medical-grade label.
Choose chemotherapy-qualified, powder-free disposable gloves with a longer cuff length extending above the gown cuffs.
For single-gloving, the protective pair must be worn above the cuffs of the medical gown.
When it comes to double-gloving, one set of gloves must be worn below the gown cuff, and the other pair must extend over the gown cuff.
It is vital to wear protective purple medical gloves for all procedures related to chemotherapeutic drugs.
This involves administering the drugs, compounding and handling toxic wastes from the treated patients, and cleaning up the spills.
Make sure that the gloves are tested and approved to use for most chemo drugs on the market.
For all chemo-related activities, remember to change the clothes immediately once it gets damaged or contaminated.
For the rest of the activities, you can change the medical gloves every 30 minutes or after each use.
However, while compounding the chemo drugs, it is essential to change and use fresh gloves every 30 minutes.
Chemo Tested For Appropriate Labeling 
Purple examination gloves are perfect personal protection equipment to guard against harsh chemical exposure. As per the ASTM D6978, these are tested against most chemotherapeutic drugs to check the permeation levels.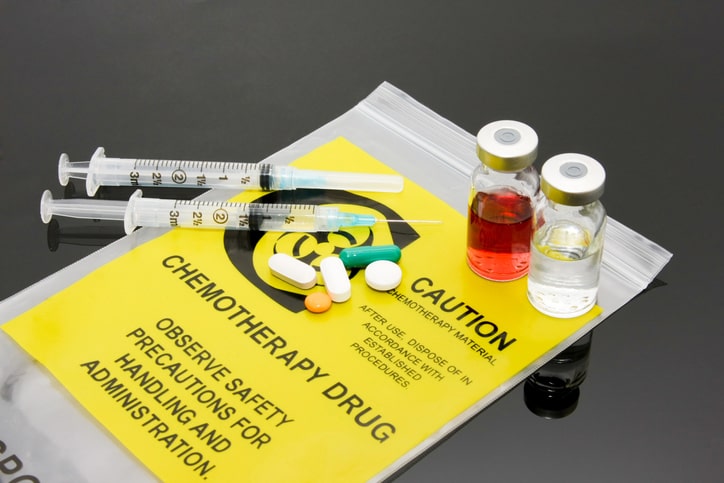 The thicker and longer purple exam gloves eliminate the need for double and triple gloving methods.
These gloves offer medical professionals, researchers, health operators, and technicians better protection to the forearm while working in toxic and hazardous environments.
While choosing the medical gloves for chemotherapy, make sure to validate the set based on the following evaluation criteria.
Tested against the current medical standards and appropriate for all the drugs used in the medical facility.
Properly labeled.
Appropriate labeling helps medical professionals to choose gloves based on the level of protection needed to complete a specific task.
The FDA has specific guidelines when it comes to labeling the purple medical gloves for chemotherapy.
Medical gloves used for preparing and handling chemotherapeutic drugs are labeled as Surgeon's Glove or Patient Examination Glove.
Chemotherapy Labeling Information
Here are some of the labeling information that is recommended to make it easier for users to choose the right glove type. The information must contain:
Instructions to review the material safety and drug labeling data sheets of the chemo drugs. This helps the wearer to determine the level of protection needed for completing a specific task.
The data for chemical resistance includes the chemicals tested and the test methods used.
Healthcare professionals and caregivers must be extra cautious while purchasing exam gloves and avoid those with the chemo-tested labeling.
Failure to do so will expose them to toxic and harsh chemotherapy drugs that can penetrate through the compromised gloves they use.
Chemo Drug Analysis 
It is essential to determine whether the purple medical gloves you choose can protect against all the chemotherapeutic drugs used in your medical facility.
The FDA approval of the gloves for chemotherapy use need not indicate that it acts as a barrier protection against all the chemotherapeutic drugs available in the market.
Clinicians and medical practitioners must opt for purple exam gloves that have been tested and approved for the chemo drugs they will be administering in their facility.
The clinicians can easily review and evaluate this by going through the chemical permeation label present on the medical glove packaging.
Also, conduct a careful review to find out if the medical-grade gloves are tested against the latest standards.
ASTM D6978-05 is the most recent standard for testing gloves used in chemotherapy. Before this standard, most gloves were tested using the ASTM F739 standards.
Clinical Specifications Of Purple Medical Grade Gloves
Purple medical gloves are free from the natural rubber latex material.
Instead, it contains acrylonitrile-butadiene, which helps in reducing the glove-related Type I allergic responses caused by the latex protein powder.
As these gloves are powder-free, it minimizes the chances of powder-related complications like dermatitis.
Furthermore, the material is evaluated to determine the breakthrough time and permeation level by testing it with gluteraldehyde and various chemo drugs.
The Importance Of Grip Textured Medical Gloves 
The surface of disposable gloves is mostly slippery. Most gloves are manufactured with a textured finishing on the fingertips and palms to provide medical professionals with enhanced grip.
Purple Nitrile gloves have a fingure textured / fully textured surface to ensure incredible dry and wet gripping capacity.
Lack of proper gripping ability will make it difficult to hold objects and tools. In some cases, too much grip may result in extreme discomfort, even causing harm while moving or holding patients.
Vinyl gloves do not offer much grip and are apt for handling patients as the smooth surface will not cause any discomfort while making skin contact.
Latex material has the highest gripping ability since it is naturally sticky. Most nitrile gloves have a lesser grip, but the textured fingertip is an excellent compromise.
What Is The Required Thickness For Purple Medical Gloves?
Most disposable medical-grade gloves come with varying thickness levels that range from 4 to 15 mil. While working in harsh environments, it's advisable to opt for extra thick gloves as it takes longer for the chemicals to permeate through the material.
It is also more tear-resistant than the thinner light duty options.
Thicker gloves ensure better barrier protection against splits, tears, and punctures due to stress even after wearing them for longer periods.
By using the purple nitrile examination gloves, you can enjoy incredible worry-free protection.
Purple medical gloves with a thickness rating of more than 4 mils will deliver better confidence while handling infectious substances, dirty instruments, and decontamination chemicals.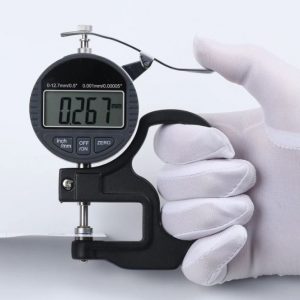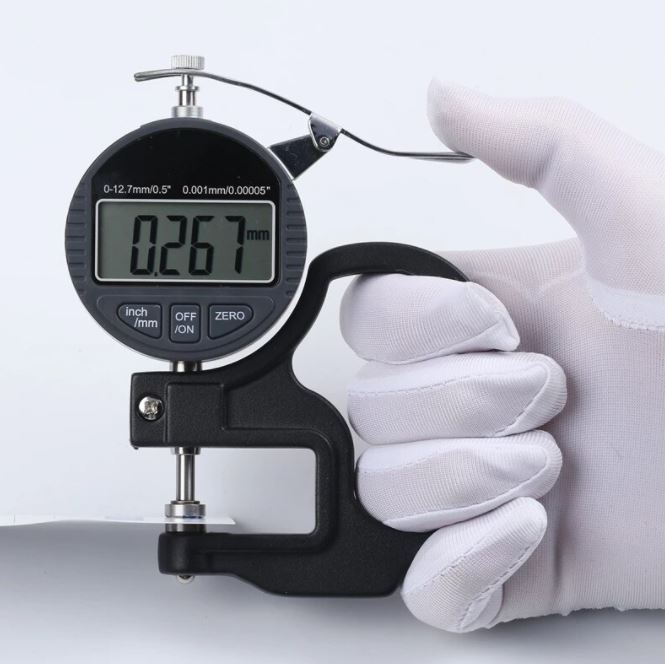 The enhanced fingertip thickness also offers double protection against potentially dangerous microbes, chemotherapeutic drugs, and corrosive elements.
But, for performing tasks that require higher touch sensitivity and flexibility, you will have to opt for more durable, thinner gloves.
Types of Medical Grade Gloves
Though medical grade gloves are available in different materials, the most common ones include nitrile, latex, and vinyl gloves.
The acceptable AQL rating varies for different materials, so each glove material is best suited for a unique purpose.
Most of them are processed and powdered to enable users to wear and off the gloves over their hands with ease.
However, the FDA has banned powdered medical grade gloves from being used in medical facilities due to the allergic response it creates in most individuals.
This has resulted in newer versions like Nitrile powder free, latex powder free single chlorinated gloves emerging into the market lately.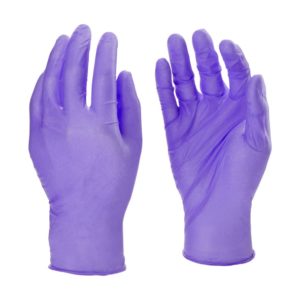 Medical nitrile gloves are the best alternative for those facing latex protein allergies.
While the standard nitrile gloves are suitable for non-sterile tasks, the powder-free nitrile gloves are mostly used for medical and surgical purposes due to the ability to guard the user against hazardous biological substances and toxic chemicals.
It also offers incredible barrier protection against blood-borne pathogens, bodily fluids, and infectious substances.
These exam gloves are lightweight and highly resistant to abrasions, splits, tears, and punctures.
Available in various sizes, these medical-grade nitrile gloves offer a high level of touch sensitivity and flexibility.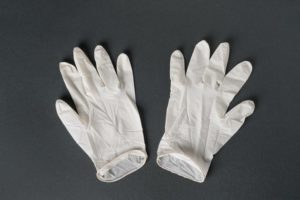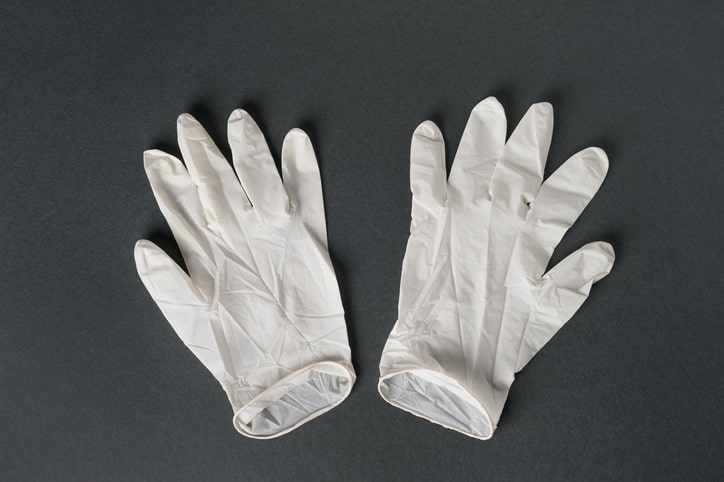 Made using natural rubber, latex gloves provide excellent tactile sensitivity and comfort while wearing them for extended hours.
The high tactile sensitivity makes it a popular option among medical professionals and surgeons, as they can perform their tasks with precision using sharp and fine instruments and tools.
Also, this material is best suited for handling water-based substances and guarding the user from blood-borne pathogens and potentially infectious substances.
Being a standard option in the healthcare sector since the 1950s, it is a safer choice for those who do not have any allergies to latex proteins.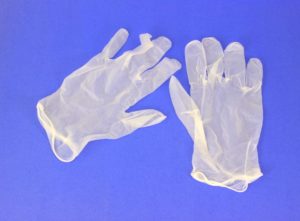 Disposable vinyl medical gloves are an affordable option than nitrile or latex gloves and ensure a wearer's snug fit.
It's a preferred option for low-hazard and short-term situations where the medical workers need to perform low-risk tasks.
These medical gloves are used mainly by medical practitioners, dental hygienists, and caregivers while examining patients and coming in contact with infectious agents, chemicals, and biological fluids.
This glove material offers good resistance to certain bases, acids, peroxides, fats, and oils and prevents abrasions to a certain level.
Perfect Fit: Crucial Selling Point For Medical Gloves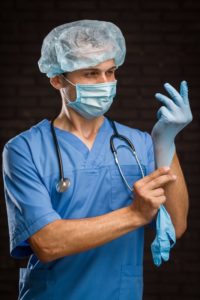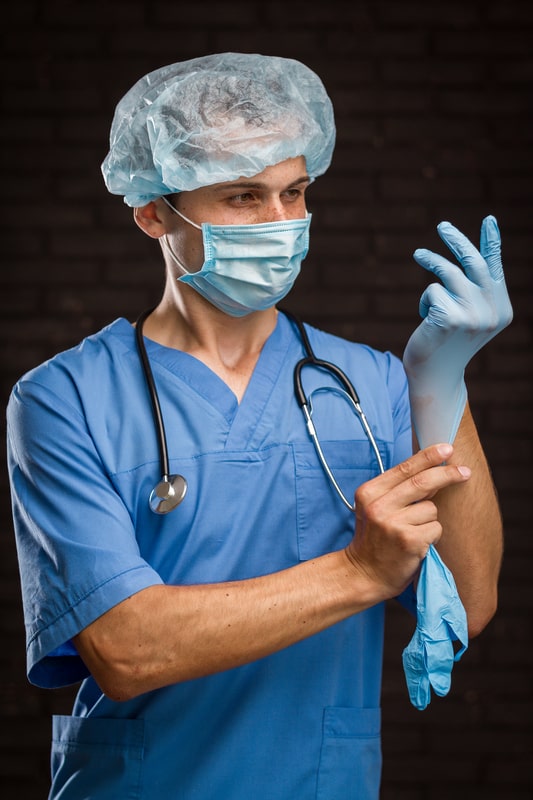 Based on your specific application, you must wear protective clothes while performing complex and hazardous tasks.
Medical-grade gloves must have a snug fit without compromising on flexibility and comfort.
Using large-sized gloves will result in hazardous materials easily coming in contact with the skin.
Loose gloves make it difficult to perform precise jobs and hold objects. There is a greater chance for it to fall off, resulting in contamination risk concerns.
On the other hand, Small-sized gloves can be highly uncomfortable and hinder one's ability to do tasks efficiently. Such pairs are more prone to stress and tears easily. Hence it's vital to get the right-sized ones. 
Medical gloves are commonly available in different sizes, such as extra small, small, medium, large, extra large, and double extra large.
Based on the circumference of your palm, you can make your choice to meet your needs.
What Is The Shelf Life Of Purple Medical-Grade Gloves?
Medical facilities planning to purchase disposable medical gloves in bulk must look out for the shelf life period of the gloves.
Buying purple medical grade gloves in bulk is important for medical facilities, emergency medical units, and the oncology department to avoid running out when in need.
However, a certain amount of the gloves may remain unused for a longer time. To avoid degradation, you need to opt for gloves that offer better durability.
Nitrile gloves tend to last longer than the other materials.
Remember to go through the manufacturer's guidelines to determine how long the gloves will last in their original packaging. In most cases, the nitrile options last for several years.
Also, make a note of the time duration your gloves have been sitting on the shelf, as the material loses its tensile strength over time.
Final Thoughts
Selecting the right purple medical gloves based on your specific medical application and the type of drug used in your facility will help create a healthier and safer environment.
It'll also help the clinicians and medical practitioners to be productive and perform their tasks more effectively.
Medical gloves are available for various tasks and even extreme conditions. Based on the properties you need, consult with the glove manufacturers to gain better insight before purchasing.
By accessing the contamination risk involvement, make sure to opt for medical gloves with properties that can handle and prevent the spread of infections.