The Best 8 All-Purpose Gloves You Will Always Rely On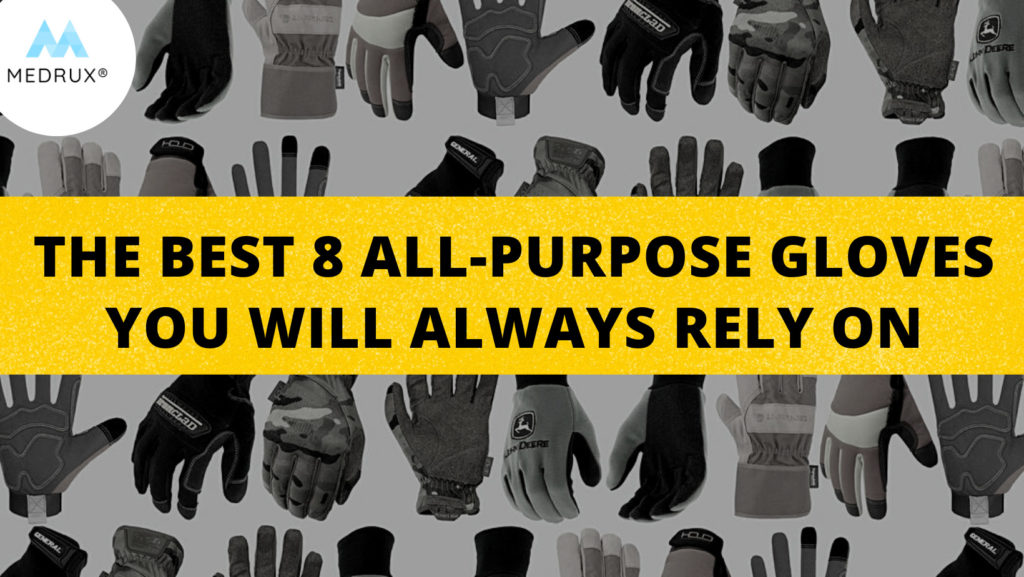 Your hand is the most compromised part of your body.
It's always in danger of bruises, aberrations, or tears since you do everything with it.
You are starting with doing simple tasks at home, gardening your flowers, cooking, handling chemical materials at work, and working in an environment full of infections.
Or even further complicated and rough work such as construction, working with metals sheets, or wood cutting.
Accordingly, you need to make sure your hands are safe and protected against such hazards; however, with many dangers come different gloves for different tasks.
Do you think what if there's one glove that gives you both protection and the ability to perform different duties and be your economic friend? 
Well, an all-purpose glove can make such a wish come true.
All-purpose gloves are exactly like their name tells you! It is for all purposes!
But are they!?
Together we're going to figure out what all-purpose gloves are, why you should use them, what their types are, what to look for when you're buying one and what are the best eight all-purpose gloves out there!
Let's begin with what they are, and are they really as they claim to be, an all-purpose glove?
What are all-purpose gloves and their uses?
They are also called general purpose gloves or multi-purpose gloves.
Why?
In a variety of tasks; ranging from light-duty jobs like
to heavy-duty jobs and mechanics, demolition, construction, oil rigging, working on car machinery, and with tools like chainsaws and hammers.
They cover a wide range of tasks; they work for various chores and applications in the same field.
What does this mean?
It simply means they are used for similarly related tasks that need a similar level of protection.
Why should you consider an all-purpose glove?
Agreeing on the need for hand protection puts us in a dilemma where we must buy a new pair of gloves each now and then for each task. 
If you need to do different tasks and the level of protection you need for one is entirely different from the other, you can't use the same glove. 
You will need to choose suitable gloves for the intended task.
So, it would be wonderful to have one pair of gloves that you can use doing different chores around the house or in your work as a carpenter, mechanic, electrician, plumber…etc.
Minimizing the number of gloves you use for each task will mean a much lower cost!
Let's explore together the materials that make all-purpose gloves and how they are classified accordingly.
What are the types of all-purpose gloves? And their composition?
All-purpose gloves come in various materials, leather, synthetic leather, synthetic & woven fabrics, and others like nitrile, latex, vinyl, and PVC.
Some all-purpose gloves can combine more than one material to provide different properties. 
Material is essential because it's the core of the glove, each material has different properties, and it provides a wide range of protection, grip, dexterity, and tactile sensitivity.
Let's see together what the type of all-purpose gloves according to what are they made of:
1. Knit all-purpose Gloves
They are known for their breathability and performance in simple light tasks with low to moderate cut risks.
They are mainly used to handle sharp edges of metals, glass, and other materials.
There are various kinds of materials used for all-purpose knitting gloves
What are some examples?
Poly-cotton is "a mix of polyester and cotton," Acrylic, bamboo, HPPE "High-performance polyethylene, Kevlar fibers, Nylon & Microfiber nylon…etc.
The most common is Nylon fibers and HPPE for their
Durability

high

resistance to weather conditions
Also, Kevlar fibers have high heat resistance as they can stand high temperatures.
2. Leather all-purpose gloves 
Leather has been used in gloves for many years, combining strength and flexibility.
It can protect from abrasions, cuts, punctures, electricity, and heat.
 Found in heavy-duty jobs like working with metals, handling boiling and cold materials, cutting lumber, and electrical repairs as they are non-conductive and provide a high level of insulation
All-purpose leather gloves are either made from natural animal leather like:
Cowhide, Goatskin Pigskin, Deerskin

Or it could be

Synthetic

from

polyurethane mixed with polyester
Top reviewed and best sellers use cowhide gloves, and some excellent types use goat or deer skin.
You can find all about leather work gloves Here. 
3. Plastic, Rubber & Synthetic all-purpose gloves
These gloves are made from butyl, nitrile, vinyl, latex & neoprene; highly flexible materials with a good grip on wet and smooth surfaces.
They're used mainly in disposable gloves in cooking, painting, cleaning, and working with chemicals, solvents, or oils and in medical fields.
The bottom line,
Knit all-purpose gloves
are for
light work
like garden care, usually sually made of
HPPE or microfiber nylon
for their
high durability and dexterity.
Meanwhile, all-purpose leather
gloves
are used with
heavy work-like
construction and are made of
cowhide
and
goatskin.
On the other hand, all-purpose plastic gloves could be made of latex, nitrile, vinyl, or neoprene and are primarily used in disposable gloves.
But these materials don't usually make up the glove!
What does this mean?
It means that these materials for coating the gloves.
All-purpose gloves can be uncoated, but the coating is essential in showing many of the glove's properties and offering a wide range of textures affecting the grip and dexterity.
Gloves can be fully or partially coated in areas like palms, fingers, or the back.
Coating materials include nitrile, latex, PU, PVC…etc.
Some gloves are coated with two types of materials, like PU-Nitrile Coating.
PU-nitrile is highly preferred and used in all-purpose gloves.

All-purpose gloves can have different materials and coatings according to the purpose they are made for.
All materials provide good grip, dexterity and flexibility, and many different properties.
This brings us to the next reasonable question;
How to select all-purpose gloves?
Let me be honest; the answer is always "it depends." 
It depends on your work, the protection you need, the weather conditions and environment you will be working in, and, most importantly, your preference for certain materials over others.

Whatever tasks you will need the all-purpose gloves for, you need to ensure they provide some essential features that cannot be dispensed.
Let's go through them;
1. Protection
The gloves must provide a suitable level of protection against the expected danger caused by this task.
If you're working in a laboratory handling chemicals, solvents, oils, and toxic materials, you must consider a chemical-resistant all-purpose glove.
People working with metal sheets, glass, and roofing materials usually choose puncture, cut, and tear-resistant all-purpose gloves.
Meanwhile, People working with heavy machinery and construction tools prefer an impact resistance all-purpose glove that should be able to protect them against shocks and impacts
2. Grip & Dexterity
An all-purpose glove should help you do your task more efficiently without hindering your hand from specific movements or letting things slip out of your fingers
.Some gloves are so thin you can feel like you are not wearing anything, which is excellent for doing specific things with high motor skills.
3. Breathability
Working in environments with high temperatures can make your hands sweat, especially if you wear gloves for too long.
So, what's wrong with this?
Sweat can cause irritation and rashes or make the gloves lose their protective properties.
That's why breathability is a vital feature to look for when buying an all-purpose glove.
4. Insulation
On the other hand, thermal insulation is essential for people working in shallow temperatures like cold rooms or refrigerators.
Electrical insulation is essential when working with electricity, whether you're an electrician or fixing a light bulb at home.
5. Size
Size matters; why?
Because too tight gloves will irritate you and might prevent you from doing the job efficiently, and too loose gloves might get in the way of your motor skills needed for the job!
Luckily, some brands offer a variety of sizes, up to 7 different sizes, so you can pick the exact size that fits your hand perfectly.
In addition to these essential features, there are Some extra ones you might want to consider. Let's see them:
All-purpose gloves have different Adjustable wrists giving a better fit and more security
.Knit and rubber fit cuffs help keep the moisture and dirt away from your hands.
Open cuffs make it easy to slip in and out of the glove.
You might even want a more customizable fit; we recommend choosing all-purpose gloves with a hook and loop, wrist belts, or Velcro strap around the palm's base to keep the dirt and moisture away and easily donned doffed.
Some all-purpose gloves can be washed and cleaned easily, which is an excellent feature you should consider.
Tactile sensitivity & touch screen compatibility
Many of us now search for gloves that allow you to answer your phone or touch your mobile screen without having to remove them; many smart-phone friendly all-purpose gloves would give you this feature.
Having fluorescent straps around the back of the hand allows the workers to see where they put their hands if they work in dark places.
Some people are allergic to latex protein; many all-purpose gloves are currently latex free.
A terry cloth sweat on the back of the thumb is one of the most wanted things in all-purpose gloves.
Why?
When a terry cloth is added, you can quickly wipe the sweat from your forehead so it doesn't fall on your eyes, distracting you and making you lose focus on the job.

The bottom line is,
your all-purpose gloves should have the essential features for doing the task and providing protection.
Extra added features are bounce points, make sure you select the one you feel comfortable with and will help you do the job; not otherwise
Now we've talked about features you should be considering when it comes to selecting your all-purpose gloves.
Let's see what the best 8 purpose gloves are
1. Nitrile Coated gloves
Nitrile is a synthetic polymer highly resistant to abrasions, chemicals, greasy materials, and oils.
All-purpose gloves coated with nitrile offer an excellent grip; you don't need to worry about slippery hands when working with greasy stuff and oils.
It's also highly durable and resistant to cut, punctures and abrasions
There are different types of nitrile coating:
Standard

Nitrile

Microporous

Nitrile

has

better breathability and grip
Foam nitrile

is

less resistant to oils,

but it's

the most breathable form

of nitrile
so, when it comes to choosing, foam or microporous nitrile coated all-purpose gloves are the best when handling oils with their slip resistance.
 Additionally, they are the best when needing a lot to turn and twitch because they provide superior grip and dexterity in wet and oily conditions.
2. Polyurethane (PU) Coated gloves
Polyurethane (PU) is a lightweight, thin material with a soft texture and stretching properties.
It's used for making gloves and coating them; they're great for keeping the hand cool when working in high temperatures.
Also, it provides good insulation and cut & puncture resistance without feeling too bulky inside the gloves with good grip and no reduction in sensitivity
If you searched for the best all-purpose gloves out there, you would find that no matter the material they are made of, PU coats are always there to save the day and improve the properties
3. Foam-Latex Coated Gloves
One of the best things about latex is its suburb elasticity and flexibility.
It remains flexible in a variety of temperatures. Its highly durable pand provides good abrasion and puncture resistance alongside an excellent grip.
Foam latex is more breathable and better for twisting and turning.
However, if you are allergic to latex proteins, avoid using all-purpose gloves or latex-coated all-purpose gloves. 
4. Padded Impact resistant gloves
Protecting the back of the hand, wrist & fingers from vibration and shocks is essential.
Hazards such as a falling object, swinging chains and bumps while working in construction sites or tight spaces, or working with jackhammers, hammers, chainsaws & digging through rock could cause hand injuries
.Impact resistance gloves are padded by materials like PVC, neoprene, and foam to absorb such shocks and keep them away from damaging your hands.
Padding usually is on the back of the gloves, but it can also have reinforcement for the thumb and palm or padded knuckles for more protection.
When gloves have a Reinforced thumb saddle, it means the area between the thumb and index finger (V area) is padded and protected as it is more vulnerable to injuries
5. Cut & Tear Resistance Gloves
ANSI (American National Standards Institute) and ISEA (International Safety Equipment Association) updated the cut resistance to 9 levels of cut protection.
The levels show how many grams of cutting load can the glove take from a sharp blade before it's penetrated
. Many great all-purpose gloves work with the A3-A5 group, mid-level cut protection.
The higher the risk of a cut, the higher the cut resistance you should aim for and, consequently, the higher the number.
6. Waterproof All-purpose gloves
Having your hand in the air for a long time isn't very smart to do because continuous exposure to water can break the skin barrier and cause irritation and sometimes infection.
So, whenever you're doing something like clearing or washing the dishes, it's advisable to wear gloves that protect your hands
.If you're working in a wet environment, a lot of time, you will need to ensure that the all-purpose glove you need is waterproof.
7. winter-proof all-purpose gloves.
Best winter-proof is made of multiple layers with synthetic insulation.
They are suitable for all seasons as they are windproof, waterproof, have excellent performance in extreme heat and cold, and have outstanding breathability.
Bottom line,
nitrile-coated gloves are mainly used for their slip resistance and touch screen computability; Impact resistance gloves are the best for heavy work duties where impacts and shocks are a possibility, PU coated gloves are the best for thermally insulated all-purpose gloves.
Winter-proof is the best when working in extreme weather conditions.
With so many options available for each type, it's not easy to find all-purpose gloves with all the needed features. But if you know exactly what your priority is, you will find a highly reputable brand that offers almost all of it in their all-purpose gloves.
We hope we were able to make the job easier for you, and next time you buy all-purpose gloves, you'll have all the information you need.
If you have questions about all-purpose gloves and how to choose them, don't hesitate to send them to us.