Best 6 Firm Grip Gloves You Can Rely On; Check Now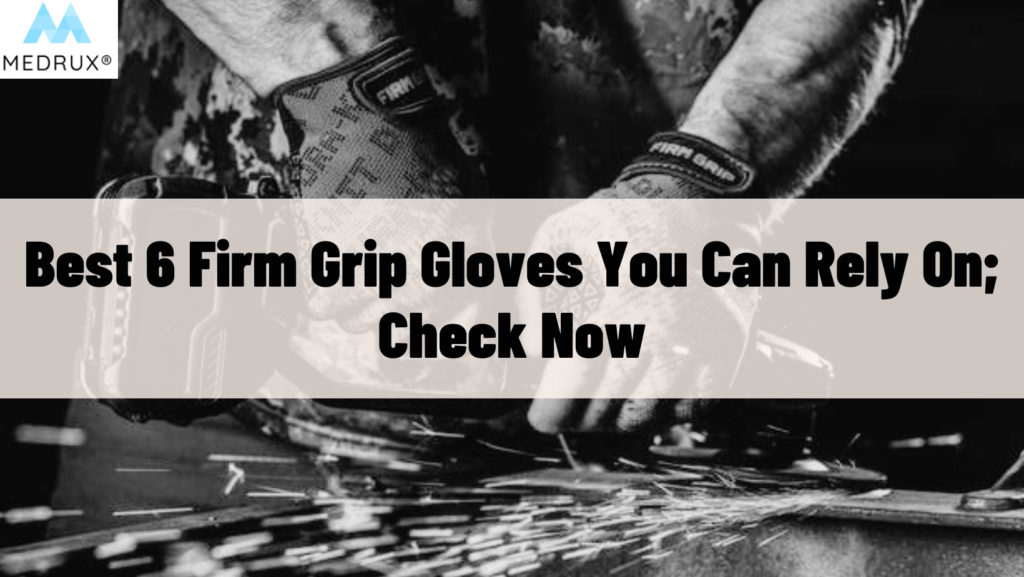 Whether you're working in a laboratory handling chemicals and solvents or in the automotive industry bearing grease and oily parts, firm-grip gloves are essential PPE you shouldn't overlook.
Why?
Because not having a good grip or control over the equipment you are holding at work can make things go wrong. 
And having suitable protective gloves with the wrong grip can worsen things.

Imagine carrying something like heavy glass panels and then losing your grip.  That's not the best thing in the world.
Or you are having the oily car parts slip out of your fingers now and then.
That's why it's essential to know how to select suitable gloves with the proper grip.
Hence, it's essential to know more and more about firm-grip gloves before you decide to buy one.
And I'm here to help you with that.

In this article, we will cover the following:
What are firm grip gloves, and what are they used for?
Why is it essential to wear firm-grip gloves?
What makes suitable tight grip gloves?
Best Six Firm Grip gloves you can rely on
Let's dig in.
What are firm grip gloves, and their uses?

As the name indicates, firm grip gloves are gloves you use to hold something tightly and control it very well.
These gloves have high levels of superior grip and the dexterity needed to do the job safely.
How?
They're textured and coated to provide the proper traction and friction to avoid slipping and sliding.

Many tasks in different industries demand extraordinary grip to get the job done.
Firm grip gloves are commonly used in heavy and dangerous tasks to keep the hand safe and have a good grip on tools and materials in industries such as:
Construction and building

Automotive

Assembly

Warehousing, transport, and logistics

Local authority

Engineering and light engineering

Handling of components and materials

Machine operation and electronics 
There are other examples where firm grip gloves can be helpful.
For instance, they are used in sports like tennis, cycling, horseback riding, and yoga.

In yoga, people perform tricky moves on a smooth mat. The hands can get slick and sweaty, causing them to slip and resulting in injuries.
The grip gloves are also soft enough to touch the skin, allowing for a firm grip in poses.
When wearing firm-grip gloves, the risk of injuries is eliminated.

Cycling gloves, for example, might have cutout fingertips to make it easy to change gears. Using grip gloves in these sports can also protect the hands from cold weather, which can be a concern for some athletes.
So, is it essential for the gloves to have reasonable control and grip?
Absolutely yes, let's see why it is important
Why is it essential to wear firm grip gloves?
Gloves protect the hands against many hazards, such as tears, abrasions, cuts, and biohazards like bacteria, viruses, and fungi.
Furthermore, they protect the hands from corrosive materials and solvents such as primary, acids, and alkalis.
However, regular gloves can be slippery sometimes.
Things might slip or drop out of your hand, making it difficult to do the job you bought gloves for.
Especially if things get wet or oily, it becomes even more difficult to grip things properly in such conditions.
Firm-grip gloves offer the best solution in these situations.
There are about 2.7 million nonfatal workplace accidents and injuries in the US private industry, with an estimated cost of $250 billion annually.
Among those nonfatal injuries, sprains, strains, and tears are the most common (1).
The most frequent causes of injury are manual handling, slips, trips, and falls from a height.
Moreover, construction and manufacturing jobs have some of the highest on-the-job fatality and injury rates (2).
Firm-grip gloves are not just for adequately handling the materials and equipment but also for protection against hand injuries.
They keep your hands safe and protected while performing heavy and dangerous tasks.
Additionally, they can keep your hands warm in cold weather if you work outdoors in icy conditions.
In short, firm-grip gloves enable you to be in control and eliminate the risk of injuries due to slips, drops, or mishandling of equipment.
Hence, they help you perform tasks efficiently and effectively while keeping your hands warm and dry in challenging situations and environments.
They're used in heavy tasks and industries but can be used for medium tasks and sweaty sports.
Now you must be wondering what makes them so unique. 
Let's find out.
What makes suitable firm-grip gloves?
Adding a firm grip to the gloves depends on the required level of control, comfort, skill, and durability.
In other words, the glove's grip is determined by many factors, including the materials the gloves are made of, the coating or the treatment of the surface, and finally, the textures given or embossed on the palms or fingertips of the gloves.
Let's go through each of the factors affecting firm grip gloves.
1. Materials used in firm-grip gloves.
Synthetic leather:
Synthetic leather gloves are durable, comfortable, and protect against tears and abrasions.
Firm-grip gloves made of synthetic leather, such as faux leather, are commonly used in heavy-duty tasks such as construction, welding, and automotive work.
They're soft and breathable, offering great comfort and heat isolation.
In addition, synthetic leather is more lightweight than natural leather, so it has superior dexterity and grip in wet, dry, and even oily conditions.
Moreover, even though they're made of artificial materials, they're environmentally friendly gloves. 
Natural leathers:
Natural leather, such as goatskin, cowhide, deerskin, etc., is very soft, comfortable, and flexible. 
In addition to protecting against many hazards, they have an excellent grip on handling tools and equipment with maximum tactile sensitivity. 
Silicone:

Silicone is a
grippy and non-slippery material
.
It is used in endless applications, including firm-grip gloves. It's used in windproof gloves as it's lightweight, breathable, and provides excellent grip control and vibration absorption. 
PVC:
Polyvinyl chloride is a synthetic thermoplastic polymer and is one of the most common coatings used in work gloves designed for grip. PVC protects against chemicals, oils, greases, and other substances and offers high-quality grip control. It also provides some abrasion and cut resistance. 
Nitrile: 
Nitrile is a chemical and puncture-resistant compound that offers a superior grip when used to make gloves. It's also resistant to grease, oil, and water.
Additionally, it offers excellent dexterity and touches sensitivity.
Cotton:
Cotton is an ideal material for firm-grip gloves used for household tasks like moving heavy furniture or various fixes around the house.
They're also perfect for sweaty sports like tennis, yoga, etc., as we mentioned above.
They keep the hands dry while offering a good enough grip to protect against slipping or injuries from falling.
2. Coating of firm-grip gloves
Many firm-grip gloves are dipped or coated in chemical materials to have a tackier surface to enhance the glove's grip and improve its resistance to many workplace hazards, such as snags, abrasions, punctures, and tears, along with liquid or contamination protection.
Here are some of the most popular coatings used in firm grip gloves.
Polyurethane, or PU, is a common polymer widely used as a coating for many applications. 
It's a lightweight, flexible, and resilient polymer.
It offers good abrasion, puncture resistance, dry grip, and a proper grip in slightly wet conditions.
What's marvelous about PU-coated firm grip gloves is that they're thinly coated, which contributes to exceptional tactility and dexterity.
Natural rubber latex (NRL)
Natural rubber latex is soft, flexible, and more resistant to abrasion than PU.
It offers an exceptional dry and wet grip with aqueous-based liquids, animal fats, caustics, acids, and alcohol.
Nitrile has a better dry and wet grip than latex. It's cut punctured, tear, and abrasion-resistant. What's more impressive about nitrile coating is that there are many options to enhance the grip, such as:
Foam or sponge coating – this chemically foamed nitrile coating is softer and more flexible than flat nitrile, especially the one made with breathable nitrile foam technology (BNF) that offers 30% better abrasion resistance.
In addition, it offers more comfort and durability, and, of course, breathability. It also features a firm grip on chemicals such as oils, petrochemicals, fuels, and most acids.
It is more elastic and form-fitting than other types of nitrile coating. It's famous for its high abrasion resistance. It offers excellent performance in oily situations and a perfect one in wet environments.
This coating is thinner than the nitrile foam coating and has excellent flexibility and breathability. Furthermore, it has a slightly adhesive finish.
Solvent-free and hypoallergenic coating, the Extra Grip nitrile coating offer excellent talent for an exceptional grip in wet or oily situations.
Neoprene is well known for its impact resistance. It's also resistant to cuts, tears, snags, and abrasions. It offers an excellent dry and wet grip when handling heavy oils, acids, caustics, grease, and solvents.
A neoprene/nitrile blend coating offers excellent abrasion resistance superior to latex. It's nonflammable and solvent-free.
Offers durable resistance and barrier protection against petrochemicals, oils, and grease. While flexible, PVC does not provide tactile sensitivity.
3. Firm-Grip Gloves Patterns and textures
Patterns, textures, grooves, and stitching play a vital role in grip.
The finish given to the gloves makes them more robust and has a more secure grip.
One of the main factors affecting your choice of grip texture should be whether you'll use the gloves in wet or dry conditions.
 This provides an excellent dry grip.
Even though it's resistant to liquid absorption, it's not the best choice for a wet environment.
It could be made with various polymers, such as latex, nitrile, PVC, neoprene, and polyurethane.
Micro Finish/Micro-Surface
This is created using soft and flexible latex or nitrile rubber filled with thousands of tiny suction cups. When these suction cups come into contact with a surface, they create a vacuum, scattering the fluids away from the object. It works well in handling wet and dry applications.
This texturing is done with nitrile, latex, and PVC. It channels the liquid away and allows better handling in wet and dry conditions. In addition to an excellent grip and tactile sensitivity in dry applications.
Patterns such as dots and blocks offer enhanced grip, performance, and durability.
In the string knit/ambidextrous gloves, the way can be on both sides, which helps extend the life of the glove.
A glove with an irregular, screened pattern may not offer much protection from moisture or chemicals but is more breathable and comfortable when working in hot environments.
This is specially made with latex to channel away liquids to allow better handling in heavy-duty wet and dry conditions. It also provides additional protection against cuts and punctures.
Rough finishes are economical for cut and abrasion resistance while providing good protection in wet and dry applications.
It gives a high-friction surface for things like oily materials.
Like the rough finish, in damp and harsh applications, premium sandy finishes offer exceptional dependability and improve cut and abrasion resistance.
It's the perfect choice in an environment where the material handled is both oily and sharp.
Diamond patterns are frequently used in food processing and handling applications because they increase grip on dry and wet surfaces.
Honeycomb patterns are typically used in janitorial, sanitation, and general maintenance applications and provide added grip on wet and dry surfaces.
With so many options out there for firm-grip gloves, it's not an easy task to choose the right one for you. 
But if you're familiar with the materials, coating, and grip texture, it will be easier.

When selecting firm-grip gloves, you'll also want to consider the environment you will work in. What type of equipment will you be using? Will you be working in an oily, wet, or dry climate? And What kind of hazards are you exposed to?
Here we have gathered the best six firm grip gloves you can have
Best Six Firm Grip gloves you can rely on
Nitrile Disposable Firm Grip Glove
The disposable firm grip gloves are easy to use; you use them once for the intended purpose, and then you can throw them away.
They provide excellent grip in wet and oily conditions and, of course, dry ones too.
In addition, they work perfectly for precise tasks that require touch sensitivity and high skill.
It's ideal for tasks like automotive assembly or mechanical work.
They're the perfect choice when the grip is a must, and the protection isn't heavily required.
Nitrile-coated firm grip gloves
These nitrile-coated gloves are lightweight, offer great talent, and fit like a second skin.
The nitrile coating on the palms and fingers brings more excellent dry gripping power and control while simultaneously creating a barrier of protection against liquids, adhesives, greases, and oils.

These reusable gloves are safe for people with latex allergies and can be machine-washed.
They can be used in a variety of applications and industries. They are great for landscaping, planting, digging, and other outdoor work.
Latex-coated firm grip gloves
It's made with a waterproof textured latex coating on both the palms and fingers for added grip in dry conditions and when it rains.
These firm-grip gloves have a thermal lining for extra warmth in cold conditions, making them suitable for outdoor work.
Moreover, they're resistant to perforations, cuts, and tears.
However, not the best choice for latex-allergic people.
It is suitable for heavy-duty applications such as agriculture, building, carpentry, construction, glass handling, etc.
Fingerless PU-coated firm grip gloves.
These gloves offer excellent grip with their PU coating and unmatched skill and delicate handling of the tools with exposed fingers, allowing you to quickly pick up things such as nails, screws, and other small items.

They're machine-knitted in dual layers and constructed of nylon for added strength.
They're your perfect choice when you need protection, grip, and precision. Ideal for assembly lines, electronics handling, and inspection work.



Oil Grip Precision Work Gloves
These leather work gloves are comfortable, stylish, and, what's more, provide an exquisite grip.
They offer a powerful grip in even the oiliest and greasiest work environments.

Moreover, they're protective against abrasion, blisters, lacerations, and contact heats up to 100 °C.
Examples of typical applications include automotive, oil and gas, petrochemicals, soil preparations, construction, and building work.
Faux leather heavy-duty firm grip gloves.
These firm grip gloves are made of synthetic leather and sometimes a blend of synthetic leather with spandex or lycra for added stretchability. 

They're form-fitted for added dexterity and reduced fatigue.
They have a synthetic suede palm with a textured grip in addition to reinforced knuckles for added control and vibration absorption.
Firm Grip Heavy-duty gloves are essential for demolition, masonry work, operating power tools, roofing, and more.
Final thoughts
Firm grip gloves differ in their properties and performance depending on many factors, like the materials, the coating, and the textures or grip they're given.
It's essential to know how wet or oily the environment you will work in is and what tools and equipment you will handle so you can select the firm-grip gloves that work best for you.
Now we've reached the end of our article; we hope it's been informative and comprehensive.
Feel free to send us if you have any more inquiries about firm-grip gloves.