5 Rose Pruning Glove Options That Will Truly Save the Day Every Time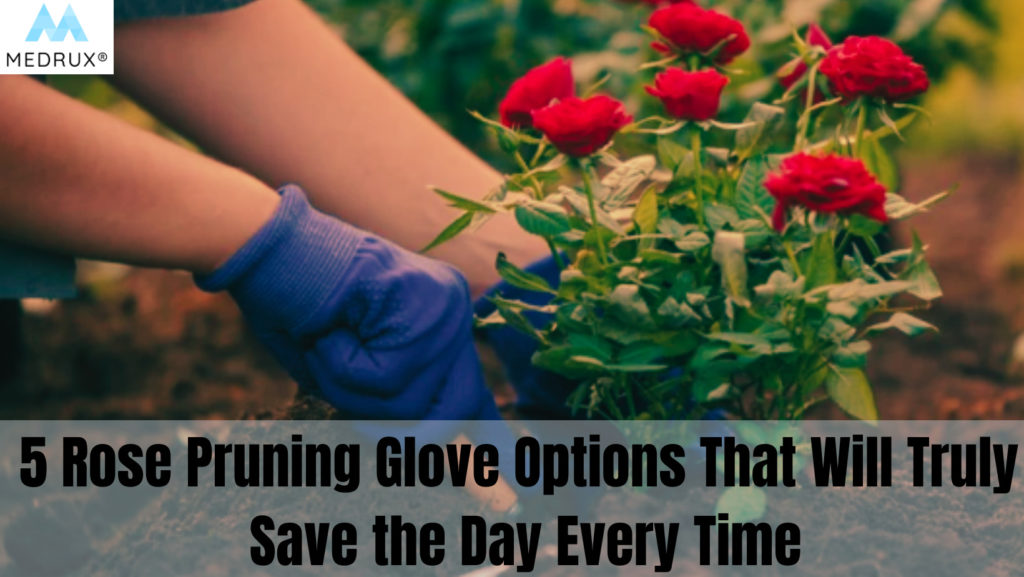 We all love roses, don't we? But rose pruning?!
Ah, such a painful task to do, right?
Having to do it frequently, I've found the answer to this pain, rose pruning gloves, or as I like to call them, rose gloves!
And I'd like to share the details of this answer with you, for they have made my life more accessible than I thought!
Roses are the delicate symbol of love, as we all know.
Pleasant to the heart, soul, and all senses, people worldwide grow roses.
To grow love is a prickly road full of troubles, just like growing roses. And just like you need a friend's help, you need rose pruning gloves.
If you're here, you already know that to grow a fresh and healthy blooming rose, you must go through the painful process of trimming the rose bushes and moving those sharp branches full of thorns aside.
Whether you're a professional gardener or love to plant in your backyards, you must be fond of roses! And with roses must come rose gloves.
You don't always need roses to have rose gloves.
Rose pruning gloves don't just protect your hands against thorns; they could help protect against infections and diseases coming from different bacteria in your garden.
So, how helpful and why do you need rose pruning gloves in your home? Let me share my experience with you.
In this article, we will talk about
Why is it essential to protect your hand with rose pruning gloves?
What are rose gloves made of?
The most critical features rose pruning gloves must have.
How to clean and look after your rose gloves?
Top rose to prune gloves you will rely on
Let's begin.
Why should you use rose pruning gloves?
Pruning is cutting back the dead wood around the rose after bloom to allow more growth.
These dead woods are branches full of sharp thorns of different sizes; if you try to come near any of them with your bare hands, you'll get cuts & bruises.
Thus, it would help if you had rose pruning gloves to protect your hand from such injuries.
Moreover, plants beside roses can prick you with thorns, sharp edges, and spines like aloe vera, German iris…etc.
So you'll need rose gloves whenever handling, moving or looking after any of them!
And it's not only about the bleeding tears or scrapes but also several bacteria and fungi embedded in the thorns and the soil.
How harmful these bacteria and fungi be?
Well, pretty harmful if you ask me
they can cause infections like tetanus, sepsis, or a disease called rose gardener's disease.
Likewise, rose gloves can help protect you against bacteria, fungi, spiders, and insect bites like bees.
Furthermore, they shield your hand from blisters working with forks and spades, fertilizers, pesticides, and chemicals required for gardening.
Additionally, keeping your hand and fingernails free from dirt ultimately contributes to your hand's well-being and protection against cracks and dryness.
The bottom line here is;
Protecting your hand while pruning roses is a must.
Rose gloves can reduce accidental tears, scrapes, and wood splinters.
In addition, it protects you against thorns and spines of different types of planets.
Not only keep your hand safe but also keep it clean and free from dryness and blisters.
To withstand something as sharp as thorns, rose gloves must be thick enough to stop the thorns from breaching into your skin, so what are they made of? Let's find out.
What are rose gloves made of?
Generally, Rose gloves are either natural or synthetic. Genuine rose gloves are made from natural leather.
It is the most common choice for rose purring gloves.
Why?
They are usually thick, offering the protection you look for; they also wear resistance, meaning they will last longer.
A good thing to know about them is that the more you wear your leather rose gloves, the softer they'll become. Thus, the easier for you to work with
Regardless, they can be a bit expensive.
They make it up on this side by standing so long that you could change a pair of gloves made of natural leather for each ear or maybe two!
Hence, in my opinion, worth every penny.
Natural leather rose gloves.
It can be goatskin, pigskin, or cowhide.
Cowhide; It offers excellent flexibility and puncture resistance, but It's not waterproof, it can wear quickly, but it's Probably the most leather used for its affordability.
Pigskin is soft, breathable, and most comfortable to wear; they're waterproof by nature. It's the most puncture-resistant and durable leather rose glove.
Goatskin is soft, flexible, and breathable. But It's the least durable of all leathers; that's why It's usually padded and reinforced.
For Your Best Guide For Purchasing The Best Leather Work gloves …click here.
Synthetic rose gloves
Synthetic rose gardening gloves are usually less expensive.
Unlike natural leather rose gloves, there are only a few options for those who don't prefer leather gloves.
The most used material is spandex, a synthetic fiber known for its exceptional elasticity.
Spandex is durable and thick enough to withstand punctures, thorns, and cuts.
Some other options include faux leather, nitrile-coated gloves, and neoprene gloves.
Check our Experts' Guide to Neoprene vs. Nitrile gloves.
Given all of these,
Natural leather gloves are the most common choice for their flexibility, wear resistance, and durability against many external hazards.
Cowhide skin has excellent flexibility, while pigskin has the most significant puncture resistance and is naturally waterproof. Goatskin is comfortable and breathable.
On the other hand, synthetic rose gloves are usually spandex for their excellent durability and puncture resistance.
We've been talking about things like thornproof and breathability, which leads us to our next question!
What should you look for in your next rose pruning gloves?
The most important features rose pruning gloves must have.
A good rose pruning glove can be a blend of both comfort and protection.
When you put a good amount of money into a pair of rose gloves, you expect it to protect your precious hand and comfort you while performing your hobby or even your professional work.
So how to ensure you're not wasting your money over a pair of rose gloves that will make you compromise one of the above?
Well, you have come to the right place! We're here to help you and tell you what to look for.
First, let's talk in protection terms!
Any rose glove must be Thorn-proof
your skin is the natural protective barrier; it shields you against harm.
Yet, it remains a light shield in the face of severe mechanical and physical injuries like poisonous weeds, a sharp outgrowth of planets, and piercing thorns.
You must wear gloves while performing tasks like rose purring or cactus trimming to protect your delicate skin against these thorns.
Ensure the rose glove you buy is thornproof and made of materials resistant against thorns and sharp edges.
An excellent rose glove must have forearm protection
Forearm protection is one of the most important features determining whether you should buy this pair of rose gloves or skip to the next one.
You might think to yourself, why do I need that?
But trust me, I've been there.
Leaning into, grabbing, and getting the bushes out of the way, thinking I'm fully protected because I'm wearing a rose glove covering my wrist and a long sleeve t-shirt, then BAM!
Thorns cutting through my favorite shirt, bleeding forearm, and endless, painful scratches!
Trust me, the longer, the better.
If I could get a shoulder-length rose glove, I'd!
The gauntlet style is the signature feature of any good pair of rose gloves.
Protecting your hands alone isn't enough
Extra padding is the next magical thing you need!
Extra equals more; extra padding provides more protection!
However, too much padding may restrict your hands.
Look for rose gloves with spaces of padding across the top of the palm and the base of the thumb, as they offer protection without causing too much restriction to your movement.
Also, extra padding can add grip when doing detailed jobs like pruning your roses, even when you feel your hands are sweaty!
Extra padding is one magical feature; it offers you protection and better control!
A waterproof rose glove is everybody's favorite!
Gardening is always full of wet and humid surfaces.
Having a waterproof rose glove will be super helpful in winter in the rain or when your planets are wet and muddy from the watering cans.
Now we know what makes rose gloves protective, let's move on to your comfort.
A good rose glove should be Breathable.
You will probably wear your rose gloves for a long time, and there's nothing as uncomfortable as feeling your hand sweating and sticky.
So, you need to ensure they are breathable
what does this mean?
It means they allow air to pass through properly to give your hand room to breathe, especially in the summer.
Imagine being able to look after your beautiful roses without feeling your hand all sweaty or suffocating.
Imagine feeling your hands relaxed while the sun is blazing out there!
What a blessing that would be.
Make sure your gloves are breathable enough, so you're not bothered by sweat on hot summer days and keep you warm in winter.
A Good rose glove must be Flexible.
Trimming and pruning roses is a delicate process that needs certain precision sometimes, a little twisting and turning.
If you're a beginner or do it for fun, you don't want to break your roses because you twisted a little deeper than you should.
Further, you will use gardening tools while wearing your gloves. Tools need proper handling, and your gloves mustn't hinder this.
So, make sure your gloves are flexible enough for your needs
You could test them before buying.
Put them on, make a fist and fully extend your fingertips. Feel the gloves around your hands and test their range of motion so you can be comfortable with your choice.
A super helpful rose glove must fit your hand well.
Your rose gardening glove must fit you.
Rose purring is a hand on the job! You need to feel your every move.
More precisely, if the gloves don't fit well, it will only cause harm rather than protection.
How?
If they are too loose, you could drop things, be less precise in your work, and they could get caught up in the bushes, causing you scratches and cuts.
On the contrary, it could be irritating and uncomfortable if they are too tight.
Accordingly, it would help if you looked for brands with various sizes From Xs o Xl.
If you are buying online, make sure you read the chart size and measure your hands well to get the right size.
One more feature that makes great rose gloves is a Reinforced thumb
Your thumb is usually the first area that encounters thorns.
Similarly, reinforcing it will not only add more protection to the gloves but also prolong their lifespan of the gloves.
Because once the thumb tears away or have a hole, there will be no use for the rose gloves anymore.
Reinforced thumbs make It easier to hold other gardening tools and are considered a plus point for people with arthritis.
To summarize, protection means the glove should be thornproof with a gauntlet style for forearm protection, and extra padding would give you more and more protection. Additionally, being waterproof is also a great feature.
Breathable rose gloves are the best for your comfort and should be flexible enough to do the job needed. You'll want to ensure you're wearing gloves that are the right size.
A reinforced thumb is one way of keeping your gloves living longer, but also, there are ways by which you can make the glove last longer by cleaning and knowing how to care for your pair of rose pruning gloves.
How to Clean and Care for Your rose purring Gloves?
Do you want to know a secret?
The more you look after your rose glove, the longer they can survive.
Let me tell you some simple tips that can save you from buying new pairs now and then.
Clean them frequently
Do not fold your gloves carelessly
Don't leave your rose pruning gloves near sharp gardening tools.
Leave them to dry slowly, flat or from clothespins, to maintain their shape.
Never leave your gloves in the open, especially during bad weather conditions.
If your rose gloves are made of leather; you have to:
Get rid of the dirt once you finish your work, you could use an old toothbrush
Wipe them with a damp soft rag or paper towel with some soap
Wipe the soap with a clean damp rag or paper towel
Hang them to dry slowly
You can apply some linseed oil for extra care from time to time.
If your rose gloves are made of synthetic material e.g., spandex
Clean the gloves with lukewarm water.
Add some detergent and gently clean the stains.
Wash it with lukewarm water again.
Could you leave it to dry?
Don't put spandex rose gloves in the drier; the drier can make the fabric weak and crack.
Now you know what to look for when picking rose gloves and how to look after them; we have some recommendations for the best rose gloves out here.
Let's explore them and find out the pros and cons of each.
Top 5 rose gloves that you will rely on. Here we go:
Goatskin Rose Gardening Pruning Gloves
100% natural and premium goatskin ensures your hands are safe against scratches, scrapes, and splinters.
Goatskin rose pruning gloves have excellent puncture resistance providing the best protection you need.
Fun story, one buyer said It's "Cat-proof" as she used it to hold her cat while visiting the vet, and after endless scratching and tetanus shots, using these gloves worked like a miracle against those sharp claws, so It's perfectly thorn-proof
Pros:
Buttery soft and smooth texture due to internal lanolin coating keeping the hand moisturized without dryness or itching (Unless you're allergic to wool, that wouldn't be a wise choice).
Cowhide suede Extended gauntlet.
Reinforced thumbs.
Cons:
It cannot be washed in a washing machine
More expensive than other types
2. Professional Bella Rose Pruning Gardening Gloves
If you prefer non-leather rose gloves, this is the one for you.
It is spandex, offering outstanding durability, comfort, and flexibility.
In other words, what each professional rose gardener needs most.
These thorn-proof rose pruning gloves are highly puncture-resistant.
Additionally, they have synthetic leather padded palms and reinforced fingertips.
This remarkable feature also protects against sharp thorns on hands, palms, and knuckles.
Not only durable but can also last for very long; some users said he lased up to 2 ears.
Pros:
An elbow-length gauntlet cuff.
Whimsical printed floral fingertips. Not just for a cute look as a gift but also gives extra grip when working with hand tools.
It can be reused and washed via a washing machine.
Cons:
It cannot be put in the dryer
3. Leather Rose Pruning with Pigskin Leather Gauntlet
Pigskin has the best breathability of all leather gloves because of its porous texture.
that's why these leather rose pruning gloves are one of the best pairs of rose gloves you could have
I will keep our hands dry & soft after getting wet and relaxed and comfortable in hot weather conditions.
Pigskin is known for its durability and strength; it ensures wear and is puncture resistance.
They are thicker and sturdier, with extra padding on fingertip areas for additional protection.
Pros:
Pigskin leather Elbow-length Gauntlet Cuff
Flexible design, with Elasticized wrist for the ultimate fit.
Cons:
4. Faux Leather Rose Embroidery Pruning Gloves Gardening
It is very flexible and easy to put on and take off, providing great agility and flexibility in many tasks.
This fancy looking with rose embroidered cuffs rose gloves are durable with Reinforced palms and fingertip to ensure wear resistance & puncture resistance.
Pros:
Multiple colors and sizes
Long forearm gauntlet
Cons:
It cannot withstand rainy weather.
5. Thick Cowhide Leather Work Garden Gloves
It's affordable, but these thick cowhide leather gloves offer excellent puncture resistance, great grip, and flexibility.
It's thorn and scratch resistant to work with cactus, blackberries, roses, and other barbed plants in the garden safely
They are breathable despite their thickness also, the inside of the glove is very soft to prevent blisters from long hours of work
Pros:
Elbow length Gauntlet.
Meticulously stitched to last longer.
Cons:
Due to the cowhide made, new gloves may smell, but the smell will gradually fade.
They are not waterproof and can become stiff once dried, which reduces their longevity.
Summary:
Now you reached the end of this rosy trip, let me sum It all up for you,
Rose gloves are essential to your gardening tools to keep your hands clean and protected against thorns, scrapes, infections, and disease.
Whether natural leather or synthetic spandex, rose gloves should be thorn resistant, tough & durable yet, breathable and flexible.
Choosing suitable gloves is not easy, but keeping these features in mind and selecting gloves with an extended gauntlet could give you great rose gloves to work with.
Because when pruning roses, protecting your forearm is as important as your hands.
I hope you enjoyed reading this article and are now ready to prune some roses safely.