Your Best Guide For Purchasing The Best Leather Work Gloves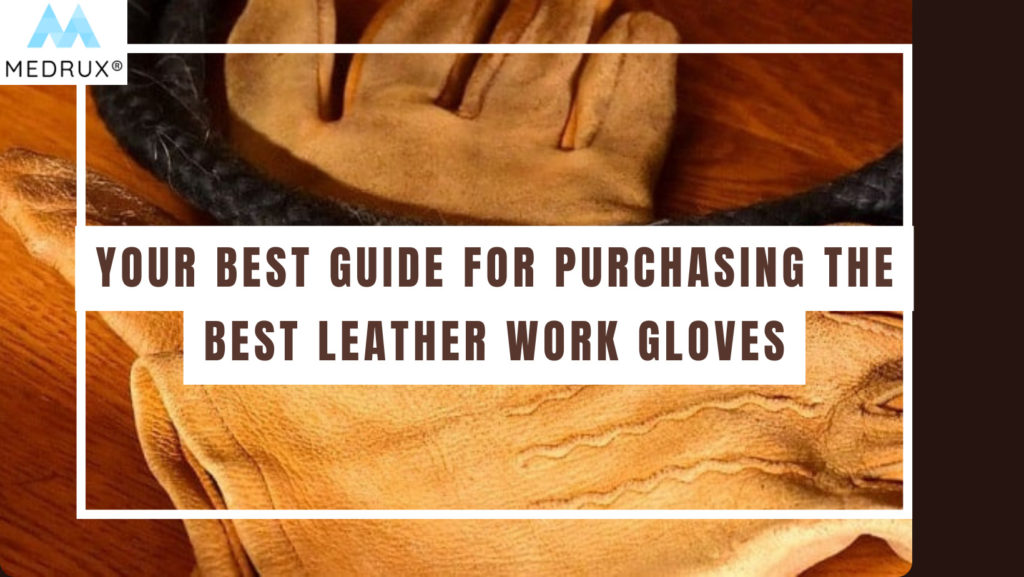 Are you tired of looking for perfect leather work gloves? Searching and getting various options, however, no clue what to choose?
Palm gloves! Cowhide leather gloves! Stitching! No stitching! Seams and seamless! Cuffs or no cuffs!
Lots and lots of details result in various options and by finding more and more products you feel lost and maybe desperate!
But wait! I know the feeling, and I promise you that when you keep reading, you won't feel like you're banging your head against a wall.
You want to get leather work gloves for yourself, your newly established startup business employees, your factory or ranch workers, or whoever … you will have! 
So please do not give up on the option of getting efficient personal protection equipment such as gloves, be patient, and stick with me until the end!
Anyway, leather gloves are favorite among most workers.
The point is getting the best option according to your workload duties. The perfect pair of gloves for each one that guarantees you the best protection provided and maximum longevity! 
In this article, we will provide you with a detailed guide that allows you to understand the differences between each leather type, different qualities, styles, and whatever factors are needed to get you directed to find your sought-after treasure! Your ideal work gloves!
Let's jump in!
Why leather work gloves?
According to the U.S. Bureau of Labor and Statistics(1), 70 percent of workers who experienced hand injuries in 2015 reported that they were not wearing gloves.
The remaining 30 percent of hand injuries involved employees wearing gloves, but the gloves were inadequate, damaged, or the wrong type for the present hazards.
Many workers can use leather work gloves in different industries and maintenance work.
They are ideal for most indoors and outdoors maintenance projects at home as; electrical work and generous household repair.
Leather work gloves are an excellent choice for various heavy-duty and basic and lightweight tasks.
In short, the various features of leather as durability, agility, and resistance to cutting and abrasion, provide a wide variety of leather work gloves.
Oddly enough, this variety is serving you well!
It doesn't mean you can pick anyone! You're dead if you think the most expensive guarantees the highest protection!
This variety provides good options for different applications.
So how can I choose mine? Do you want to learn how? 
Prepare your list of hazards and pleasant wishes as wishes you wait for; tighten your seat belt! And, here we go!
The following steps will help you to recognize the differences you need t know regarding each of them and all the factors you need to consider so you can limit your list of choices to make a conscious decision that suits the application.
Here are different types of leather, check! 
The industry of leather work gloves is four main types. They are Cowhide, Pigskin, Goatskin, and deerskin leather.
The crazy thing about them is that they are all naturally taken from animals' skin which provides different levels of protection, dexterity, durability, and comfort for each
Cowhide leather gloves:
Cowhide leather gloves are the most common and popular used among workers.
This is because a pair of cowhide leather gloves are comfortable, durable, and suitable for heavy duties. 
Moreover, it has a high level of dexterity, abrasion, and puncture resistance.
As if that's not enough, what is really special about cowhide leather gloves is their economical price and their ability to resist heat more than pigskin or goatskin leather which make them one of the best at keeping the hand warm. 
It has also a more extended break-in period than goatskin and pigskin leather.
Can I be honest with you?
The bad thing about cowhide leather gloves is that they can get dry due to over-exposure to water, stiff, and consequently lose flexibility and break.
Suitable applications:
All that is mentioned above make such a pair of gloves suitable for work tasks that require high durability as:
Roofing, carpentry, construction, packaging, landscaping, automotive and industrial work.
Pigskin leather gloves:
Pigskin leather gloves make the best work gloves where comfort, protection, and pliability are most needed.
They do not provide warmth as cowhide, on the other hand, they offer a higher level of dexterity than cowhide gloves.
What is the catch?
Pigskin leather has the greatest breathability because of its porous nature.
This makes pigskin gloves soft and comfortable. They get even softer with repeated use and flexibility.
Unlike cowhide leather, pigskin leather gloves are water-resistant to the extent that they stay soft and uncracked with repeated use and exposure to water.
This leather type out of the four of them is most durable and resistant to puncture, providing a high level of abrasion.
In a nutshell, pigskin leather work gloves are the most flexible and protective.
Suitable applications: 
This makes them suitable for many commercial applications and ideal to use in humid work environments.
They are appropriate for handling materials and maintenance jobs.
Goatskin leather gloves:
To top it off, goatskin leather is considered the strongest out of the four types despite the fact of being a thin type of leather.
It provides a greater level of breathability, dexterity, and flexibility than a pigskin.
 The presence of natural lanolin in the skin offers a very soft and flexible pair of leather work gloves. Moreover, this oily nature provides high water, abrasion, and cutting resistance that offers protection against many hazards.
Astonishing! Isn't it?
It also stays pliable after getting repeatedly wet.
Believe it or not, goatskin gloves are only suitable for medium-duty jobs despite their highest strength!
Sadly!
Goatskin leather gloves are less durable than cowhide and goatskin leathers due to their thin leather construction. They do not keep hands warm as cowhide.
Here's the deal!
Goatskin leather work gloves are mostly befitting in tasks where high dexterity, comfort, and tear resistance are needed!
Deerskin leather gloves
Deerskin leather is one of the most naturally soft and flexible leathers available. It offers an ultimately supple pair of leather work gloves.
Same as pigskin, when it gets exposed to water it dries soft and remains flexible. Eventually, it becomes even softer after repeated exposure to water and drying.
In addition to providing more comfort and being longer wearing than cowhide leather, deerskin leather is the warmest of all leather types.
Are you ready to know the sacrifices corresponding?
Deerskin leather gloves are the most expensive type.
They offer high flexibility to the extent to which they lose shape under rough wear. They also provide limited breathability which is similar to cowhide.
Here is the scary part!
Although you will gain exceptionally comfortable and supple leather gloves, you have to let go of qualities such as durability, abrasion, and puncture resistance.
Suitable applications: 
Here's a way to think about it! Despite the fact that there are some listed negatives about the deerskin leather gloves, it doesn't mean they are not worthy!
Due to deerskin leather's high dexterity, natural heat resistance, and excellent temperature regulation, they are great for jobs such as welding applications and other equipment operations which require heat resistance.
Other types of leather work gloves
There are other types of leather as buffalo leather, horsehide, and sheepskin yet they are not the best options for work leather gloves for the following reasons:
Some types could promise similar properties but with additional cost. For instance; buffalo leather has almost similar properties to cowhide yet it's more expensive while cowhide is the best economical type of leather work gloves. Cowhide leather wins!
Some types have excellent features to seek but are not easy to find because their use is limited in a few countries.
Other types such as horsehide leather are better fitting in contribution to the fashion industry.
Quality of leather work gloves
Area and cut make remarkable differences!
Basically, leather quality depends on which part of the animal's body the skin is taken from- for example; shoulder, belly, or neck – and which side is processed, interior or exterior.
Let's jump right in! There are two main categories classifying leather quality, full-grain and split.
Full-grain leather
Full-grain leather, also named top grain, comes from the exterior of the animal's skin. It comes up with the finest raw material, leather.
It is thicker than split leather, durable, naturally smooth, and waterproof.
Due to its appealing appearance and high durability, it is more expensive than split leather!
Types of full grain leather: 
Full-grain leather cut from the sides and shoulder of the animal provides the highest durability.
Belly and neck cuts of top grain leather are less durable.
Split leather
When the highly thick skin is removed from the hide of the skin, the interior part of the skin is split from the supported exterior into layers.
The bottom layer is made into what we call "split-leather." It is also commonly known as suede leather.
Split leather is not generally known to be stronger or more durable than grain leather; however, it provides plastic gloves with high skill. It offers more water and abrasion resistance. 
Moreover, split leather provides a higher grip in oil.
Types of split leather: 
Side split leather is the most durable of split leather with sustained split quality. No wonder it is the least economical of all types of split leather!
Shoulder split leather is relatively economical and has the highest abrasion resistance of the split quality.
Belly split leather is the most petite uniform in texture and appearance but the most economical of the split quality.
It all boils down to this! 
The differences between both cuts result in making full-grain leather better for outdoor working conditions and when higher longevity of use is prioritized.
For more safety in the industry, protection against puncture and abrasion as in crafting and construction jobs, pocket-friendly choices, split-leather gloves are the one!
Gloves cut pattern
The cutting pattern of leather work gloves contributes to their comfort and dexterity.
Ready?
There are two main patterns:
Gunn cut:
This cut is the most common pattern.
On the backside of this pattern, the entire back, including all four fingers, is cut as a single piece of the seamless back.
The two middle fingers are sewn to the palm separately to minimize bulk in these fingers. The palm, little finger, and index finger are cut from one piece of leather different from the one of the two middle fingers.
This design increases the agility of gloves and offers better wear and comfort during extended wear.
In addition, it provides natural gripping action for handling tools.
Clute cut 
This cut keeps the palm free of stitching.
On the palm side of this pattern, the palm is cut from one piece of leather and all four fingers with no seams at the base of each and a straight thumb.
Regarding the backside, each finger is a separate piece of leather.
This design provides greater flexibility. This cut is also more economical because it has fewer seams sewn.
Types of leather work glove thumb
Huh, Thumb! Think I'm exaggerating?
I know it seems so, but surprisingly enough, such a small detail as the thumb design in leather work gloves can lead to significant differences in the functionality and comfort of gloves.
Do you want to know how?
Let's go to the point of knowing the differences between the following three designs!
Straight thumb
The good news is; that as a straight thumb design requires less stitching, this results in having a more economical cost.
The thumb laid vertically straight from the wrest makes it the best at jobs that require good gripping and closed fist work.
This design cannot fit rigorous work tasks as it limits natural thumb motion. 
Wing thumb
It's designed with an angle diagonally across the palm, so the thumb is sewn out to the side of the glove.
Needless to say that this construction maintains natural movement. This means it allows more flexibility and efficiency than straight thumbs.
Therefore, the winged thumb design is fitting for pushing and pulling applications. You might find it in mid-priced gloves, which you can use for extended periods.
Keystone thumb
Keystone thumbs are sewn separately from the rest of the glove.
Due to the extensive thumb sewing, it's the most expensive thumb option. Most importantly, this thumb design provides superior movement and extreme comfort!
As the thumb is in a natural position, keystone design is ideal for work applications where there could be utmost wear at the thumb, such as – for example- pulling wires.
Leather work gloves cuffs style 
Different applications demand variety in cuff styles. Cuffs play a role in providing warmth and increasing safety measures.
Want to know how? Here we go!
Types of work leather glove cuffs:
Knit wrest cuffs
This style comes from a stretchy knit fabric that holds firmly around the wrist.
Wondered why?
The snug-fit design prevents slippage, protects the wrist from injuries, and keeps away tiny particles and dirt from falling inside the glove.
Shirred cuffs
An elastic band enters the cuff manufacture, providing a good fit.
Although well designed, it's not as well-fitting as knit wrest cuffs. The shirred cuff is more comfortable for gathering the leather at the wrist.
Safety cuffs
It offers high wrist protection to reduce injury, usually 2.5 inches long. It provides ventilation during wear.
The best part is that it has a slit that helps the user wear it off quickly in an emergency.
This style of design is ideal for construction and manufacturing work.
Gauntlet cuffs
This cuff is long, usually 4 inches. It provides the same features as safety cuffs; the additional length protects the forearm and wrist.
The open cuff features allow the user to tuck sleeves into the glove.
Slip-on cuffs
The slip-on style means that the glove ends typically at the wrist with no cuffs seamed.
The slip-on work gloves style is effortless to wear on or take off.
If your work requires frequent removal of your gloves or performing the secondary tasks as well -for example, writing notes- then they will refine the style of slip-on cuffs.
Types of leather work glove lining
Leather work glove lining is traditionally for warmth. It gets better when I tell you it could add more comfort during extended wear!
Cotton and Jersey lining
It is mainly to prevent chaffing as possible.
Fleece lining
Napped cotton is the main component of a fleece. It provides comfort allowing hands to move more freely, and excellent protection in cold weather. No wonder why it's the most common glove liner!
Wool and Pile lining
Wool lining protects against cold even when gloves are wet. As well, they are odor resistant.
Pile is synthetic wool that is very popular because it looks much like natural wool and is low-priced.
Thermal Lining
The best option for freezing weather is a glove with a double material layer. Consequently, providing high thermal insulation.
Finally, our vast list comes to an end! 
Bottom line: As long as you consider what you need your glove to provide, you can pick the one with all the options that fit the best for you and stay with you long enough!
Thinking about the environment, check our article about biodegradable gloves too.