Extra-Long Latex Gloves; What Do We Love About Them?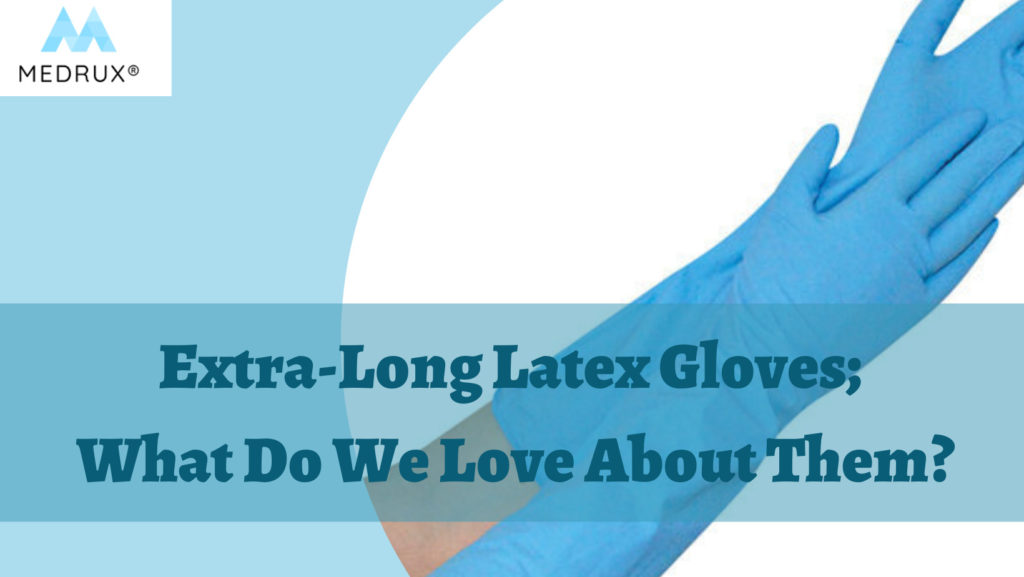 Do you want to clean your dishes but have a bottomless sink that requires an extra-long glove?
Would you love to dip your forearm in the water without getting wet?
Are you a bee-keeper who wants an extra-long glove to protect your forearms from vicious stings?

Extra-long latex gloves are exactly what you look for.

In this article, we will talk about:
What are they?

What are the best five features about them?

Is there a drawback you must know?

What are their different applications?
What are extra-long latex gloves?
Natural latex is the main component of these gloves.
Coming from Hevea brasiliensis, more famously known as the rubber tree.
They don't just cover your hands and wrists like regular latex gloves, but they can also cover your entire forearm.

They're made of latex.
Hence, they possess the same qualities everyone admires about regular latex gloves. Here are the best features of extra-long latex gloves.
The Best 5 Features of Extra-long Latex Gloves
The great protection of latex

Extra-long latex gloves are an excellent shield against biohazards and pathogens like bacteria, viruses, and fungi.

They make an excellent barrier against contaminants such as blood, respiratory droplets, body fluids, etc.
They not only excel at this, but they also have good chemical and oil resistance; they can protect against various chemicals, including acids, alkalis, grease, and oils.
Are you looking for the best oil-resistant gloves? Check our guide now!
Furthermore, they've impressed and still impress people over decades with their cut and tear resistance.
Why?
It is owing to their physical structure and outstanding ability to stretch.
Additionally, they're heat-resistant. So, you don't need to worry about getting burned if your hand touches the hot baking pan in the kitchen.
If you want to buy heat-resistant gloves, here are five things you need to consider; check now!
Nor if you submerged your hand fully in a tub full of water while washing the dishes because guess what?
They are waterproof as well.

I mean, what's not to love about them so far? Right? Let's keep moving.
Extra length equals extra protection

Regular latex gloves are 240 mm long, meaning the glove cuff covers only a tiny area of the wrist.
On the other hand, extra-long latex gloves could range from 250 mm to more than 300 mm.

Moreover, some of them can reach up above your elbow with 400 mm and 600 mm in length above the elbow.

So, the longer, the better, the more protection.
Special designs

Extra-long latex gloves have unique beaded cuff designs to give them additional strength and stop them from rolling down.

Some extra-long latex gloves have a soft cotton flock lining that absorbs sweat and keeps hands cool.
Elasticity & Comfort

Latex is known for its exquisite elasticity; you can stretch it; it returns quickly to its standard shape with no changes to being floppy around your hand.

Moreover, extra-long latex gloves fit around your hand like a second skin.

People have called them the most comfortable in the world of gloves.
Their unique designs and anatomical shapes guarantee comfort and reduce hand fatigue.
It has textured palms and fingers for better grip
Extra-long latex gloves are popular among people performing precise tasks that require accurate hand movements, such as surgical procedures, the assembly of detailed structures of electronic equipment, and some tricky cleaning tasks.
Why?
Extra-long gloves are a great choice because of their elasticity, unique designs, and second-hand feel.
Some of them have textured palms and fingers, adding more confidence and a a secure grip to resist slipping or letting things slip out of your hand.
Some extra features make the extra-long latex gloves highly preferable.
What are they?
Extra-long latex gloves are a rock star among eco-friendly people. Check now; How the new biodegradable gloves will stop ruining our oceans 
Why?
They outperform most other types because they are made of natural, biodegradable, recyclable, and sanitized materials.Wondering about latex gloves disinfection process? check now Your ultimate guide to how to disinfect latex gloves!
Moreover, they're cost-effective and come in multiple colors for color coding purposes. Confused about latex-colored gloves? Know the difference and uses of each here
They could be powdered or powder-free.
Extra-long latex gloves can be sterile "medical grade" or non-sterile "industrial grade" and can therefore be used in an extensive range of applications. Confused about your choice? check now our guide about  Choosing sterile vs. non-sterile gloves, know which one is best relevant
What a catch, right?
All you want in one pair of gloves.
But there's one drawback to extra-long latex gloves.

Is there a drawback you should know about?
Latex gloves have generally been the most common type used around the world up until the 1970s.
Between 1988 and 1992, the Federal Drug Administration (FDA) received more than 1,000 reports of adverse health effects from exposure to latex (1).
So why is this a drawback for our extra-long latex gloves?

They contain latex proteins. Latex proteins cause allergies.
Latex allergy can range from mild skin reactions to life-threatening anaphylactic shocks.
The current prevalence of latex allergy among healthcare workers worldwide is 9.7% (2)
Do you have Severe rashes from gloves at work? Don't worry; your perfect guide is here!
In conclusion,

The extra-long latex gloves are thin yet strong and durable, withstanding and resisting many threats like cuts, tears, chemicals, oils, and water.
The extra length makes them ideal for many uses in various fields.
The distinct designs make them comfortable, highly dexterous, and have a better grip.
They are eco-friendly, cost-effective, and come in different colors and sizes.

However, some people could be allergic to latex.
But as long as you know you are not, extra-long latex gloves will work perfectly for you in many fields.
Let's explore some of them.

Different applications of extra-long latex gloves

Because of their form-fitting, latex gloves have been the favorite for dentists, doctors, and surgeons.
They permit sensitive to touch and don't move around as much on your fingers.
Because of their superb ability to keep many microorganisms away, extra-long latex gloves are widely used in the medical field.
How robust are the antimicrobial gloves at smashing microbes on contact?
Extra-long latex gloves are preferred over regular latex gloves in high-risk areas such as maternity, obstetrics-gynecology, and orthopedics.
In these fields, elbows and wrists need more protection against cross-contamination for the healthcare provider and the patient.

For example, obstetricians frequently perform operations such as natural baby delivery, manual removal of the placenta, postpartum hemorrhage procedures, and cervix surgery.
These operations are highly high-risk; hence wearing extra-long latex gloves is a must!
Extra-long latex gloves cover the hands and wrists above the gowns and protect against contamination of blood, body, and cervix fluid.
In addition, the added grip of the micro-rough texture in the palms and thumbs helps in a firm grasp of the newborn baby and the surgical instruments.
Moreover, they're comfortable and prevent hand fatigue and muscle cramps during long surgery and obstetrical use.
Here's how to source purple medical gloves at an irresistible price.
Wearing gloves is essential to protect your hands from chemicals such as acids, bases, and alkalis.
For some chemical and biological risks, extra-long latex gloves are perfect for ensuring the maximum protection of your skin because of their extra length and chemical resistance.
Extra-long latex gloves (400-600 mm) are now widely used in clean rooms to ensure excellent coverage of the hands, wrists, and elbows.
To eliminate the bio-contamination as much as possible.
Why?
It's known that humans are the primary source of contamination in a clean room as skin particles are released, causing bio-contamination.

What is a clean room?
It is a controlled environment where pollutants like dust, airborne microbes, and aerosol particles are filtered out to provide the cleanest area possible.
What are these clean rooms used for?
They manufacture sensitive products such as electronics, optics, pharmaceutical products, and medical equipment.
Looking for a guide?Here is An easy, comprehensive guide on cleanroom gloves vs. industrial gloves

Gardening and Bee-keeping!

If you're a gardener, you must have gone through the painful process of having your forearms injured multiple times by rose thorns and bushes.
Unless you are wearing a proper gardening glove with an extra-long sleeve! Here are 5 rose pruning glove options that will truly save the day every time.
Extra-long latex gloves are popular for more extreme industries and professions such as rose pruning, beekeeping, etc.

The extra length increases the security, protection, and, surprisingly, the user's confidence.
Why?
Because they provide the necessary protection for your forearms, which are at risk of being cut or stung by bees!
Moreover, they could be helpful to in agricultural cleaning and farming duties.
Extra-long latex gloves are waterproof, thus ideal for use in cleaning duties such as kitchen cleaning, dishwashing, bathroom cleaning, car washing, and indoor and outdoor cleaning.
They can also be used in environmental cleanings, such as picking up the garbage or cleaning the oceans of harmful waste.

They keep your hands and forearms dry and comfy!
Moreover, they prevent skin contact with detergents and corrosive liquids.
A practical guide to car wash gloves; choosing the best supplier
Veterinary, pet-care, and Cleaning

If you're a veterinarian, extra-long latex gloves could greatly help you while examining animals.
They protect against oozing or infectious wounds and against the animal's blood and body fluids, a rich environment for many bacteria and animal-borne diseases.

If you have a cat with long claws that keeps scratching you every time you try getting it to the doctor.
You can entirely depend on the extra-long latex gloves to protect your forearms as they are torn and cut-resistant.
Moreover, if you have a tank full of fish, work in an aquarium and clean the tanks.
A waterproof extra-long latex glove will be your favorite friend.

Wearing extra-long latex gloves can now protect your hands against many corrosive oils, dirt, and stains.
Your hands and forearms will no longer be covered in oil and grease.
What's more, you can easily handle car interiors without worrying about staining them with oils and stains, as long as you wear your extra-long latex gloves.
Seven unpopular expert opinions on getting the best latex gloves for mechanics
Long story short,
extra-long latex gloves can be used in different fields for different purposes, from medical to gynecologists, surgeons, and orthopedics to beekeepers and vets!

You can never find a house that's devoid of them.
They are masters at cleaning, washing dishes, and cars, and they are absolutely a favorite in laboratories and clean rooms for giving their wearers the best protection possible above the elbow.
Now you know why people and we everywhere love extra-long latex gloves.
They're flexible, comfortable, and strong enough to protect your hands and wrists and your entire forearm.
When you buy a pair, we hope you will tell us what you love most about them!