Summertime! Here Are The Best Grilling Glove Options!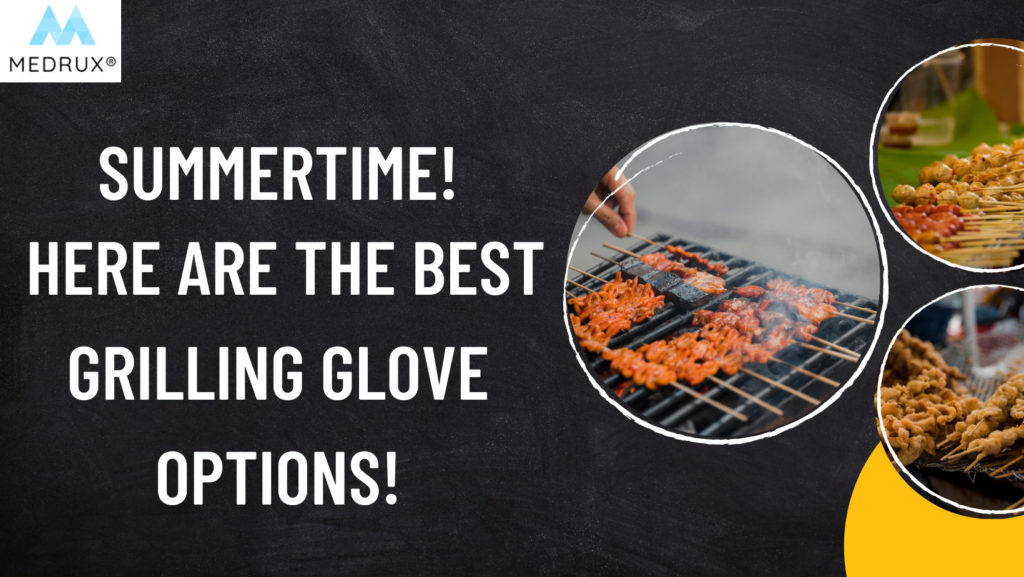 It is summertime!
HOORAY.
At that point, a barbecue party in your backyard or a public garden with your family and friends is the ideal way to celebrate with perfect grilling gloves!
In fact, All you need is to plan for your party! And ensure sure that you are fully equipped w all the necessary cooking tools.
You may find this ridiculous.
But one of these essential tools is the grilling glove.
Not sure about it?
Unfortunately, even cautious cookers can accidentally burn themselves when working over a live flame, hot charcoal, and metal grills.
After all, who would want to get hurt while on a sunny weekend?
That is why grilling gloves will keep your forearms and fingers safe and provide you with peace of mind while managing the fire.
So, how to correctly choose suitable grilling gloves before your party?
This is one of our main outlines for today's topic.
For this reason, I've taken the opportunity to give you some background information on different grilling glove types.
All you need to do is to relax and try to read slowly.
Hopefully, you will find it enjoyable.
What are the features of Grilling Gloves?
They are evident by different names, such as "cooking gloves" and "BBQ gloves," among others.
They form a protective shield on your hands, a barrier that keeps the heat off.
Moreover, They can tolerate the extreme heat generated by hot charcoal, outdoor grills, and open flames.
Likewise, they protect hands from burns with heat-resistant characteristics when using hot pots and other heated tools.
These gloves safeguard hands from temperatures ranging from 500 to 1000 degrees Fahrenheit and 260 to 600 degrees Celsius.
Besides, They could provide benefits like comfort, ease of cleanup, and resistance to oil and water.
Grilling gloves come in different lengths and materials.
But like everything else in life, some BBQ gloves are better than others.
What to look for exactly?
We have spoken in general before but let us now go in-depth much more.
Here are the five most important things to consider while choosing a BBQ or grilling glove.
As we stated before, this is the most crucial feature of grilling gloves.
Be careful and choose a pair of high enough quality to avoid jeopardizing safety.
Since grilling may be quite dangerous without the right tools once the temperature is too high.
So, If these gloves can not withstand extreme heat, then wearing no gloves is much better.
They come from various materials, for example, synthetic andbers and aramid fibers.
These fibers can tolerate extremely high temperatures, with some brands proclaiming heat resistance of more than 1400 degrees Fahrenheit or 750 degrees Celsius.
2. Dexterity
Dexterity can also be an essential thing to think about, depending on how you use your gloves.
It can be challenging to grip your tongs, tools, and grades while wearing a thick or stiff glove.
Thus, Grilling gloves make lifting the hot food more comfortable.
Especially if you enjoy cooking food on the grill with your hands more.
Furthermore, a nice pair of BBQ gloves should also have a slip-resistant texture or coating for when you need to hold a hot grill grate, manipulate smoldering coals, or grab a greasy slice of meat.
It would be best to consider the gloves' thickness because a thinner glove may not always be as effective at protecting your hands as a thicker one.
3. Cuff length
Before making a purchase, size and length are significant.
For example, barbecue gloves must have extended cuffs to protect your wrist and at least part of your forearms from flames, sparks, and hot surfaces while cooking.
Besides, they should adequately fit for your hands to improve flexibility when moving and handling objects.
Surprisingly, the cuffs on these gloves vary in length, with some extending to your elbow.
4. Price
Be careful while purchasing cheap Grilling gloves.
If you need good heat protection, you might not get the optimum dexterity, comfort, or durability with less expensive gloves.
Better Barbeque gloves are worth the money to guarantee that you have long-lasting protection.
Significantly, while handling anything that will expose to extreme heat, such as those from a smoker or grill…
Also, Taking care of your gloves is essential to ensure their longevity.
So, Keep reading to learn how to extend the life of these gloves for better productivity.
5. Glove Material
Your grilling gloves' composition will significantly impact how well they work when you use them.
For instance, and generally speaking, the available materials are silicone, leather, neoprene rubber, and synthetic fabric.
Each type of glove material has particular characteristics and appropriate purposes.
This is why you should be careful to pick the material that best suits your needs and certainly does not cause rashes.
So, keep reading to find more details about each of these materials.
Types of Grilling Glove Material
Now let us find out more detailed information about each type of material used for these gloves.
1. Synthetic Fabric
These gloves are usually made of high-heat-resistant fabrics that are typically made to protect hands from flames and extreme temperatures.
Examples of these flame-resistant synthetic fabrics include Kevlar, Aramid, and Nomex.
They are sometimes adorned with silicone inserts and have stripes on the palms for extra grip.
Advantages:
They are comfortable to wear and have brilliant flexibility characteristics.
They are ideal for holding hot pots, pans, grills, grates, utensils, and coal.
They also can be machine washable.
Disadvantages:
These gloves can't handle food directly as the food, oil, or grease would stick onto the fabric.
If they get wet, water causes them to rapidly conduct heat, hence rendering any heat insulation ineffective
2. Silicone
Like synthetic gloves, silicone gloves are great for handling food as They are made of food-grade materials, and some are even 100% BPA-free ( Bisphenol A compound ).
That can find a fabric liner inside some brands to provide more heat protection and comfortability.
Advantages:
They are perfect for handling food directly as they are easy to clean and non-sticky.
They are both oil and liquid-resistant.
These gloves are super easy to clean.
Disadvantages:
They offer less protection than other materials; they should also be used carefully because they can melt.
Although these gloves are designed to not fit as properly as synthetic or other ones, they impair dexterity and grip as a result.
3. Leather
Since the invention of barbecues or protective gloves, leather gloves have been one of the most common types used throughout the business.
Like silicon and synthetic fabrics, the heat protection comes from the leather and the inside fabric lining.
Advantages:
They are very versatile gloves.
They are great for handling hot grill parts, moving hot plates, or throwing logs into the fire.
Leather gloves should last a nonperiodic due to the material's durability.
Disadvantages:
Time is not the friend of the leather glove, as they require some time to break in and also have a tendency to stiffen or harden over time if not well maintained.
Keep up with their maintenance because oil and grease will stain the gloves and make them much more difficult to clean.
Like silicone gloves, they are also quite thick and often fit loosely, but that compromises dexterity.
4. Neoprene rubber
They are usually thick and of high quality, with liquid-resistant features, and may have a fabric lining such as cotton or wool for more protection.
Advantages:
 Neoprene rubber offers excellent dexterity and flexibility and provides a firm grip, allowing you to handle utensils and tongs effectively.
They are food-safe gloves so that you can grip directly onto hot food.
Thanks to their rubber material, these gloves may be cleaned more easily and without risk.
Disadvantages:
If they get wet, the water will make the gloves conduct heat faster, much like fabric gloves.
How To Clean Grilling Gloves? 
Grilling gloves could come into contact with soot from the grill or wood.
They can also get greasy if you're handling food or oil.
For this reason, It's essential to maintain the cleanliness of gloves used to handle food.
This should always be a top priority.
However, some types of fabric gloves are easy to clean in the washing machine, so you can throw them in the washer and program the cycle with hot water to ensure no grease buildups.
On the other hand, to wash silicone or rubber gloves, use only ordinary dishwashing soap and tap water.
Of course, to avoid damaging the protective outer lining of your heat-resistant gloves and causing insulation damage, avoid using chlorinated bleach, any detergent that contains chlorine, or fabric softeners.
Certainly, gloves with a lighter color are more susceptible to stains.
If they are white, even those machine washable could still show some apparent stains.
Therefore, If this bothers you, stains will be more challenging to see on black, brown, or grey items.
How about the disposable Grilling Gloves?
Nowadays, you can find several brands on the market for disposable BBQ or grill gloves as a better, easier, and cheaper option.
They are usually in the form of a kit containing 50 disposable nitrile gloves and two cotton glove liners for an added heat resistance layer.
Nitrile is Powder-free and latex-free with superior strength and resistance against oils and chemicals.
This makes them perfect for handling all raw and cooked food or meat.
Additionally, the cotton glove liners are machine-washable and reusable.
You will notice that most of these disposable BBQ gloves are made only in black color.
This is only because black gloves won't show stains during the process.
Compared to previously mentioned reusable gloves, they are not intended to be used for handling coals, hot metal, or other items other than food.
Therefore, If you are wearing them, you should always let the food cool to a manageable temperature before handling it.
Finally, an important side notes: grill gloves are not the same as oven mitts.
Grilling Gloves vs. Oven Mitts
The performance of grill gloves is significantly superior to that of conventional fabric oven mitts.
Furthermore, they are not the same as gloves because of the way that various materials fit and respond to heat.
So, you can't work at the grill while wearing the pot holder your grandmother knitted for you or only rely on some oven mitts designed for use in a kitchen.
Sadly, most of these mitts can ignite if exposed to open flame or the heat of a grill.
Also, one of the advantages of grilling gloves over oven mitts is that they have separated fingers.
You won't need to repeatedly remove your hands from the grill to move the food around.
On the other hand, mitten-style pot holders are bulky and risky to use when carrying hot, heavy items.
Finally, your hands and arms aren't usually in contact with hot surfaces for very long when cooking in a kitchen.
On the contrary, they are directly over the fire while grilling, and severe burns could result from one careless motion.
For this reason, a pot holder would be enough in your kitchen, but not while grilling.
Conclusion
Suitable grilling gloves are necessary if you want to spend your time at the grill concentrating on cooking rather than protecting yourself against burns.
Sure, each of us has a different taste.
But the main goal is to find the right balance between design, comfort, flexibility, and heat resistance.
Furthermore, it's critical to take good care of your gloves to maintain longevity.
Besides, glove cleaning is essential not only to avoid diseases while holding food but also for maintenance.
Notably, cheaper gloves are not always the best choice you would make.
There are also now available disposable forms of grilling gloves.
In the end, If you think about what you need to do with your glove, you can choose the one with the most variations that fit you the best.
Good Luck, and enjoy your summer.