6 Specifications And 4 Types To Choose For Surgical Gloves; Check Now!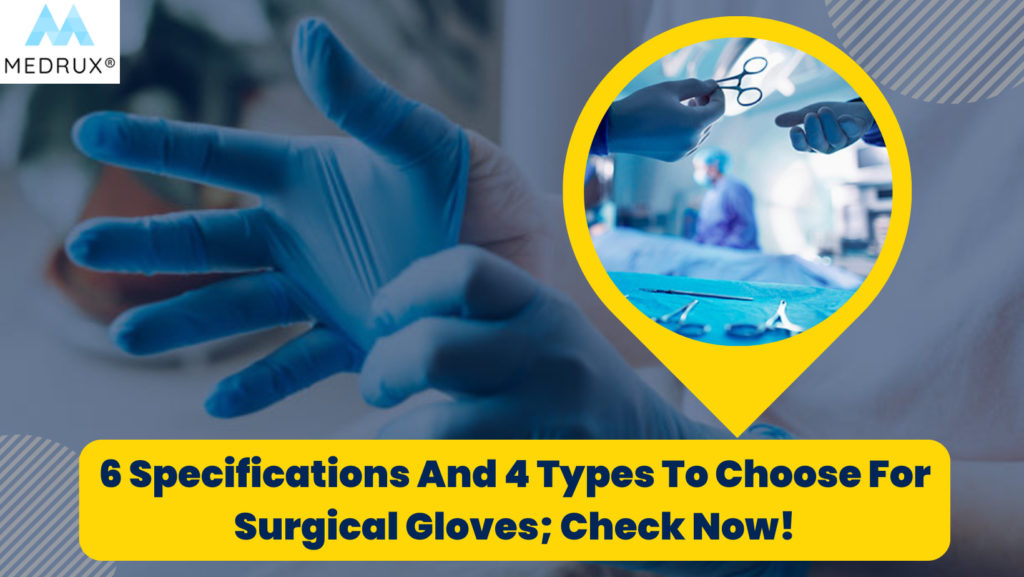 According to the United States, the Food and Drug Administration [1] or the FDA site, medical gloves are one part of an infection-control strategy.
They are disposable and include either examination gloves, surgical gloves, or medical gloves for handling chemotherapy agents (chemotherapy gloves).
The FDA regulates these gloves to ensure they meet performance criteria such as leak resistance, tear resistance, and biocompatibility.
They are used mainly by healthcare personnel such as doctors, surgeons, nurses, lab technicians, dentists, and dental assistants.
However, surgical gloves are the primary medical gloves for surgical and other invasive medical procedures. 
Because in these situations, healthcare professionals are usually exposed to bodily fluids, blood, and infectious diseases.
Therefore, surgical gloves significantly help to reduce bacterial and viral transmission rates in medical settings.
In addition, it prevents the transmission of certain diseases such as AIDS, Hepatitis B, and C via blood or bodily fluids.
So, how to correctly choose suitable surgical gloves before your procedure?
This is one of our main outlines for today's topic.
For this reason, I've attempted to provide a simple guide about disposable surgical or medical gloves.
All you need to do is to relax and try to read slowly. 
Hopefully, you will find it enjoyable.
What is the difference between exam and surgical gloves?
Generally speaking, surgical gloves are of more outstanding quality and are made to be worn in the circumstances demanding the highest degree of sensitivity and accuracy.
So, It is essential to recognize the distinctions between surgical and examination gloves.
First, Examination gloves are perfect for general operations that involve minimal risk and non-invasive physical exams.
These gloves are made from materials like latex, vinyl, and nitrile
Each material has its pros and cons, and there are other considerations you should consider when purchasing gloves.
Also, It is important to note that examination gloves are available in powder and powder-free forms.
On the other hand, priorities are different in surgery.
Disposable sterile surgical gloves are primarily used for surgical and medical procedures.
Notably, these gloves are powder-free because the powder can lead to complications if it gets into wounds or exposed body tissue during surgery.
Which one has more regulations and standards?
Surgical gloves are subject to more stringent manufacturing standards and are more heavily regulated.
Furthermore, they are well-made and effective in high-risk situations requiring protection against blood, bodily fluids, or infectious diseases.
However, In comparison to sterile gloves, non-sterile gloves are the most cost-effective, non-invasive procedure option. 
Multiple studies show that examination-standard gloves are equally effective as surgical gloves but only in the case of non-surgical procedures.
Therefore, they are the most popular in many applications.
But the major disadvantage of examination gloves is that they mostly come in powdered gloves.
For this reason, there is a risk of causing an allergic reaction to the rubber.
Besides, powdered surgeon's gloves, powdered patient examination gloves, and absorbable powder for lubricating a surgeon's gloves were already banned by the FDA in the United States at the beginning of 2017.
Significantly, surgical gloves have a more precise range of sizing than medical examination gloves and are individually packaged in pairs.
They are designed specifically to provide high tensile strength, plus tactile feel, sensitivity, and accuracy, as we mentioned before.
They also have a lower pinhole acceptable quality level than other categories of gloves.
Overall, sterile surgical gloves must meet infection prevention requirements in both directions to protect the medical professional and the patient.
History of Surgical Gloves
In the late 1800s, the first medical gloves were manufactured.
But they weren't used as widely as they are now.[2] 
Prevention is always better than treatment, according to the medical industry.
It is hardly unexpected that surgical gloves became increasingly popular as doctors learned more about bacterial contamination.
For this reason, during the 1980s and early '90s, and at the height of the HIV and AIDS crisis, to protect themselves and others from potentially dangerous bodily fluids.
So, medical practitioners used personal protective equipment or what is commonly known as PPE.
Besides, Few people are aware that the origin of the surgical glove introduction was a love story.
Caroline Hampton was appointed chief nurse to William Stewart Halsted, who was one of the "Big Four" founding professors of the Johns Hopkins Hospital.[2]
They are extending the work of Joseph Lister, who first introduced carbolic acid to clean compound fracture wounds and disinfect surgical instruments.
Halsted used a combination of carbolic acid and mercuric chloride as a disinfectant during his surgical procedures.
Since Caroline was his scrub nurse and had to handle these chemicals frequently, she experienced acute contact dermatitis on her hands.
Love could change lives!
Therefore, Halsted, who could not bear to see her go through this, contacted the Goodyear Rubber Company to ask them to design a rubber glove that she could wear during surgery to protect her hands.
Soon after, he gave her two sets of rubber gloves customized to fit plaster casts of her hands; the two got married in June 1890.
In 1894 Lister became the first person to sterilize the rubber gloves used in surgery.
By the early 1900s, all surgeons were wearing sterile rubber gloves.
Then, In 1964, the Ansell Rubber firm produced the first pair of disposable latex medical gloves.
At the time, the most popular kinds of gloves Became latex gloves.
The constant wearing of latex gloves has led to;
an increasing rate of the development of postoperative scars

Inflammation

Latex allergy in medical professionals and patients
In December 2016, powdered gloves were banned, as we mentioned before.
Another recent development is the full implementation of non-latex glove materials such as polyvinyl chloride and neoprene.
What are the common types of Surgical Gloves?
Medical disposable gloves are typically made of powdered latex, but as previously stated, this material is responsible for allergic reactions in many cases.
Therefore, various synthetic glove materials have been developed for use in the medical field, each of which has unique strengths, comfort, and sensitivity levels.
Those alternative materials such as the following:
1. Nitrile Gloves
Nitrile is a synthetic rubber made of butadiene and acrylonitrile.[3]
It is an excellent material for developing surgical gloves because of its resistance to temperature changes, durability, and strength, especially for those with latex allergies.
Many surgeons prefer nitrile gloves due to their extreme durability and puncture resistance.
Also, It is frequently used in the food and sanitation sectors.
In comparison to vinyl or natural rubber, nitrile rubber is more chemically and puncture-resistant.
Nitrile surgical gloves have a longer shelf life than latex and vinyl varieties.
Since nitrile gloves last longer, they can be stored more efficiently.
Therefore, this makes it possible for hospitals, healthcare facilities, dental offices, and other businesses that use surgical gloves to stockpile PPE, increasing their economic efficiency.
Do nitrile gloves have different colors?
Nitrile gloves come in a range of colors. 
Medical facilities may use blue nitrile gloves for surgeries and orange gloves for non-invasive procedures.
Although the color doesn't determine the efficacy of a glove, hospitals may color code personal protective equipment, commonly referred to as "PPE, "to indicate its intended use.
Besides, Doctors wear blue gloves because it is easy to see when the glove fails.
It is simple to determine because of the blue color, for instance, whether a glove has been contaminated or has become compromised due to being torn or punctured.
Modern nitrile gloves are more reasonably priced and frequently used for high-risk medical procedures.
The disadvantage of nitrile is that it dissolves when used in conjunction with acetone.
2. Vinyl Gloves
This glove type is powder and latex-free, suitable for people allergic to natural rubber latex. 
A vinyl glove is a disposable medical-grade glove that is ideal for doctors.
Additionally, it is the most affordable glove material and offers doctors the best value for light-duty disposable gloves.
However, they are less resilient and more vulnerable to tears and punctures.
Vinyl gloves have a minor level of general chemical and puncture resistance.
Due to the disadvantages mentioned above, your team will need to replace gloves frequently when wearing vinyl gloves.
There is also a study about how they found virus leakage through used vinyl gloves.[4]
For this reason, vinyl gloves should only be used as examination gloves and never for surgical applications.
3. Neoprene Gloves
It is a Synthetic powder-free formulation with higher strength properties.
Most neoprene rubber surgical gloves are manufactured with a nitrile coat.[5]
In addition to having excellent resistance to viral penetration, those gloves have high resistance to alcohol and various chemical products.
These gloves have a massive disadvantage because they come with lower elasticity and comfort than latex gloves.
Besides, they are more expensive than their latex alternatives.
 Finally, Neoprene surgical gloves are not usually the first choice in the market.
4. Polyisoprene Gloves
Polyisoprene is an artificial material that has a molecular structure similar to natural rubber latex.
It is known as a compound that is made by the polymerization of isoprene.
Although it doesn't compare to rubber in terms of strength or elasticity, it provides the fit, feel, comfort, and performance that surgeons expect from traditional latex gloves.
Based on this paper [6], good quality polyisoprene surgical gloves offer mechanical protection comparable to natural rubber gloves. 
Besides, they are better than other synthetics in terms of comfort and equal, or even superior, to natural rubber gloves.
What is unique in polyisoprene gloves?
Because of the rising number of skin sensitivities to latex-based gloves, polyisoprene surgical gloves are becoming increasingly popular.
Furthermore, the demand for polyisoprene surgical gloves is majorly driven by the growing geriatric population and the increasing number of surgeries due to the rising number of accidents and injuries.
Additionally, growing investments in the healthcare sector by numerous countries as a result of the recent COVID-19 pandemic are expected to fuel market expansion during the estimated period.[7]
Their improved polymer coating allows for simple dry and wet hand donnability, and their thickness and design make it simple and pleasant to double-glove.
Moreover, because it is made of non-latex synthetic rubber, customers feel a more tight fit that improves comfort without being baggier.[8]
Finally, They are packed in a controlled environment, in cleanroom-compatible packaging material, and available in separate polybags for right and left hands.
How to choose your Surgical Gloves?
Surgeons must use sterilized disposable gloves packaged in individually wrapped packets per pair, as we stated before.
Surgical gloves are made specifically to offer the high tensile strength, tactile feel, sensitivity, and accuracy that surgical teams need.
Depending on your needs, you have several options when purchasing surgical gloves.
Here are some considerations to make while purchasing surgical gloves:
1. Glove Material
Each type of surgical glove has a unique combination of advantages and disadvantages.
Additionally, each type of material provides advantages suitable for particular jobs.
Then, you may look at how we described the most common varieties of surgical gloves above.
2. Glove Size
The surgical team can be more successful if their gloves are comfortable and well-fitting.
Of course, In the operating room, anyone wants his crew to be at ease and confident.
The fact that gloves protect both the surgical team and the patient makes them crucial, but Surgeons also can't underestimate fit and comfort.
Therefore, Surgical gloves are available in different sizes.
This is why Surgeons must find the right fit so that they can perform surgical procedures with great precision.
3. Glove Compatibility with Procedure
These surgical gloves are disposable. 
Then, Users should consider both the risk of a latex allergy and the particular requirements of each patient.
Each surgical team might need a particular kind of glove depending on the demands and specifications of a specific surgery.
Moreover, keeping the hand's flexion and tactile sensitivity in mind when selecting surgical gloves is essential, particularly for nearer tasks and surgical operations.
4. Glove Strength and Thickness
To maintain excellent protection in a medical setting, gloves must be strong enough to be worn throughout the entire task.
During surgical procedures, sharp objects are used, which stresses the glove's material and could eventually cause it to rupture.
Therefore, the suitable gloves for the job will be thin enough to allow flexibility and ease of movement but thick enough to protect against punctures from needles or other sharp edges.
In the end, To help with your surgical glove purchase, consider qualities like thickness, puncture resistance, and tensile strength.
5. Glove Standard Specification
The gloves shall be manufactured from any rubber polymer compound, with the inside and outside surfaces of the gloves free of talc and with dimensions and physical properties that shall conform to the requirements specified.[9] [10]
Gloves should have extended cuffs, reaching well above the wrist,

ideally to mid-forearm. 

Thickness as per ISO 10282:2014

Can withstand repeated autoclaving cycles or temperatures up to 70C.

Tensile strength: Min 18MPa & Elongation at break: Min 700%. 
6. Double-Gloving
Have you ever questioned why some physicians and nurses prefer to use two sets of surgical gloves rather than just one?
More than 80% of undetected surgical glove perforations may surprise you.
Moreover, the danger of perforation increases with the length of use of the gloves.
Surgeons and staff are highly concerned about the possibility of coming into contact with blood-borne diseases.
Although perforations in surgical gloves are frequently invisible to the naked eye, they allow some infections to spread from the glove user to the patient, infecting them and vice versa.
Why is the double-gloving technique important?
Double-gloving is an effective method for protecting healthcare practitioners' hands from the risks present in operating rooms.[11]
This method can significantly lower the risk of infection for all parties engaged in a surgical operation.
Notably, Surgical teams wear different-colored gloves so that perforations and tears are easy to spot.
For instance, if a darker pair of gloves are worn underneath a lighter couple or the other way around, it can offer doctors an early warning if something goes wrong with the outer layer of the glove.
The Centers for Disease Control and Prevention, the Occupational Safety and Health Administration, and the American College of Surgeons all recommend the practice of double-gloving.
Conclusion
Surgical gloves must be worn for the safety of the clinician as well as the patient.
They are of higher quality and are designed to be worn in situations requiring the most heightened sensitivity and accuracy.
Sterile gloves also help with infection control by limiting the transmission of microorganisms between health care workers and patients.
They also defend against bacteria, viruses, and other potentially dangerous pathogens.
Besides, considerations must be taken before choosing the right glove for each surgical procedure.
Double-gloving is an efficient form of hand protection for healthcare professionals for the hazards involved in operating rooms.
Finally, It must be mentioned that medical facilities sometimes use orange gloves for non-invasive procedures and blue surgical gloves for surgery.
However, a glove's effectiveness is not based on its color.