6 Popular Non-Latex Gloves That Most People Use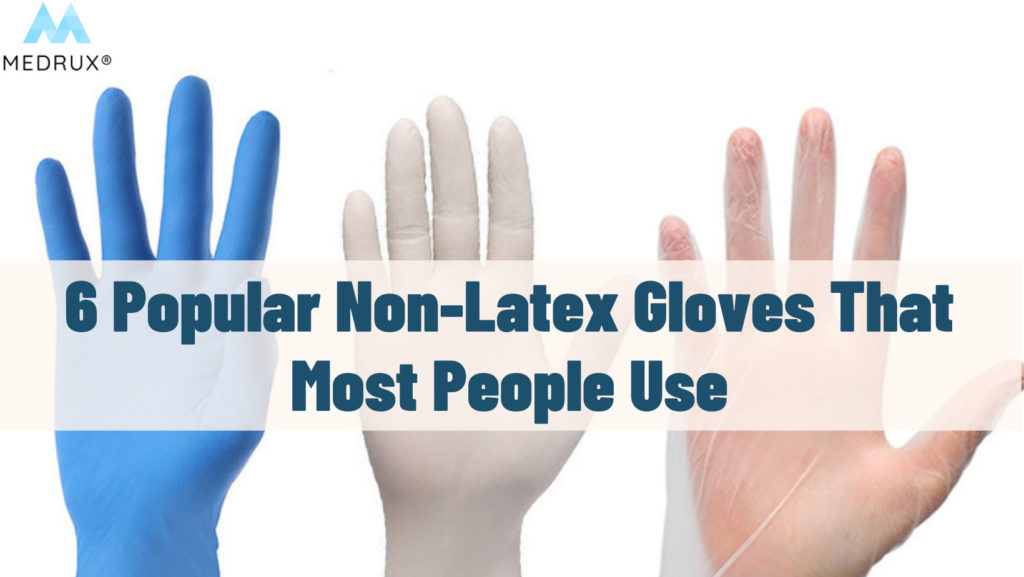 Natural rubber latex, a milky fluid found in rubber trees, is the number one material used to make some gloves.
According to the United States Food and Drug Administration [1] or the FDA site, medical gloves are one part of an infection-control strategy.
Therefore, latex allergy was uncommon until the late 1980s, when more healthcare personnel began using powdered latex gloves to treat diseases and prevent infection.
Allergy symptoms result from a chain reaction that begins in the immune system as a defense mechanism for your body.
In the case of latex allergy causes an overreaction by generating antibodies called Immunoglobulin E (IgE), which can react with contaminating proteins found in natural rubber latex.
This reaction usually appears on the skin, nose, lungs, or throat.
Latex is also capable of becoming airborne and causing respiratory problems. 
For example, latex proteins can bind to the cornstarch powder found in latex gloves. 
This powder is sometimes added to gloves to help make it easier to put them on and take them off.
So, when powdered latex gloves are used, starch particles and latex allergens are released into the air, where they can be inhaled or come into contact with your nose or eyes, causing symptoms.
Because there is no cure for latex allergy, people with severe sensitivities must simply avoid latex.
For this reason, they should use non-latex gloves or synthetic gloves that reduce the risk of these reactions.
This article will cover the different types of these gloves and how to choose them.
All you need to do is to relax and try to read slowly. 
Hopefully, you will find it enjoyable.
What are Non-Latex Gloves?
The glove industry has met the challenge of providing latex-allergic people with hand coverage and protection. 
Besides, there is currently a wide range of materials for making latex-free gloves.
Latex alternatives are sometimes preferred, particularly when people are exposed to latex regularly.
Since many case results show that people can develop sensitivity to latex over time, and the risk of this escalates with increased consumption.
Non-latex gloves are also essential in medical facilities, so patients with latex allergies are not put at risk if a medical practitioner wants to perform gloved procedures on them.
As people become more aware of latex allergies, many manufacturers are developing a wide range of latex-free protective hand gloves.
Applications for Non-Latex Gloves
These are in general speaking; any latex-free glove may be suited to applications such as:
Care homework

Janitorial and cleaning roles

Dentistry and dental hygiene

Food processing

General assembly and manufacturing

Painting and decorating

Emergency services

Healthcare

Hospital and clinical duties
So, the alternative materials for latex include the following: 
Types of Non-Latex Gloves
If you are interested in these gloves, here are some brief sentences about them:
Nitrile, a synthetic rubber, is the predominant material for non-latex gloves.
They can also be made of neoprene, a synthetic rubber made by the polymerization of chloroprene, and polyisoprene, a man-made material with a molecular structure similar to natural rubber latex.
Each of them has unique strengths, comfort levels, and sensitivity levels.
There are also the vinyl and blended gloves that we will go through, all in great depth.
Nitrile is a synthetic rubber made of butadiene and acrylonitrile. [2]
It is an excellent material for developing disposable gloves because of its resistance to temperature changes, durability, and strength.
Many surgeons prefer nitrile gloves due to their extreme durability and puncture resistance.
Besides, they protect against biohazards, grease, oils, and chemicals.
Furthermore, they are also popular with tattoo artists and auto mechanics.
It is frequently used in the food and sanitation sectors.
Nitrile gloves have a longer shelf life than latex and vinyl varieties.
Since nitrile gloves last longer, they can be stored more efficiently.
Therefore, this makes it possible for hospitals, healthcare facilities, dental offices, and other businesses that use disposable gloves to stockpile PPE, increasing their economic efficiency.
Nitrile gloves come in a range of colors. 
Medical facilities may use blue nitrile gloves for surgeries and orange gloves for non-invasive procedures.
Although the color doesn't determine the efficacy of a glove, hospitals may color code personal protective equipment, commonly referred to as " PPE, " to indicate its intended use.
Besides, people usually wear blue gloves because it is easy to see when the glove fails.
In other words, the blue color is simple to determine.
For instance, whether a glove has been contaminated or compromised due to being torn or punctured.
Modern nitrile gloves are more reasonably priced and frequently used for high-risk medical procedures.
The disadvantage of nitrile is that it dissolves when used in conjunction with acetone.
Vinyl gloves are disposable from petroleum-based PVC with a plasticizing agent added for flexibility.
This is the most affordable glove material and offers the best value for light-duty disposable gloves.
Vinyl is a top pick for many professionals in food service, housekeeping, janitorial duties, and specific medical procedures.
However, they are less resilient and more vulnerable to tears and punctures.
Vinyl gloves have a minor level of general chemical and puncture resistance.
They are also less breathable than nitrile and latex and might cause the wearer's hands to sweat after prolonged wear.
Moreover, there is a study about the fact that they found virus leakage through used vinyl gloves. [3]
For this reason, vinyl gloves should only be used as examination gloves and never for surgical applications.
It is a Synthetic powder-free formulation with higher strength properties.
Most neoprene gloves are manufactured with a nitrile coat. [4]
In addition to having good resistance to viral penetration, those gloves have high resistance to alcohol and various chemical products.
These gloves have a massive disadvantage as they come with lower elasticity and comfort than latex gloves.
Finally, they are more expensive than their latex alternatives.
Polyisoprene is a man-made material that is known as a compound made by the polymerization of isoprene.
They have less strength or elasticity than traditional latex gloves.
But based on this paper [5], good quality polyisoprene disposable gloves offer mechanical protection comparable to natural rubber gloves. 
Besides, they are better than other synthetics in terms of comfort and equal, or even superior, to natural rubber gloves.
Because of the rising number of skin sensitivities to latex-based gloves, polyisoprene gloves are becoming increasingly popular.
Furthermore, growing investments in the healthcare sector by numerous countries.
As a result of the recent COVID-19 pandemic is expected to fuel market expansion during the estimated period. [6]
Their improved polymer coating allows for simple dry and wet hand donability, and their thickness and design make it simple and pleasant to double-glove.
Moreover, because it is made of non-latex synthetic rubber, customers feel a tight fit that improves comfort without being baggier. [7]
This type of PPE helps to maintain a hygienic environment in low-risk situations like food service and preparation. 
They indeed keep germs away from humans and food, but they still do not provide a layer of protection against substances such as food-grade oil.
Finally, They are packed in a controlled environment, in cleanroom-compatible packaging material, and available in separate polybags for right and left hands.
A thermoplastic elastomer is a polymer that can be shaped when heated and has the same flexibility and feels as natural rubber.
TPE gloves are a new innovative form of disposable gloves entering the market.
They are a thinner material with a smooth, soft surface for touching surfaces and provide a good fit.
This is an excellent alternative to vinyl made from plastic. 
Gloves made from TPE are lightweight and waterproof as well as cost-effective. 
These gloves are often used for janitorial, food handling, light clinical tasks, and other low-risk tasks.
Finally, the advantage of TPE gloves is they are better for the environment, as the polymers can be recycled and reshaped. 

These gloves are made from nitrile and PVC paste, giving them the advantages of vinyl and nitrile gloves.
Due to the Worldwide high demand and short supply of Nitrile gloves, pricing remains high.
So, to fulfill their short supply, factories have produced a synthetic Vinyl/Nitrile blended glove disguised as Nitrile, which is priced significantly lower than Nitrile and higher than Vinyl gloves.
Although some glove manufacturers claim that their gloves are 100% latex, vinyl, or nitrile.
Glove production requires the use of various fillers to create a successful outcome.
The usage of fillers isn't always a red flag when deciding what gloves to buy and wear. 
Fillers make glove production more cost-effective and can increase glove quality.
Nitrile blend gloves are more puncture resistant than latex gloves and, when pierced, display the break more visibly than latex gloves.
They can protect against many industrial chemicals and oils.
Furthermore, they are perfect for most emergency room use, cleaning, light factory work, and other settings where the main goal is preventing exposure to pathogens or grime.
Besides, they work well for food service and janitorial work since they don't degrade easily when exposed to oils. 
Latex, vinyl, and PVC are food safe, but they don't provide the same strength and flexibility as blended gloves.
Why choose Non-Latex Gloves?
As we mentioned, the first reason for the spread of latex-free gloves is awareness surrounding latex allergies.
Even though the amount of exposure required to trigger a reaction is unclear.
Therefore, the Health and Safety Executive or the HSE recommends avoiding the use of latex wherever possible.
Furthermore, many workplaces now prefer to avoid using latex gloves entirely to protect their employees and the general public, patients, or clients with whom they may come into contact.
Besides, the FDA has specifically banned powdered surgeon's gloves, powdered patient examination gloves, and absorbable powder for lubricating surgeon's gloves in the United States since the beginning of 2017. [8]
"This ban is about protecting patients and health care professionals from a danger they might not even be aware of," 
said Jeffrey Shuren, M.D., director of FDA's Center for Devices and Radiological Health. 
"We take bans very seriously and only take this action when we feel it's necessary to protect the public health."
How does it adversely affect health?
In particular, aerosolized glove powder on natural rubber latex gloves, but not on synthetic powdered gloves, can carry proteins that may cause respiratory allergic reactions. 
The FDA has determined that, if finalized, this ban should apply to devices already in commercial distribution and sold to the ultimate user and devices that will be sold or distributed in the future.
This means that powdered gloves currently being used in the marketplace would be subject to the ban and enforcement action.
At any rate, many healthcare facilities have already moved away from powdered gloves. [9]
A report by Global Industry Analysts of San Jose on the disposable glove market in 2010 found that only 7% of gloves in the U.S. market were powdered. 
The report says that 92% of exam gloves were powder-free, and 94% of surgical gloves were powder-free, despite the increased cost of powder-free gloves.
Moreover, given the critical role that medical gloves play in protecting patients and healthcare providers.
The FDA conducted an economic analysis which revealed that a powdered glove ban would not lead to a glove shortage and would have no significant economic impact.
The ban is also not likely to affect medical practice because many non-powdered protective glove options are currently available.
How to choose Non-Latex Gloves?
Here are some things to consider when shopping for non-latex gloves:
Non-latex gloves are thinner and more comfortable nowadays, which is probably the most important factor for surgeons.
"I always laugh when I come into the room because there are probably 15 different types of gloves in our OR. But I like only one kind," 
Says hand surgeon Julie Woodside, MD, of OrthoCarolina in Charlotte, N.C., who prefers a very thin non-latex glove because it lets her better feel her instruments.
"You kind of feel picky, but if there's a different glove on you, it just feels wrong."
This applies to any task that requires sensitive touch with your hands, not just in hospitals or surgeries.
The non-latex gloves of 30 years ago were not good quality. 
They'd tear, rip and break. The nitrile gloves in the past 10 to 15 years have been durable.
The glove industry has recently improved significantly due to years of shifting the market's goal to promoting latex-free gloves rather than traditional ones. 
Besides, thicker gloves provide a longer permeation time frame when working with chemicals and more tear resistance than thinner light-duty gloves.   
The lower the gauge, the higher level of dexterity and flexibility you will find, and vice versa.
In addition, If you need extra protection, you could wear a double layer of nitrile gloves with a bright color underneath. 
This way, if a cut or puncture occurs, the bright color becomes visible, alerting you to a problem.
Many people underestimate the significance of a properly fitted glove. 
Because the sizing of disposable gloves varies by manufacturer, it is strongly advised to try samples if possible in order to determine what size glove you require. 
In every application, the proper size glove will improve your comfort and tactile sensitivity.
On the other hand, your choice of glove material depends on your job type and also the price.
The disadvantage of Non-Latex Gloves
There is an odor of chlorine, and after treatment, a reaction will make the gloves yellow.
When exposed to chlorine, the life of gloves will be reduced compared to powdered gloves.
The cost is 20% higher than latex-free gloves.
But in the case of Nitrile powder-free, it is less elastic than latex gloves, which may cause problems with grip.
This makes it rarely used by experts during surgery because the grip factor will be more focused on by doctors.
The cost is 20% higher than latex, so it is not used by businesses due to the risk of cost padding.
How to store Non-Latex Gloves?
It is critical to store it in a cool, dry place, away from direct sunlight.
When the glove box is opened for use, it must be carefully stored to avoid exposure to sunlight and electrical current.
You should also avoid using it in direct contact with chemicals.
Conclusion
With so many options on the market, healthcare providers must consider several factors when deciding which gloves to buy.
Considerations include cost, the complexity involved in donning and duffing, the potential to limit tactile sensitivity and dexterity, and the ability to protect users against harmful microorganisms.
Latex-free gloves have been reported to be comfortable to wear, easy to don and duff, and provide a good feel and grip while not limiting manual dexterity.
More importantly, no sensitivity or allergic reactions were noted on the users' skin.