Latex Gloves Vs Nitrile Gloves; Price, Quality and Eco Factors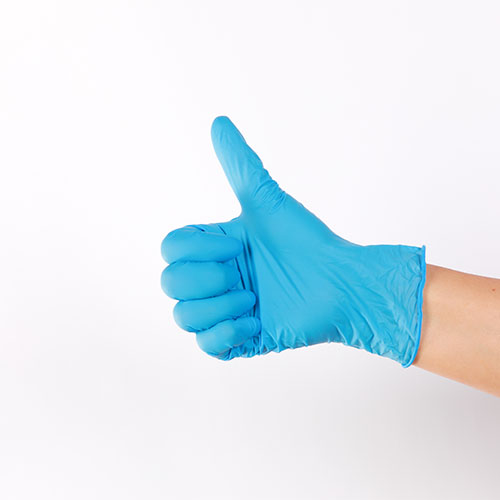 You don't have to get too technical to know the key difference between Latex gloves and Nitrile gloves.
The reason why you should know the difference is that it will give your smarter decision-making when choosing from a long list from any glove supplier on the market.
Why is it important to know the difference between Latex and Nitrile?
It depends where you stand; if you are a business owner and planning to distribute disposable gloves in your market.
You need to make sure what's the end-user requirements and why do they need such specs, quality, material and types of gloves.
If let's say you are changing glove supplier, you don't want your buyer to be confused because the packaging has changed. You still maintain the same requirements requested from your buyer.
If you are the end-user of disposable gloves;
You can be overwhelmed by the tremendous exposure of different brands, specs, etc.
Moreover, prices significantly vary from one glove to another. And in order to use the right glove for the right requirements, it's vital to know the difference between material and specs.
Fun Fact:

70% of glove buyers end up choosing the glove based on the packaging design or the glove color. The process of considering the material during the purchasing process is rare.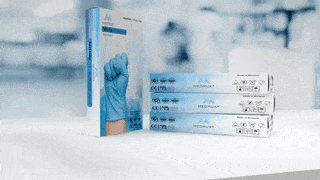 >>> Click here to request for MEDRUX glove quotation.
Latex gloves (natural rubber gloves)
Latex gloves are commonly used in the healthcare industry. Its usage is mainly oriented toward virus protection and less emphasized for chemical protection.
Its popularity in various industries boils down to do two things;
Comfortable to wear for long hours as it allows unrestricted motion.
Budget-friendly.
Latex is a great choice if you are looking for environmentally friendly gloves. Unlike plastic gloves which can take up to 100 years for plastic gloves to decompose.
Latex gloves are made from natural rubber, which is a renewable resource that can be extracted from living trees. Which means they are biodegradable.
In a leaflet about proper glove use, the WHO wrote,
"The use of gloves when not indicated represents a waste of resources and does not contribute to a reduction of cross-transmission."
Materials
The term "latex" means the milky fluid that is obtained from the rubber tree.
This milky fluid coagulated (dry up) and transforms into rubber once it's exposed to air.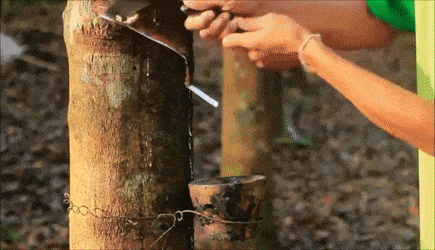 All our MEDRUX Latex Gloves are made with premium-grade natural latex compound, you might want to take a look here.
Characteristics
+ Optimum tactile sensitivity with great comfortability levels for long hours wear.
+ Biodegradable
+ Unrestricted range of motion & excellent flexibility
+ High-level protection from microorganisms and viruses
+ Superior ability to withstand any pulling force (high tensile strength)
Considerations
– Poor protection from cleaning chemicals
– Can trigger allergic reactions
– Less durable than other disposable glove options
– The proteins that remain in natural latex gloves can result in Type I allergic reactions in those persons who have become sensitized to the natural latex proteins.
Protection level
+ Optimum protection against viruses and bacteria.
– Poor oil, fat and hydrocarbon resistance compared to some synthetic alternatives.
Usage area
Medicine and Veterinary. Latex gloves are widely used by doctors and nurses, as anyone who has had a blood sample taken will testify.
Catering and Food Outlets.
Hairdressing and Cosmetic Procedures.
Auto Technicians.
Crime Solving and Forensics.
Latex gloves pros
Latex gloves cons
Fits snugly against your skin
May cause an allergic reaction
Cost-effective
Break and tear easily
Biodegradable, so they're more eco-friendly
Don't provide adequate protection from chemicals
Strong and stretchy, perfect for diaper changes, dressing wounds, or cleaning up spills
Comes from a natural source
Considered a standard in the medical industry
>>> Click here to request for MEDRUX glove quotation.
Nitrile Gloves (Synthetic Gloves)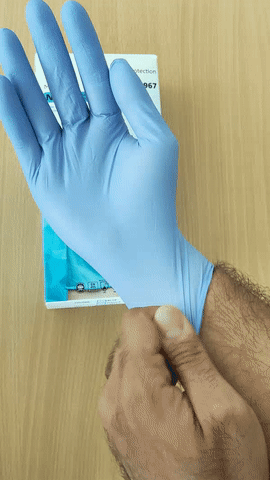 There is a huge crowd that has latex allergies. Hence, Nitrile gloves were introduced in the 90s and are made of synthetic rubber.
The reason why many industries turn to Nitrile gloves, they want to play it safe.
You see even if the glove wearer is not allergic to latex, there is still a slim change it affects the recipient. For example, if a nurse doesn't have latex allergy, one of the patients may be allergic to latex.
Nowadays, very low interest in powdered nitrile gloves. Most opt-in for Powder free Nitrile gloves.
The initial idea of powdered was to facilitate in the donning of the glove. Nevertheless, it has been proven that powdered (corn starch) dries out the hand. And dry hands can be confused for allergies (but, it's not).
There are many compelling advantages of Nitrile gloves that made it the #1 glove material demanded worldwide.
Materials
The NBR ( acrylonitrile-butadiene rubber) is the material of choice for many glove manufacturers.
The reason is simple. Its chemical resistance is outstanding. In fact, its chemical resistance performance is 3X latex gloves.
It can be produced to form exceptionally soft film, can be an accelerator free and is very clean, making it ideal for Cleanroom gloves.
In addition, the material has static dissipative properties so is ideal for the electronics industry.
With all of the above benefits, the material is relatively low cost. Certainly, the raw material has significant price advantages over latex.
Characteristics
+ Puncture resistant
+ Chemical resistant
+ Long-lasting and durable
+ Allergen-free
Considerations
– Less comfortability and flexibility compared to latex
– Not biodegradable / Not eco-friendly
– Expensive
Protection level
+ Superior chemical and abrasion resistance and is a very good general-duty material for gloves.
+ Best suited to tasks that require higher levels of durability and lower levels of dexterity.
Usage
Nitrile disposable gloves ideal choice for anyone who has to handle potentially hazardous and corrosive chemicals.
They are also perfectly suited for most medical environments, being exceptionally puncture-resistant and eliminating the risk of latex allergy reactions.
| Nitrile gloves pros | Nitrile gloves cons |
| --- | --- |
| Latex-free | More expensive than vinyl or latex |
| Waterproof | Not as biodegradable as latex |
| Hugs your hands for a comfortable fit | |
| Can be worn for long periods | |
| The most popular type of disposable glove in America | |
| Chemical and microbial resistant | |
| Visible tears make it easy to determine if a glove is compromised | |
Nitrile vs Latex Gloves Summary Comparison Table
| | | |
| --- | --- | --- |
| Feature | Nitrile Gloves | Latex Gloves |
| Latex-free | Yes | No |
| Waterproof | Yes | Yes |
| Chem. Resistant | Yes | No |
| Microbial Resistant | Yes | Yes |
| Biodegradable | No | Yes |
| Safe for Food Prep | Yes | Yes |
| Safe for Medical Applications | Yes | For those without latex allergies |
| Cost | Expensive | Budget-friendly |
How Nitrile and Latex gloves are tested?
All protective gloves including MEDRUX gloves are tested and graded based on several European standards:
EN374: Any glove that complies with such standards means that it can withstand 10 minutes minimum when contacted with certain chemicals. Their suitability is tested according to permeation rate, penetration time & degradation level.
EN1186: Gloves tested under EN1186 are deemed safe for contact with food.
EN420: All protective gloves must comply with general PPE (Personal Protective Equipment) regulations.
Selecting the right glove for a working environment means understanding the testing standards and ratings that each glove product is subject to. For example, while some gloves are deemed suitable for use in food processing and meet general health and safety standards – such as those that comply with EN1186 – they may not be suitably chemical resistant (according to EN ISO 374) or provide protection from micro-organisms.
Note: Removing gloves immediately after contamination is important, no matter which type of glove is being used.