Who Should Use Fentanyl Gloves and Why?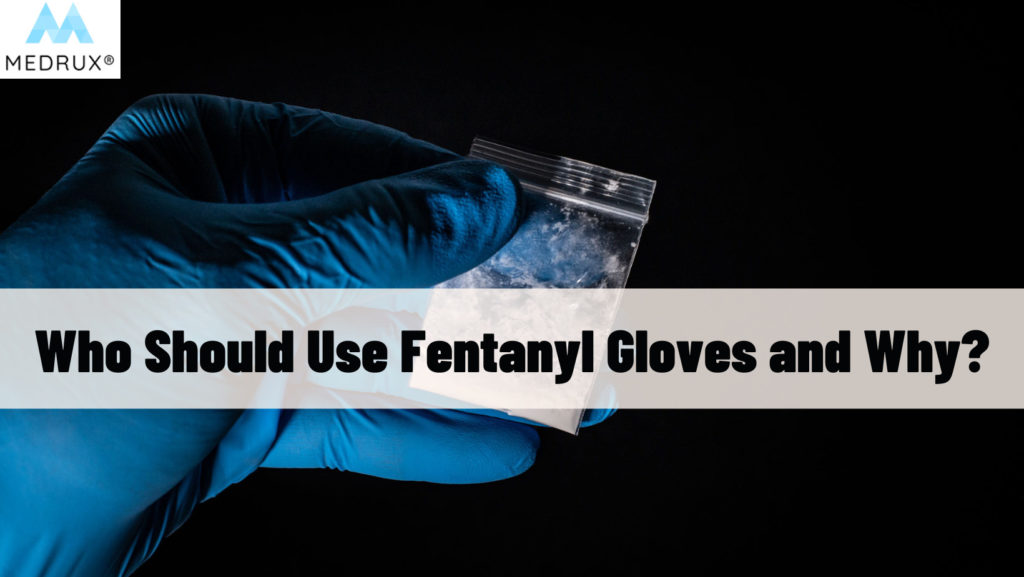 Fentanyl gloves are essential PPE used by first responders around the world.
What's more, they are used by doctors, technicians, and investigators in crime laboratories 
Nevertheless, their use and importance are debatable 
It's not simple to decide how effective they are and what situations require their use.
However, one fact is actual; gloves are always there for us.
Gloves protect you in the presence of hazards.
Furthermore, they help you avoid specific exposures and keep your hands safe.
Whether it's for protection or prevention, fentanyl gloves are always of good use.
If you're looking for a better understanding of fentanyl gloves, their importance, and who should use them, you have come to the right place.
In this article, we will learn what fentanyl is and how dangerous it is.
Moreover, how common and important are fentanyl gloves in various occupations?
We will find out about the materials, certifications, standards, and choices of fentanyl gloves and the extra features they have.
Finally, we will shine a light on the latest discoveries on fentanyl gloves.
Let's start.
What is Fentanyl?
Fentanyl was invented in 1959 and introduced in the 1960s as an intravenous anesthetic.
It's a fast-acting synthetic opioid that is used as a painkiller.
However, due to their potency and high addiction potential, it's only used to treat severe pain, such as end-stage cancer and post-surgery pain.
It should only be administered with a doctor's prescription.
Why?
Fentanyl is almost 50 times more potent than heroin and 100 times more powerful than morphine.
There are two types of fentanyl: pharmaceutical fentanyl, which is only available in hospitals, and illicit fentanyl, which is distributed through drug dealers and the illegal drug market.

How dangerous is fentanyl?
Fentanyl is widely known among illicit street drugs.
Due to its powerful pain-killing properties, it's used to replace heroin and oxycodone.
Moreover, it's cheap, easily made, and smuggled.
Worse, it's easily accessible to a large number of people.
The effects of fentanyl include extreme short-term happiness, drowsiness, nausea, and sedation.
When abused, however, it can cause confusion, central nervous system depression, unconsciousness, difficulty breathing, seizures, and, eventually, death.
It's mixed with other illicit drugs, such as methamphetamine, cocaine, and heroin, to increase potency and make it cheaper and more addictive.
Many users who buy it believe they're buying heroin when in fact, it's fentanyl in disguise.
That's where the problems come from; this increases the likelihood of fatal overdosing.
Just 2-3 milligrams of fentanyl can cause an overdose; this doesn't even come close to the size of a coin.
However, it also depends on body size, previous exposure, and tolerance.
There are many fentanyl analogs. Some are very potent, such as carfentanyl.
An amount as small as a snowflake of it can kill; it is 10,000 times more potent than morphine!
The sad part about all this is that fentanyl has become an epidemic and a public crisis in the U.S.
Why?
Illicitly manufactured fentanyl is a leading cause of increased overdose deaths in the U.S.
Fentanyl overdose was responsible for 57,834 deaths in 2020, accounting for 82% of all opioid-related deaths! (1) And things aren't getting any better! Last year, the figure had risen to 71,238! (2)
In short, fentanyl is extremely dangerous; it's responsible for the deaths of many people.
Hence, there must be a way to protect people handling these overdoses and deaths.
This brings us to our next question.
How did this epidemic lead to the extensive use of fentanyl gloves? 
The stories behind the extensive use of fentanyl gloves
On August 2021, a video of a police officer dropping unconscious with difficulty breathing, almost leading to his death, circulated the internet (3)
According to the police department and the news, this occurred after he came into contact with what appeared to be fentanyl!
On the other hand, toxicologists and doctors said this couldn't happen, and the amount of exposure wasn't enough for him to overdose. 
They also emphasized that what happened didn't necessarily mean an opioid overdose, which could be due to the fear and anxiety of being in contact with fentanyl.
Until now, there have been no reports of emergency responders developing signs or symptoms consistent with opioid toxicity from incidental contact.
Additionally, if we think about it, many people handle fentanyl in different jobs. 
This includes doctors, nurses, surgeons, and paramedics who care for victims of a fentanyl overdose, as well as pharmacists and lab technicians who have been dealing with fentanyl more closely.
Not to mention the dealers, traffickers, and users themselves.
However, many concerns were raised among the officers and sheriffs around the U.S. about fentanyl exposure.
Why?
The overdose rates and death numbers from fentanyl are alarming, and they could quickly come face to face with the killer agent daily.
Whether the video was actual or not, there's one thing that everyone agreed upon: there has to be a way for officers and first responders to feel safe while doing their job.
And that's where fentanyl gloves come in.
Fentanyl gloves are designed to protect first responders from fentanyl and other opioids. 
But why do we need fentanyl gloves when handling fentanyl?
Why should you use gloves when handling fentanyl?
As you can see, the fentanyl epidemic is not just about abuse and overdoses.
With rising usage and overdose rates, there's a risk of accidental exposure for first responders, law enforcement, janitors, and maintenance personnel.
Fentanyl comes in different forms, such as liquid, powder, or tablet.
First responders may come into contact with fentanyl through the following routes:
Inhalation

or breathing in the powdered particles

Ingestion

 

Direct

contact with mucous membranes

(eyes, nose, or mouth) or using contaminated hands or gloves.

Dermal contact

, liquid fentanyl may be absorbed through the skin.

Needle pricks:

fentanyl-contaminated needles may prick first responders.
Exposure to these routes can result in symptoms of fentanyl intoxication, such as difficulty walking, talking, or staying awake; cold and clammy skin; dizziness and confusion; and extreme drowsiness.
And if the dose is high enough, it could cause rapid, life-threatening symptoms, including choking and a lack of oxygen, which might lead to death.
Usually, skin contact isn't lethal unless there's a large amount of concentrated powder.
According to the American College of Medical Toxicology (ACMT) and the American Academy of Clinical Toxicology (AACT), "the risk of clinically significant fentanyl exposure to emergency responders is shallow. (4)
However, it is always better to be safe than sorry.
Both NIOSH and the CDC recommend wearing protective PPE, including fentanyl gloves.
Furthermore, sometimes parents or guardians find substances hidden by their kids; they freak out and submit them to police officers or forensic labs to see what it is.
It's also recommended that they wear fentanyl gloves to ensure they are safe while handling this suspected drug.
It's not just about illicit fentanyl; the pharmaceutical form of fentanyl patches can also be a source of exposure.
How?
Fentanyl patches that have been improperly disposed of can lead to illicit use or overdose.
The patch has an adhesive backing, so it's easy to stick to the arm or the hand accidentally.
Furthermore, discarding it in the garbage or flushing it down the toilet can cause harm to children, pets, janitors, or sanitation workers.
Why?
Because even after three days of use, a fentanyl patch may still contain enough medication to cause harm. (5)
Accidental exposure to even one dose of it, especially by children, can result in a fatal overdose.
To prevent accidental exposure, it's recommended to wear fentanyl gloves while disposing of fentanyl patches. (6)
Additionally, doctors should encourage patients to wear them if they apply the patch themselves. 
Moreover, doctors responsible for administering fentanyl through the Fentanyl Iontophoretic Transdermal System (Fentanyl ITS) should wear fentanyl gloves.
Fentanyl ITS is a novel, approved transdermal system for managing acute and moderate to severe pain.
Accidental exposure to the device or its components can result in fatal overdoses. That's why it's recommended to wear fentanyl gloves while handling it.
Bottomline:
Accidental exposure to fentanyl doses may be harmful.
Doctors who apply or discard fentanyl patches or devices should wear fentanyl gloves, in addition to some occupations like first responders and law enforcement.
Let's dig deeper into who should wear them.
Who should use fentanyl gloves? 
According to NIOSH, all first responders are at risk for exposure to fentanyl, and wearing fentanyl gloves is necessary for their protection.
This includes law enforcement, firefighters, rescue, and emergency medical services (EMS).

Emergency medical services or prehospital patients care
Those are the first responders that respond to help overdosed individuals.
They may encounter fentanyl or other illicit and toxic drugs or drug paraphernalia (equipment or tools used to make or modify the drug, such as plastic baggies, spoons, etc.).
These are usually contaminated with traces of the drug or contain the drug itself.
Law Enforcement
Officers, security guards, prison enforcement officers, and airport security who perform day-to-day law enforcement duties may come into contact with fentanyl.
Either they're responding to overdose calls, conducting traffic stops, executing search warrants on opioid processing or distribution sites, or making arrests.
Investigation and Evidence Handling
Crime scene investigators and crime laboratory workers are responsible for conducting investigations related to the use of fentanyl.
They're in charge of collecting, moving, storing, and examining evidence that can contain fentanyl.
Special Operations and Decontamination Teams
Workers who conduct special operations where exposure to large amounts of fentanyl is expected
Examples include hazardous material incident teams responding to a release, spill, or spill of fentanyl.

Let's find out how you, as first responders, can decide what situations require using fentanyl PPE and gloves.
How to select the right PPE, including fentanyl gloves?
Different exposure routes to fentanyl require other PPE.
A PPE for respiratory protection, such as filtering face respirators (FFR), Elastomeric Air-purifying respirators (APR), powered air-purifying respirators (PAPR), or self-contained breathing apparatus (SCABA)
While for eye protection, safety goggles or glasses.
Dermal protection includes wrist and arm protection, particulate hazards protection ensembles, and chemical hazards protection ensembles.
Meanwhile, for hand protection, of course, there are fentanyl-resistant gloves.
Usually, the selection of PPE depends on the situation and the level of hazard you are up against, also known as levels of exposure (LOE). (7)
Nevertheless, with fentanyl gloves, things are different.
Why?
Because there are no clear or established levels of exposure (LOE) to fentanyl and its analogs.
Concentrations do not determine the levels; strangely, they are assigned "minimal-moderate-high" classes. Whether you should wear PPE or fentanyl gloves depends on these levels and your job category.

According to NIOSH, it's recommended to wear fentanyl gloves when the level of exposure to fentanyl is either minimal or moderate.
It occurs when it is suspected that fentanyl is present, but no fentanyl product is visible.
The only PPE recommended for this level across all jobs is fentanyl gloves.
It occurs when a small amount of powdered or liquid fentanyl is visible.
In moderate LOE, fentanyl gloves are recommended.
Furthermore, suppose a risk assessment of the scene is performed, and it is determined that a higher level of protection is required. In that case, it is recommended that the gloves used be either thicker than usual or double-fentanyl gloves be used, which applies to all job categories.
Additional PPE, such as safety glasses or goggles, and FFR, such as the N100, R100, or P100, are recommended.
It is where large amounts of liquid or powder fentanyl are visible.
For example, there could be an accidental spill from a fentanyl storage, distribution, or production facility.

For the investigators, evidence collectors, and special operations and cleaning teams, I am wearing double fentanyl gloves, or thicker ones than usual is recommended.
Additionally, they should wear safety goggles or glasses and proper body and respiratory protection levels according to the risk assessment of the scene.

On the other hand, for (EMS) and law enforcement teams, this high LOE is considered a chemical hazard that requires a certain level of A PPE and usually refers to specialized groups such as HAZMAT teams.
Bottom line:
Even though the decision on further PPE use in fentanyl exposure depends on the situation, occupation, and risk assessment, fentanyl gloves are recommended across all levels of exposure and all job categories.
So, what should fentanyl gloves have? Let's go through the certifications and standards for fentanyl gloves.
Certifications and standards of fentanyl gloves
Besides being powder-free nitrile gloves with a minimum thickness of 5±2, there is no clear and specific certification for fentanyl gloves.
And no test or standard is specifically designed to evaluate them.
Nevertheless, fentanyl gloves should meet NOISH recommendations for handling fentanyl as a chemical material.
Furthermore, a medical nitrile examination glove was given FDA 510(k) Medical Clearance for protection against fentanyl, heroin, and gastric acid.
This means that the FDA didn't test them but evaluated them based on the submitted data compared to other devices.
This certification indicates that the product is safe and effective.
What are the certifications and standards of those FDA-cleared gloves?
Fentanyl gloves should be resistant to Fentanyl permeation, according to ASTM D 6978.
The American Association of Testing and Standards developed this method to assess the permeation rates of disposable glove materials to chemotherapy drugs.
It is used to understand better gloves' permeation properties and chemical resistance in general.
This means the gloves are tested to see how long the dangerous chemotherapy drugs take to penetrate their material.
The amount of time required is known as breakthrough time.
If the gloves meet or exceed the permeation rate threshold, they meet this standard requirement and can be certified.
Medical-grade nitrile gloves were tested using fentanyl, carfentanil hydrochloride solution, and gastric acid.
They were the only gloves that passed this test, that's why they can be used as fentanyl-resistant gloves (8). For up to 240 minutes, no breakthrough was detected.
Fentanyl gloves should meet NFPA 1999 standards.
Fentanyl gloves that comply with the National Fire Protection Association's (NFPA) 1999 standard meet the specific design and performance criteria for medical emergency use.
This standard is for gloves that protect against exposure to liquid-borne pathogens during emergency medical operations.
It includes requirements for viral penetration tests, minimum skill, and specific protein levels.
Moreover, they require puncture, cut, and abrasion resistance.
Fentanyl exposure and overdosing are certainly considered medical emergencies where first responders should be protected.
Hence, fentanyl gloves should be NFPA 1999-certified for the utmost protection.
Fentanyl gloves should be of high quality.
There are acceptable quality level (AQL) scores for disposable gloves. AQL indicates the quality level that is the least tolerable.
Specifically, how many defective gloves are acceptable in each batch? 
The AQL score ranges from 0.65 to 4. The lower the score, the higher the quality. Fentanyl gloves have a maximum AQL of 1.5.
Fentanyl gloves should be powder-free.
Powder from gloves can be airborne during donning and doffing and cause inhalation problems.
Because powdered gloves pose a health risk, the FDA has prohibited their use in patient examination medical gloves. (9)
The powder can be mistaken for fentanyl or vice versa; this might be dangerous.
Why?
Because it could lead to carelessness when handling fentanyl, causing more exposure and harm.
On the other hand, it may cause general panic and anxiety, which could hinder the job and delay the help needed to save victims.
Nitrile gloves are chlorinated or polymerized to make donning and doffing easier without cornstarch powder.
The thickness of fentanyl gloves should be at least five miles.
The thicker the gloves, the more resistant and durable they are to different chemical, physical, and biological hazards.
Fentanyl gloves are recommended to be at least five mils thick.
In some scenarios, thicker or double gloves are required for extra protection. 
The bottom line is, Fentanyl gloves should be high quality reliable powder-free nitrile gloves with a minimum thickness of 5±2.
Furthermore, the best fentanyl gloves should meet the performance requirements of ASTM D6978 and offer no permeation for up to 4 hours!
In addition to the NFPA 1999 standards for medical emergency uses.
So, why exactly is nitrile chosen for fentanyl gloves?
Let's find out.
Why is nitrile the best for fentanyl gloves?
Nitrile is the perfect choice for fentanyl gloves; it's the only choice recommended by NIOSH.
Let us explain more.
Nitrile is a synthetic rubber with endless properties; it's a cornerstone of the world of disposable gloves.
Fentanyl gloves are highly protective.
In addition to their protection against microorganisms and bodily fluids, fentanyl gloves are highly protective against an extensive range of chemicals.
They are resistant to fentanyl, heroin, and many other different chemicals.
They resist the permeation of fentanyl for up to 240 minutes. Beating both latex and vinyl glove materials that have higher permeation rates. (10)
This can withstand exposure to fentanyl without breaking and letting it into the skin.

What's more, they are resistant to gastric acid.
This is of great value because overdose victims may vomit on the scene.
First responders must ensure they are protected against any vomit or blood they might encounter.
So, whenever fentanyl gloves are used, they provide the barrier needed for protection.
Fentanyl gloves offer excellent dexterity and touch sensitivity.
Protection is not the only merit nitrile has to offer regarding fentanyl gloves. To illustrate, it's highly flexible and stretches easily without breaking.
Furthermore, it's comfortable; whenever you wear it, you can feel everything; it's like a second skin with maximum tactile sensitivity.
All of this contributes to exquisite skill; there are no bulky layers of protection to hinder your movement.
This is especially important when it comes to fentanyl gloves.
Why?
Emergency responders are the first to arrive on the scene; they might need to feel the person's pulse for a check, and who knows whether there will be powder all over the location.
They might also need to insert an IV line, which requires delicate and precise hand skills and talent.
So, they should be able to rush to the person in need without fear of being harmed or the glove getting in their way.
Fentanyl gloves have puncture resistance. 
Nitrile exhibits exceptional puncture and tear resistance. It has three times more puncture resistance than latex gloves.
If the scene has needles from the used drug tool, it's safe for the evidence investigators or the decontamination team to pick them up as long as they wear fentanyl gloves.
Since they're made of nitrile, they don't contain any latex protein. Therefore, there's no risk of causing a latex allergy.
Furthermore, they are powder and accelerator-free.
So they are not only protective but also hypoallergenic and skin-friendly.

Diamon Grip Texture
Fentanyl gloves have a strong non-slip grip.
Why?
Because of the patented diamond-grip texture embedded within the gloves.
This is highly valuable for investigators, EMS personnel, and police officers, as they need a good grip on their tools, whether a magnifying glass, plastic bag, or small tools for collecting evidence.
It wouldn't be good if evidence were ruined because the investigator was wearing a slippery pair of gloves, would it?
High-visibility inner layer
Fentanyl gloves usually come in black to make it easier to notice the white fentanyl powder if it is present; however, they also come in different colors, like blue or purple.
Moreover, they have a different,
apparent inner layer
, so it's noticeable if there's an accidental tear or cut.
Elongated cuffs
It's not only a matter of protecting your hands; sometimes, your wrists and forearms may need protection in case of a fentanyl overdose.
That's why fentanyl gloves have elongated, sometimes extra-long cuffs for protection and coverage.
The bottom line
Fentanyl gloves resist fentanyl, heroin, gastric acid, and many other chemicals.
They're flexible, with maximum tactile sensitivity and hand dexterity.
Additionally, they resist punctures and tears from handling needles.
They have many features, such as the latex-free and prominent inner layer, that make them the perfect choice for protection against fentanyl exposure.
Finally, with the rapid changes in the world around us, there are advancements in all fields.
And fentanyl gloves are no exception; let us investigate. 
Advancement in Fentanyl gloves
Field testing for fentanyl or its analogs is not recommended. (11)
why?
Some tasks to test fentanyl may cause it to be airborne; this increases the risk of exposure which requires higher PPE levels.
For this reason, in 2019, scientists at the University of California published an article introducing fentanyl gloves with the ability to detect fentanyl presence on site. (12)

This fentanyl glove has a sensor on the fingertips to detect fentanyl and other opioids electrochemically.
Furthermore, these gloves can detect liquid and powder forms and sense fentanyl even in a mixture of other agents.
It is called "lab-on-glove" because it's like a small laboratory carried at your fingertips.
You touch the sample with your thumb, sense it with your index, and the data is wirelessly transmitted to a smartphone or tablet for further analysis.
Therefore, it offers rapid screening and early detection of fentanyl and other illicit drugs in emergencies.
This new set of fentanyl-detecting gloves would offer safety for first responders and new opportunities for advancement in laboratory analysis in the forensic world.
Finally, we hope you now understand what fentanyl gloves are and why they are made.
Stay safe, stay away from, and send us if you still have questions about fentanyl gloves.