Manufacturers of disposable gloves: A History of Taking a Chance and thriving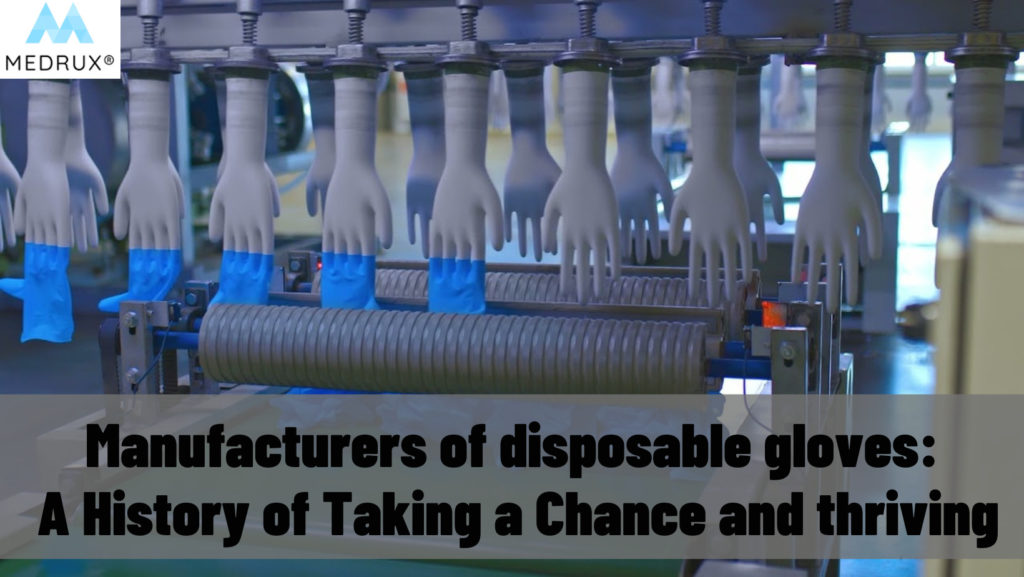 Gloves manufacturing is one of the largest industries in the world.
The market has undergone diverse changes since it expanded, and now it's on the rise.

The disposable glove manufacturers have taken advantage of every opportunity out there, facing and overcoming multiple challenges over the years.
They've been working their tails off to meet the world's demands in the worst of times, amid pandemics, and in their everyday daily lives, especially in Malaysia.

In light of everything that's been happening in our world in the last couple of years, and by everything here we're talking COVID-19, there has never been a more critical time when gloves were needed.
And to be honest, it's not just COVID-19.
The increasing rate of infectious diseases such as Hepatitis, SARS, AIDS, etc., and hospital-acquired infections has made it crucial for gloves to be an essential part of PPE for centuries.

They help prevent the spread of various diseases and protect healthcare providers and patients from possible hazards associated with working with body fluids and sharp tools and instruments.
Hence, disposable gloves manufacturers realize that high-quality, functional, and super-protective medical-grade gloves are of utmost importance to the medical community.

Disposable glove manufacturers produce medical grade, industrial grade, food grade, automotive gloves, cleaning gloves, and a wide variety of disposable gloves used in almost every industry.
Disposable gloves are irreplaceable; they protect workers and customers and help maintain safety, cleanliness, and hygienic standards.

This article will go through the highs and lows of the disposable glove manufacturers' journey.
In particular, they've faced past, present, and future challenges.
Let's dig in.
The expansion of the disposable gloves market
The medical and healthcare industries have been leading the disposable gloves market, accounting for over 75.0% of the global revenue in 2021. 
After the COVID-19 crisis and the statistical analysis done in 2022, the global market for medical gloves is estimated at $21.8 billion and is expected to reach a revised size of $29.8 billion by 2026 (1).
What's the reason behind this estimated growth?
Several easily noticeable reasons can be held accountable for this growth.
Let's list them right here: 
The increasing number of infectious and chronic diseases worldwide, such as HIV/AIDS, COVID-19, SARS, Ebola, etc.
Globally, the number of hospitals, healthcare facilities, dental clinics, and veterinarians is increasing.
Although hospitals and clinics are the primary end-users of disposable medical gloves, examination gloves are not only restricted to the medical sector; they're widely used in many industries, including the food, beauty, and automotive industries.
People have begun to understand how risky it is to underestimate the precautions and infection control measures. Consequently, hospitals and medical care institutions now recognize and implement safety and sanitation regulations more widely than ever, including wearing disposable gloves.
The disposable glove manufacturers have developed the technology used in producing disposable medical gloves remarkably over the years. They seek the optimum level of safety in reducing latex allergy, the health problems associated with powdered gloves, etc.
The ongoing and increasing need for early detection and diagnosis of diseases demands an increase in the use of examination gloves in laboratories and chemical and pharmaceutical industries.
The rising number of surgical procedures and interventions in the world demands an increase in surgical gloves production.
Rising awareness about personal hygiene
The role of gloves in offering the best protection against many threats and increasing health care awareness in rural areas, developing and developed countries means disposable gloves are not only needed and used by industries but also by the general public all around the world.
Increased medical tourism and increased healthcare awareness in rural areas.
For all these reasons, it's apparent to the eye that the demand for examination gloves is rising.
Additionally, all of these reasons motivate disposable gloves manufacturers worldwide to enhance the quality, improve their features and rise to meet the global demand.
Also, we must mention Malaysian disposable gloves manufacturers whenever we mention disposable gloves manufacturers.
The Disposable gloves manufacturers in Malaysia
Disposable glove manufacturers in Malaysia have numerous factories; the biggest manufacturer has more than 50 factories worldwide, producing 100 billion gloves annually.
Their factories have advanced machinery and operations that produce a wide range of quality gloves that quickly cover the world's demand.
Malaysia has many essential glove manufacturers worldwide, with some of the most automated production companies.
It has the largest latex production companies in the world. Latex examination gloves are made from natural rubber latex, the most comfortable material you can rely on.
It's suitable for medical examinations, diagnostic procedures by dentists; laboratory practices; food handling practices; and many other applications.
Furthermore, the disposable gloves manufacturer pioneered powder-free dipping technology.
Not only latex gloves but gloves manufacturers in Malaysia were the first to introduce soft, lightweight nitrile gloves matching the properties of natural rubber latex.
Nitrile gloves are durable and flexible with great touch and tactile sensitivity, offering you excellent dexterity, and can be used in many fields, from the health care sector to the automotive industry and even gardening.
They're hypoallergenic, latex-free, and contain no natural rubber latex proteins. 
What's more, they're accelerator-free and tested for nitrosamines and residual chemicals to minimize Type I allergy risks and Type IV hypersensitivity reactions.
This revolutionized the industry on so many levels, eliminating the risk of allergies, and ever since, the world's attention and demands have shifted from latex to nitrile. 
And, of course, the Malaysian disposable glove manufacturers didn't disappoint. 
They're now the world's largest nitrile glove producers.
In addition to various industrial and safety gloves, surgical gloves, vinyl gloves, household rubber gloves, polyisoprene, and polychloroprene gloves, etc.
They produce a wide range of powdered and powder-free, sterile, and non-sterile gloves in different lengths (e.g., extra-long gloves) and colors for various applications.
They also have a wide variety of biodegradable gloves and use energy-saving biomass systems to contribute to a greener world.
Surprisingly, a non-glove segment that includes condoms, face masks, dental dams, and exercise bands.
In addition to highly technical engineered rubber products used in the automotive, infrastructure, marine, aviation, rail, and mining industries,
Furthermore, several disposable glove manufacturers now have research and development centers working to develop new products and technologies. 
All of this while maintaining quality control to meet Good Manufacturing Practices and Standards and keep the efficiency, safety, and quality of the gloves at the highest levels.
In short,
They offer premium, high-quality disposable gloves, creative packaging, and economical, eco-friendly options. Meeting demand in both the healthcare and non-healthcare segments.
Manufacturers ship disposable gloves to the Americas, Europe, Asia-Pacific, and the Middle East.
So why exactly Malaysia enjoys a strong presence in the glove market?
Let's find out.
Why is Malaysia the largest disposable glove manufacturer?
The medical disposable glove market is dominated by the US for many reasons, such as its advanced healthcare setup, high R&D investments, strong attention to minimizing the risk of healthcare-associated infections, and increasing demand for high-quality medical gloves.
However, the Asia-Pacific region is now the fastest-growing regional market for glove manufacturers. And now a leading provider of rubber gloves and plays a vital role in addressing global demand.
Why?
Because of growing healthcare investments and the growing rates of chronic and infectious conditions and diseases.
In addition to the government's support for glove manufacturers, they are the highest contributors to the country's economy.
Moreover, due to advanced rubber manufacturers in Malaysia, Thailand, and Indonesia. 
It is estimated that there are about 200 glove manufacturers all over the world, and 75 of them are based in Malaysia. The country has approximately 370 billion in installed production capacity, which is estimated to be at 75% utilization
(2)
Malaysia is, by far, the world's largest medical glove supplier!
According to the Malaysian Rubber Glove Manufacturers Association (MARGMA), they account for more than 65% of the world's disposable gloves.
According to The World Integrated Trade Solution (WITS), in 2019, Malaysia was the largest exporter of gloves, followed by China and Thailand (3).
So, what happened that made disposable glove manufacturers in Malaysia win in this game of the disposable glove throne?
How the disposable gloves in Malaysia evolved through the years?
It was the 1980s when the HIV/AIDS pandemic hit the world. The demand for medical gloves was the spark of the engine for many countries, including the US, China, South Korea, Thailand, Indonesia, and Malaysia, to speed up their glove production and hit the road well and fast.
In the race, Malaysia came out as the winner.
The availability of latex was just the tip of the iceberg back then. The rest was a combination of reasons as follows.
The government gave

a five-year tax-free break

for companies interested in glove manufacturing. 
The Malaysian Investment Development Authority (MIDA) offered

600 licenses to disposable glove manufacturers.
Early research and development work was done by Lembaga Getah Malaysia (LGM), or the Malaysian Rubber Board, on gloves to help resolve the problems the disposable glove manufacturers faced, such as latex allergy.
These factors make Malaysia a top player in latex and nitrile production.
What made Malaysia stay on top of the disposable gloves manufacturers?
Malaysia has been holding the glove manufacturing industry's key for years.
Why?
Malaysian disposable glove manufacturers have been innovative to produce disposable gloves at an accelerated rate.
One of the most time-consuming processes in glove manufacturing is the glove inspection process.
With the help of modern automated visual inspection, disposable glove manufacturers don't need to spend resources such as time and labor on manual inspection anymore.
Through relentless improvements in the technologies using robotics and automation in the production lines while sticking to the highest level of safety standards.
Always provide the highest quality
With the high demand during the peak of COVID-19, there is no doubt that some people took advantage of the situation.
In February and March 2021, a large ship (tens of millions) of fake and already-used nitrile gloves came to the US.
CNN reported that a US company warned the Food and Drug Administration (FDA) and Customs and Border Protection that they received shipments of visibly soiled, dirty, blood-stained, and marked gloves from a company in Thailand.
This could have posed a threat to the entire Asia-Pacific glove manufacturing industry.
However, these disposable glove manufacturers in Malaysia have a strong track record of high-quality assurance standards.
International companies and local manufacturers have gained all the necessary accreditations to comply with global safety standards. 
When you buy gloves from Malaysia, you know that you're getting the best of the best.

Producing gloves at a gigantic scale.
One of the major things that kept the disposable glove manufacturers in Malaysia on top for so long was the ability to produce gloves on an enormous scale.
This is a critical advantage that attracts all the world's biggest buyers.
Many buyers now solely depend on Malaysian disposable glove manufacturers for production.
Why?

Because they can produce and service large order sizes effortlessly without trouble, they're trusted, reliable, and of high-quality service.
With continuous government support for an industry that generates billions of dollars in sales each year,
disposable gloves manufacturers continue to produce and deliver billions of gloves every year to buyers worldwide.
Malaysia remains the number one, delivering excellent service and cost-effective products.
But life was not all roses. There were and still are some challenges that affected the industry. Let's look at them and how disposable glove manufacturers overcame these threats.
Labor shortage and Forced labor…a vast challenges the gloves manufacturers are dealing with.
With such a vast industry, there must be a considerable number of workers.
The past few years, glove workers' living and working conditions have been in the international spotlight.
Moreover, to travel restrictions back then to prevent the spread of COVID-19, there was a shortage of workers during these times.
In 2020, the Malaysian Rubber Glove Manufacturers Association (MARGMA) estimated that the industry could have lost around $1.85 billion in revenue for Malaysia due to labor shortages.
What's more, there were concerns from the major importing countries over the labor practices in the industry, especially the foreign workers.
US and Canadian authorities have banned the importation of disposable gloves from a manufacturer in Malaysia over allegations that it uses forced labor.
Demanding many workers, many are hired by disposable glove manufacturers' companies through hiring agencies that abuse them by forcing them to pay large amounts of money just to work for such companies.
Some workers are charged large amounts of money to come to Malaysia, have their passports kept so they can't leave, work excessive overtime, and are exposed to violent punishment if they complain.
In addition to the pandemic leveling up the workload and glove manufacturing, they haven't been able to get new workers from overseas, so the workers are working very long hours.
In return, they are not paid enough to cover their debts, so they leave work. This leaves the glove manufacturers running out of workers, threatening their business.
So how did they face this challenge?
The glove manufacturers are trying to implement the "zero cost recruitment" policy as much as possible, ensuring that no worker has paid anything to be hired.
However, it's not happening.
In light of all this, MARGMA's focused on compensating fees to free those workers from debt.
Moreover, they worked on upgrading the hostels for their stays and improving their minimum wages.
Furthermore, the most prominent players in the glove manufacturing industry have made redemption payments since 2020 to foreign workers, who paid recruitment fees to get jobs, and implemented a higher government-mandated wage standard.
There are now accelerating the process of meeting International Labor Organization (ILO) standards.
On the other hand, some manufacturers have greatly expanded their public information online about corporate ethics, code of conduct, sustainability, and more.
In conclusion, such transparency and significant efforts to improve the workers' conditions have the disposable glove manufacturers doing better than they ever have with flourishing industries and more satisfied workers.
Will Malaysian disposable glove manufacturers stay on top of the industry?
The rubber glove industry accounts for more than half of the total rubber products exported by Malaysia over the past decade, especially disposable rubber gloves.
However, glove manufacturers have been facing multiple competitive business challenges.
The competition has been constant with China, Thailand, and Malaysia, always keeping the glove manufacturers in the race to create better, safer, and higher quality gloves.
Rubber glove manufacturers may have to face some stock drops compared to the last year.
With the almost resolution of COVID-19 and the decrease in the number of cases worldwide, the demand is hitting the road less than the trend of the last two years.
But it's doubtful that these drops can affect the market as much.
Why?
For one thing, people are still scared of the COVID-19 outbreak or another pandemic that might be coming their way.
As a result, changes in their behavior aren't expected to be dramatic enough that they abandon gloves for good anytime soon.
Additionally, it's not just about individuals; businesses worldwide are still relying on gloves and still maintaining a high level of caution in places such as airports, commercial cruises, and many others.
Many workers still wear gloves when interacting with people.
So, gloves aren't going anywhere soon
.
They'll be used heavily in healthcare facilities, home care, food industries, automotive industries, and endless applications. Just as they always have been.
Right now, the world is going green, trying to work with environmentally friendly options. And the disposable glove manufacturers in Malaysia, again, do not disappoint!
They're using alternative energy sources, using less energy in producing and manufacturing disposable gloves.
So, they are there whenever the world needs change and innovation.
And will stay with the most significant piece of cake in the market, for they are continuously improving and developing.
Final thoughts,
Despite improved automation and AI technologies, the glove manufacturing industry is still labor-intensive, and local firms rely heavily on foreign workers.
Additional automation and revolutionization of the industry and more efforts to improve the labor conditions are still needed for further improvements and for them to grow sustainably.
But it's unlikely that the Malaysian gloves manufacturers will give up the throne soon.
They might just be back to their average pace
MEDRUX, a part of the Malaysian disposable glove manufactures
Here in the MEDRux family, we love what we do, and we do what we love.
As one of the leading disposable glove companies in Malaysia, we're serving high-end quality gloves to meet international standard. With the most competitive prices to support the market in ten countries,
We offer free-of-charge samples so you can touch, see, and feel the protection before you purchase the bulk you may need.
Our clients range from the government to private-sector end-users and distributors, as well as from medical to industrial users.
Our culture is "fast and accurate". Ensure you get the highest quality gloves you need in the time you want.
We specialize in medical examination, heavy-duty, and surgical sterile disposable gloves, producing latex and nitrile gloves.
MEDRux Family creates a better life by prioritizing your safety and health and helping you feel better about your life through providing protective products and services. Here's how you can purchase it.
Finally, we have experts for consultation and published articles to give you the knowledge you may need.
Just like this article, so we hope you enjoyed reading it.
Don't hesitate to send us any questions about gloves that may be roaming your mind.