20 Best Features for Hybrid Gloves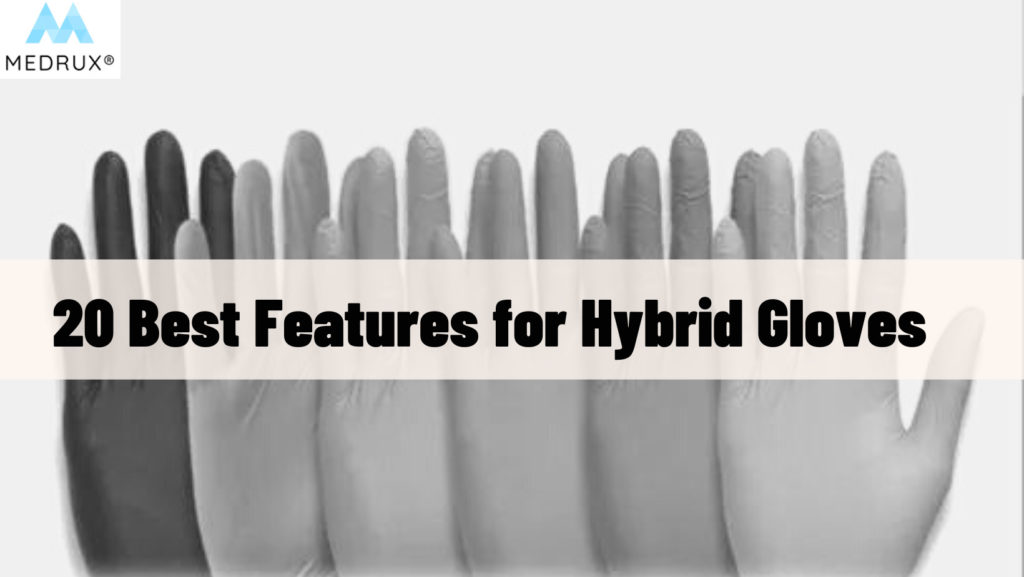 Since the beginning of the COVID-19 pandemic, and for the first time in the world, we have faced a shortage of personal protective clothing, or what is known as PPE, in hospitals and other medical facilities. 
In particular, disposable gloves and face masks.
Therefore, countries and huge entities attempted to investigate all the other potential alternatives that could help them overcome this global crisis. 
Manufacturers also searched for a second option just in case something went wrong.
Furthermore, if there is a solution for avoiding the overpriced materials used in processing gloves, especially in the case of non-medical disposable gloves.
To meet market demands, factories try to provide gloves with the best features.
For example, tough gloves are sometimes required, while flexible gloves are needed at other times.
Then, what if this can happen in real life?
Hybrid gloves are a great option to be used as non-medical disposable gloves.
These gloves are an economical alternative to traditional types.
This is our main outline for today's topic.
In this article, I will cover the different aspects of such gloves and how to choose them.
All you need to do is to relax and try to read slowly. 
Hopefully, you will find it enjoyable.
What is a Hybrid Glove?
A hybrid glove is any glove that combines several common glove materials, such as nitrile, vinyl, and latex. 
This glove is an environmentally friendly, hypoallergenic solution.
Hybrid gloves are usually made up of a majority of one material but with a smaller percentage of another.
Mostly, creators announce that the manufacturing process is done by blending polyethylene and TPE additives.
Moreover, they are also well known by the name "hybrid poly gloves" because they are considered a new type of LDPE, or low-density polyethylene.
As we mentioned, manufacturers usually produce these gloves to solve the money issue while providing a new product that combines the best qualities of the materials used.
Especially when you need a glove to do more than one thing.
For example, nitrile is highly durable, but this durability can also make nitrile gloves uncomfortable.
So, a factory might develop the hybrid nitrile glove to reintroduce the desired stretchiness with something similar to the flexibility of a latex glove.
Then this allows the manufacturer to produce more flexibility in a nitrile glove without sacrificing other features, such as glove thickness.
Finally, the glove would keep most of its puncture resistance while making it more comfortable for the wearer.
Bottom Line:
Hybrid gloves are made by combining common materials.
Besides a standard pair of nitrile, vinyl, or latex gloves, hybrid gloves can provide many of the benefits of the component materials. 
This results in a glove that is more functional, more comfortable, and easier to use.
Uses of Hybrid Gloves
Disposable hybrid gloves are designed for general purposes.
However, they are primarily used in the food industry for making sandwiches, chopping salads, slicing meat, and serving dishes.
This can be found in fast-food businesses, restaurants, bakeries, grocery stores, bars, cafes, diners, and other food service locations.
Besides, janitors sometimes use these gloves when working in sanitation.
Also, tattoo artists and childcare personnel may wear them.
Hybrid gloves are designed to be changed frequently; they are also recyclable products that are perfect for any application except medical course.
Why choose Hybrid Gloves?
Hybrid gloves are the perfect option when you need a glove to do more than one thing.
Furthermore, they are much cheaper and more resilient alternatives to latex or vinyl gloves that can be used, especially in the food industry.
The gloves have top qualities of vinyl and synthetic rubber, such as tensile strength and elasticity. 
Besides, they are designed to be less absorbent than traditional vinyl gloves, improving their chemical resistance.
Those gloves are considered eco-friendly because they can be recycled, which will reduce their environmental impact too.
Another economic feature is that, as they are thin, they also come in boxes of 200, which is double the usual amount for disposable gloves. 
That means less restocking and less waste from packaging.
They are by no means a straight-up replacement for other types of gloves, but surprisingly, they are excellent for light work.
Moreover, they are better for those with latex allergies or sensitivities. 
In addition, hybrid gloves have a powder-free design that reduces the risk of particulate contamination of skin, clothing, surfaces, and other materials.
Finally, they are approved by the United States Food and Drug Administration or FDA. 
Bottom Line:
Hybrid Disposable Gloves are a new and innovative design that can replace latex or vinyl gloves.
These gloves provide safe, long-lasting protection from mild irritants in hygiene sectors and food handling tasks.
Tattoo artists and childcare personnel also wear them.
They are considered skin-friendly and non-polluting because they can be recycled.
Features of Hybrid Gloves
Let's put all the known qualities of these gloves into a simple list to help you decide whether this is the type to choose.
So, hybrid gloves features are as follows:
The ideal high-quality level of comfort in comparison to vinyl gloves.

More stretchy than vinyl for the easy removal and dispensing of gloves in busy settings

Glides on easily, even with wet hands

Provide a skin-tight fit around the palm and fingers.

Ambidextrous.

Designed for light-duty tasks

Excellent to reduce cross-contamination.

Shields employees from hand injuries.

Diamond pattern texture for improved grip and dexterity makes it ideal when handling slippery, minor, or hard-to-grasp items.

Available in clear or blue color.

Better for the environment.

Lower emissions of harmful chemicals during the manufacturing process and reduce material waste.

Help to reduce landfill space, and take up to 50 to 60 percent less space than traditional gloves.

It can be recycled with plastic bag recycling 

Cost-effective.

Tend to vary between 1 to 3 mil in thickness.

Free of carcinogens and cornstarch allergens. 

FDA-approved for food processing facilities.
Disadvantages of Hybrid Gloves
Nothing in this world is 100 percent perfect.
Therefore, we should always determine the pros and cons of any glove before purchasing.
This will help narrow your options according to your claimed job.
Then the disadvantages of hybrid gloves are as follows:
They are too thin and unacceptable to use in a heavy and harsh work environment.
Only give mild protection from irritants, so they are not considered chemically resistant.
They are not sterile, so they are not recommended to be used for medical examination.
Made of plastic-like material, they can catch fire and burn quickly.
It is typically made in a clear color, which can look unappealing when used in sticky sauces, for example. 
Bottom Line:
Hybrid gloves have many advantages and disadvantages, like any other glove material.
 Super comfortable, cheap, and easy to wear with wet or dry hands.

Reduce landfill space more than standard gloves.

Approved by the FDA but can't be used in medical facilities.

They are somehow thin and not chemical or heat-resistant gloves.
Purchasing Guide for Hybrid Gloves
The material mixture you need to look for will depend on the job type.
Thus, search for the desired size once you decide on the proper material. Selecting the appropriate glove can make your life so much simpler.
When buying hybrid gloves, you need to consider the available brands on the market.
There are many suppliers and manufacturers around the world.
For this reason, you should pick a trustworthy place, especially if you purchase them in bulk for your employees.
The price matters, but you should avoid choosing the cheapest brand because they are usually the worst.
This article states that hybrid gloves are usually used in the food service sector.
This is why you must guarantee that the brand you want is food-grade and FDA-approved.
Always look for the AQL or "Acceptable Quality Level" number 4 on the box.
Also, please search for the CE mark, which indicates that they meet the European Union's manufacturing and commercial marketing rules and requirements. 
Bottom Line:
It is always better to pick your gloves from trusted brands or well-known places.
On the box, look for the AQL, or "acceptable quality level," number 4.
Also, look for the CE mark, which indicates that they comply with the European Union's manufacturing and commercial marketing rules and requirements.
In the end, always ask yourself that question for your' and others' safety.
Are you sure your protective gloves manufacturing company provides a consistent product and follows the FDA regulations?
FDA – Approved Food Handling Gloves
The FDA has high standards for the quality of gloves that can be sold on the market.
To obtain FDA approval, glove manufacturers must adhere to strict quality control measures.
Food handling gloves are licensed under FDA Title 21 CFR Part 177, which specifies how the glove components would comply with FDA standards.
The gloves must be made of materials generally accepted as safe for food processing or packaging.
According to the rules, these gloves must be both hygienic and non-porous.
Clients can judge the quality of the gloves by observing the package.
You may want to search for other customers' reviews for this particular product.
We recommend you always look for trustworthy manufacturers.
Also, there is the AQL measurement, which means "Acceptable Quality Level."
AQL measures the pinhole defects against required quality standards. 
The medical industry standard for AQL is 1.5, which means that for every 1000 gloves produced, only 15 pinhole failures are allowed.
The higher the AQL number, the greater the number of pinholes in the gloves.
Sadly, there is no AQL requirement for food service gloves, which means there are no guidelines for the number of failures per box.
This allows distributors to import gloves without an AQL, which can be a critical concern for food safety.
It all simply refers to the user's awareness and understanding of the significance of AQL or other standards and their role in defect-free gloves.
Bottom Line:
The FDA has strict guidelines for the efficiency of gloves sold in the marketplace. 
Gloves must be made from materials that are widely recognized as safe for use in food processing or packaging. 
Because food service gloves do not have an Acceptable Quality Level criterion, there are no regulations for the number of failures per box.
Disposable Hybrid Gloves Market
There are dozens of brands and names on the internet for food handling gloves.
For this reason, I tried to conduct a quick search for you on the most popular types of shopping websites, such as Amazon and Walmart. 
Then, I scrolled down to the customers' reviews of some of these brands.
Let me list some common threads I've discovered on this journey.
I hope this helps you make a decision.
Hybrid poly gloves are typically packaged in boxes containing 200, 500, or 1000 clear disposable gloves. 
Furthermore, they are available in only three sizes (small, medium, and large), but a few sellers offer special measures such as extra small or 2 XL for big hands.
It is preferred to check the size chart if there is one.
In the matter of glove color, they are commonly available in clear or plastic-like shades.
However, some providers offer other options; for example, I have found black and blue hybrid gloves.
These colors are not affecting any of the glove's features.
Most of the customers' feedback for disposable hybrid glove are positive.
You might also find some brands that provide gloves made of thermoplastic elastomer, not only polyethylene.
This material is markedly different as it is nearly as elastic as rubber gloves.
Besides, they are supposed to be safe for food handling, industrial kitchens, beauty and salons, cleaning, painting, etc.
Bottom Line:
There are plenty of food-handling glove brands and names online.
They are mainly available in four sizes and two colors.
Always check your size before ordering for a better fit and grip. The glove box usually contains from 2oo to 1000 pieces.
Synthetic Hybrid Gloves VS Regular Poly Gloves
Since synthetic hybrid gloves are more form-fitting than regular polyethylene, they provide better control and comfort than conventional poly gloves.
They are, however, still loose enough to enable frequent glove changes.
Poly gloves, however, have long been the preferred choice for food handling.
These are made of polyethylene, the most breathable of the primary glove materials. 
Moreover, they are non-leaching, meaning that chemicals from the gloves will not disperse into whatever the user is handling.
They are typically non-sized and of a plastic-like material that comes in a single color. 
This is why the hybrid construction of these gloves makes them different from any other kind.
In particular, when polyethylene is combined with elastomers, or what is known as "synthetic rubber,"
This process gives it more stretch, an improved fit and feel, and slightly better strength and resistance to contaminants.
They come in various sizes to snug all hands and provide an advanced experience. 
For this reason, hybrid gloves can be used in several situations and are not just for food processing.
So, as we previously mentioned, they are well-suited for janitorial, beauty salons, painting, auto detailing, and countless other light-duty tasks.
Bottom Line:
There are few variations between poly and hybrid gloves, but the difference is enormous, particularly in elasticity and comfort.
Because of this, hybrid gloves are more frequently chosen for any light-duty job.
Other Food-Safe Gloves Options
Other than hybrid gloves, there is a range of disposable glove formulations that provide reliable hand protection in the food service and processing industry.
Are you confused?
You may face several tasks with different situations in these sectors.
For this reason, before choosing the type of your task, you should consider the glove's material and what is preferred to wear as protective gear. 
Check out the following types:
Food-safe vinyl gloves are strong, durable, and very comfortable to wear.

They are perfect for working with strong-odor food, potential irritants in jalapeno peppers, or higher bacterial exposure, such as those in meats.
They also are suitable for those who suffer from allergies.
Vinyl gloves are one of the cheapest glove options; nevertheless, they lack the durability and flexibility of other materials, such as nitrile.
Moreover, their protective barrier would be compromised when gloves are stretched, making them susceptible to puncture and increasing the risk of contamination.
Nitrile gloves are designed for heavy-duty food processing. ref
These gloves offer reliable and consistent resistance to oils, chemicals, and temperature fluctuations.
They are soft and comfortable, making them ideal for working with raw meats, oily foods, or acidic fruit, that might also end up causing a breakdown in other glove materials.
There aren't many potential downsides to using nitrile gloves regarding food safety.
However, they are a more expensive option than any other material.
Besides, nitrile is not biodegradable, which means it is difficult to dispose of and bad for the environment.
They provide an extremely comfortable "second skin" fit and feel and the ability to handle the texture of food.
Unfortunately, there is an allergy issue.
Furthermore, the powdered latex gloves may leave a residue which leads to food contamination.
Bottom Line:
In food safety disposable gloves, a diversity of materials offer hand protection. 
Possible choices include polyethylene (PE), vinyl, latex, and nitrile. Regard the tasks at hand to determine which glove to use.
Each glove type has its pros and cons to take into consideration.
Regardless of glove type, food service workers must also keep practicing frequent handwashing and glove changes, as we will explain later.
Then, when to change your Food-Safe Glove.
Significantly, the hygiene standards give the food industry an ideal model for helping promote public health and safety.
For this reason, it is essential to maintain these regulations and encourage healthy habits that eventually become part of the routine. ref
Please follow these tips about the proper time to change gloves:
Before handling fully-prepared and ready-to-eat foods.

Following contact with raw ground beef, seafood, chicken meat, or meat products.

Whenever you start changing your tasks.

Take them off and wash your hands immediately when you have sneezed, coughed, or touched your mouth, nose, hair, or ears.

After using the restroom, leave or return to your workstation.

If you notice any tears or punctures.
Bottom Line:
 The Occupational Safety and Health Administration standards require that if disposable gloves become contaminated, they must be changed as soon as possible.
These regulations maintain public health and safety during this critical era of increasing diseases. 
Conclusion
Hybrid disposable gloves are the hype nowadays.
They are usually made by mixing two or more materials to get the best version of their characteristics.
The nature of the task will determine the material mixture you require.
A hybrid food-grade glove is a novel product mainly created by a mixture of thermoplastic elastomers and polyethylene.
Choosing the right glove can make your life so much easier.
Notably, they are becoming the most popular glove in the food service industry. 
Don't forget to search for FDA approval, the AQL, the European Union's manufacturing, and CE rules and standards of gloves needed.
The performance of all gloves can be measured by the FDA guidelines before they are put on the market.
Remember…
Not always, but the cheapest option is the best. 
Therefore, choose wisely.