Are You an Auto Mechanic? Here Are Your Best Black Glove Options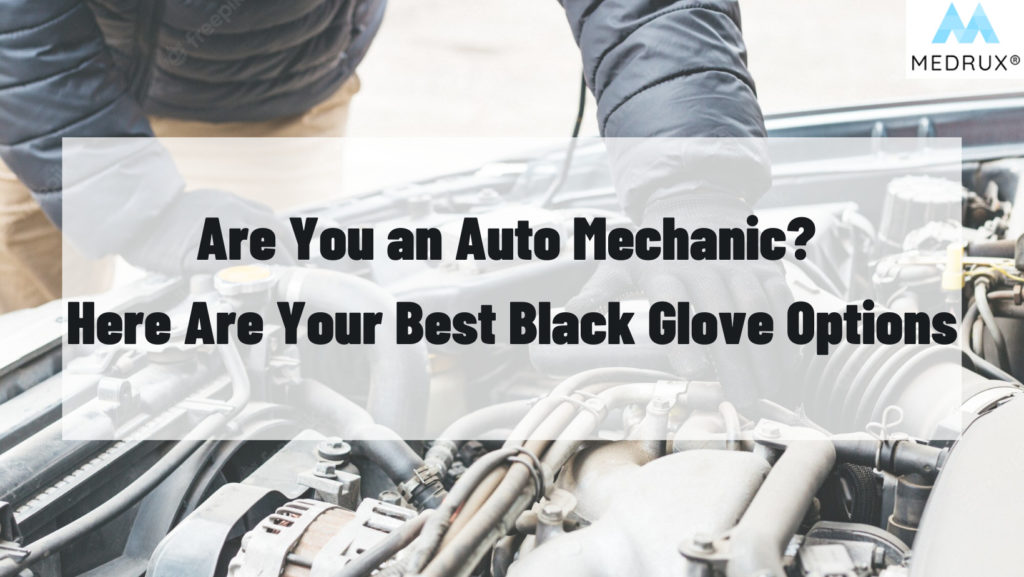 Every time you hit the workshop to fix your car, you can see those black mechanics' gloves lying around somewhere, right?
It wouldn't surprise me if you have a car and someone gave you a pair of black mechanics gloves as a gift.
Well, if someone did, you must thank them for it.
 I was so grateful to my friend who got me my first black mechanics gloves.
Let me tell you why.
Mechanics use their hands in various hazardous conditions, from car parts, screwdrivers, and wrenches to chemicals and oils.
They're always in danger of cuts, bruises, and more.

Whether you're a professional automotive technician or mechanic or you like working on your car in the backyard, you will undoubtedly know that black mechanic gloves are indispensable.
If you start working without them, your hands will be covered in dirt, grime, and grease.
Not to mention that you will probably have a hand full of bruises or cuts.
That's why having a pair of black mechanics gloves is crucial.

In this article, we will go through the following:
Why do you need black mechanics' gloves?

What are black mechanics' gloves, and what are their types?

10 Things every black mechanic's glove should have 
Why do you need black mechanics' gloves?
Imagine finding no one to repair your car.
Isn't it horrifying?

Automotive service technicians and mechanics are among the most important jobs in the world.
According to the U.S. bureau of labor statistics, 703,800 people were employed as mechanics and automotive service technicians in 2020 (1).

Mechanics handle car parts, from the big and heavy ones to the tiniest screws and drivers.
They not only inspect but also maintain and repair cars and trucks.
But also, they have many tasks, like:
Testing how well parts and systems function.

Changing oil, checking fluid levels, and working with tires.

Performing repairs and replacing worn parts such as brake pads, wheel bearings, and sensors.



Doing all of these require using their hands a lot, in addition to many hand tools, such as wrenches, pliers, sockets, and ratchets.
Hence, mechanics are frequently in danger of injuries.
Precisely, mechanics ranked 14th in terms of the number of injuries and illnesses in 2005 (2)
Why?
Because they are at risk of a variety of injuries, including
Arm injuries

include sprains and strains from reaching, stretching, twisting, or moving parts or working in cramped and awkward positions.

Eye injuries

from sprayed or splashed chemicals or flying debris from grinding and

welding.

Burns

from handling corrosive chemicals and touching hot objects.

Minor cuts and bruises.
Crush injuries

from impacts or falling heavy objects.

Electrocution.
For all these reasons, mechanics are more likely to be injured on the job than the average worker (3).

Owing to all of the above, mechanics and automotive technicians must use PPE (Personal Protective Equipment) for protection.
Starting from overalls, goggles, safety glasses for eye protection, head and ear protection, safety boots or shoes, and most importantly and commonly, black mechanics gloves.
Not only for protection but also for a firm and secure grip on the materials and parts needed to complete the tasks safely and effectively.
Moreover, dealing with oils and car parts daily can make your hands sticky, greasy, and full of dirt.
Wearing black mechanics' gloves keeps your hands clean.
In conclusion, black mechanics gloves are essential for protection, functionality, and cleanliness.
So, what types of black mechanics gloves are out there?
Let's go through them.
What are black mechanics' gloves, and what are their types?
Black mechanics gloves are part of the safety gloves used by mechanics and automotive technicians to protect their hands from cuts, abrasions, burns, and injuries. 

You can see mechanics wearing them everywhere, from professional automotive shops and marine repair workshops to industrial equipment repair garages.
Why are they black?
Most mechanics' gloves come in black for a good reason.
Mechanic work is greasy, full of oils and dirt, and black gloves won't look as dirty or stained as other colors of the glove.
However, some highly specialized mechanics' gloves come in various colors to help you and your coworkers recognize your movements.
According to the frequency of their use, there are two types.
Black mechanic gloves types:
Disposable black mechanics gloves can be used in simple and quick maintenance procedures like changing oils, checking and refilling fluids, or working with chemicals.
They're made of latex, nitrile, vinyl, neoprene, or rubber.
In addition to being cheap and convenient, they're easy to use.
For instance, they won't bother you with the burden of cleaning between tasks; instead, you just throw them away and use another pair of clean gloves for your next task or appointment.
Although they keep your hands clean and away from the oil and grease, they are more prone to cuts, burns, and corrosive chemicals than reusable black mechanic gloves.
Moreover, they're less durable and won't last as long as reusable ones.
On the other hand, reusable black mechanics gloves are more valuable for maintenance, repair, and performing heavy-duty tasks. 

They are made of durable materials like goatskin leather, cowhide leather, synthetic leather, kevlar, and spandex.
However, they could be coated with latex, nitrile …etc.

They are more resistant to heat, cuts, abrasions, oil, gasoline, and corrosive chemicals.
However, you will have to clean them more frequently.
You might be asking yourself, which one should I have in my garage?
Well, the answer is both.
Being an automotive mechanic, you will need both the reusable, more durable pair for protection and safety and a box of disposable ones for light tasks.
Now let's talk about the most essential features a black mechanic glove should provide.
10 Things every black mechanic's glove should have
Whether you choose disposable or reusable black mechanic gloves, you should ensure they protect your hands while you work.
Alongside the protection, there are many things to consider when buying black mechanics gloves.
Black mechanics gloves should be durable
Durability is different when you're choosing between disposable and reusable black mechanics gloves.
Durability for disposable black mechanics gloves means that they shouldn't tear easily and can handle extended exposure to chemicals.
On the other hand, for reusable gloves, durability is how long the glove can withstand all of these dangers without being damaged.
Generally, for disposable gloves, Nitrile gloves are more durable than latex.
Meanwhile, gloves made of leather and synthetic materials like nylon, spandex, and kevlar are the most durable.
Black mechanics gloves must offer excellent grip and dexterity
Mechanics do almost everything with their hands.
Imagine the number of scratches and bruises that could result if they didn't wear gloves.
But wearing durable and thick gloves to protect your hands doesn't mean they should be bulky and getting in the way of your hand movements.
Black mechanics gloves should offer the vital ability to grip and move your hands freely.
Some of the best black mechanics gloves have added grip by padded fingers or raised ridges.
Disposable black mechanics gloves offer a better grip, yet; reusable ones are now coated with latex or foam nitrile to help increase their dexterity.
Moreover, nitrile black gloves are micro-roughed on the palms and fingers with a special texture for enhanced grip and excellent dexterity, even in oily situations.

Black mechanics' gloves made with goatskin leather fit like a second skin, providing great dexterity and touch sensitivity.

Surprisingly, some black mechanics gloves are mobile-friendly
How?
They allow you to grasp your smartphone and touch screen to answer a call or return a text without removing them.
Black mechanics glove should provide you with comfort
The best black mechanics gloves must provide comfort and reduce irritation and pain.
You'll be wearing the gloves for a long time, so you must not twist and turn your hand now and then of strain and fatigue.
Hence, black mechanics' gloves must be made of flexible, soft, and breathable materials.
Why?
To allow your hand to move freely and gives you the comfort you need to perform your tasks effectively

Black mechanics' gloves made with goatskin leather are lightweight, breathable, and soft.
Nitrile black mechanics gloves offer extraordinary comfort and tactile sensitivity and protection against oils, gasoline grease, and corrosive chemicals.
In addition, working in a heated or cold environment can decrease your hand's flexibility, making it hard to work.
Ensure your black mechanic's gloves are insulated if you work in a cold environment.
What's more impressive is that some black mechanics' nitrile gloves now have low sweat technology to help maintain breathability and comfort in hot weather.

The best black mechanics glove is tear-resistant
As we mentioned above, auto mechanics are highly prone to get injured.
Starting from minor tears to significant crush incidents.
They frequently work with screwdrivers, wrenches, and other tools that could easily tear the gloves. One of the most essential features a pair of black mechanics gloves should offer is torn resistance.
For disposable black mechanics gloves, latex can tear easily if caught on sharp edges, whereas nitrile is the most tear-resistant material.
Whereas reusable black mechanics' gloves are usually tricky to cut, tear, and scratch because of the additional protective layers of rubber, plastic, and nylon that could be added.
The best black mechanics glove is cut resistant
Selecting a specific cut resistance level for your black mechanic's gloves will depend mainly on the risk you're up against.
Mechanics are always in danger of cuts and lacerations. That's why it's essential to wear cut-resistant gloves that will protect your hands if the task is required.
Black mechanics gloves have improved greatly regarding this point.
The added coats now make black mechanics' gloves possible to be thin and comfortable and offer protection against cuts.
Mechanics' gloves that are made with Kevlar are not only cut-resistant but also heat and flame-resistant.
Black mechanics gloves should be impact-resistant gloves
Impact resistance gloves are essential because mechanics are in danger of crushing injuries, having their hands hit or fallen on by many tools and pieces.
Anti-impact black mechanics gloves are usually padded on the hands and fingers to protect the hands from impacts and crushing blows.
Thermoplastic Rubber (TPR) cushioning for palms and knuckles is excellent for mechanics because it offers maximum protection against impacts and pinching injuries and reduces vibrations without interfering with dexterity.
Although some mechanics would prefer to keep their hands bare so they can feel the problem and maneuver well around the equipment.
But mechanics deal with oils, grim, and grease all-day.

Moreover, unique grease cleaning products can damage your hands in the long term.
Protecting your hands with a black mechanics glove that is oil resistant will save you hours of cleaning your greasy hands.
Automotive technicians are usually exposed to several car fluids, such as gasoline, brake fluids, battery acids, etc.
Such chemicals could be corrosive and cause your skin to be damaged if handled with no gloves.
Protective materials used in chemical-resistant gloves include latex, nitrile, PVC, neoprene butyl, and Viton-butyl.
In general, latex gloves offer "poor", vinyl "good", and nitrile "excellent" resistance to automotive chemicals.
The thickness of the black mechanics gloves matter
Mechanics use sharp tools and machines. 
Black mechanics gloves must have adequate protection of at least 3-4 mils for light duties, 5-6 mils for medium duties, and may even require 7 to 8 mils for heavy duties.
Depending on the task you will do, you can choose gloves with the right thickness.
The best reusable black mechanics gloves are coated
Numerous types of coated gloves are available today.

The coatings include foam coated, high-visibility coatings, PU palm coated, crinkle latex coated, and more.

The best things about coated gloves are their seamless design, breathable knit back, elastic cuffs, and various gauges.

Workers can also move their hands more freely and easily in cold conditions when wearing coated gloves. Coated gloves also protect the skin from harmful chemicals and oils.
Coated gloves are ideal for jobs that require a high degree of touch sensitivity, dexterity, and a superior grip.
In conclusion,
Black mechanics gloves should offer durability, comfort, and dexterity to help you perform your tasks effectively and safely while it protects your hand against many threats.
They should protect against tears, cuts, impacts, oils and chemicals.
For disposable mechanics, glove nitrile is a mechanic's best friend as highly resistant to tears, cuts, and punctures.
In addition to resistance to chemicals and oil, they're flexible, comfortable, and latex and powder free so they're suitable for latex allergic people.
What's more impressive, you can find them in extra-length, elbow-length black mechanic gloves for extra forearm protection.
While for reusable ones, goatskin leather, spandex, and Kevlar-coated black mechanics gloves are the best because they offer protection against heat, impacts, and vibrations. In addition to being more durable and cut resistant than disposable gloves.

The disposable and reusable black mechanics gloves protect your hand while you take care of your cars!
If you have any questions, send them, and our team at MedRux will answer you happily.
We hope you now have the best of both worlds at the end of our article.