Gloveworks HD Alternatives: Everything You Need to Know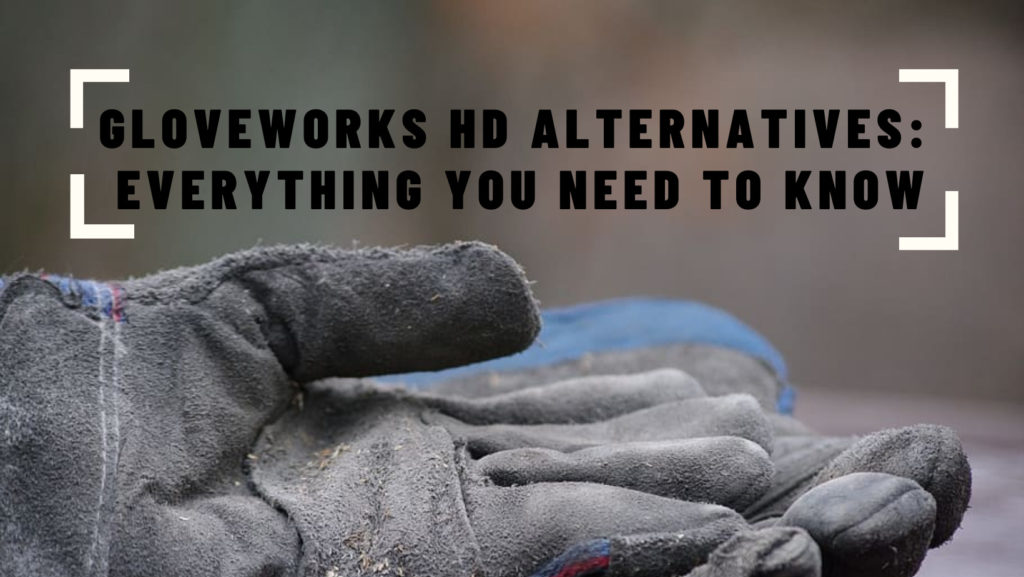 As shown in a report published by the grand view research site(1), the global disposable gloves market was valued at USD 12.31 billion in 2021!
Moreover, it is expected to expand at a compound annual growth rate (CAGR) of 5.8% from 2022 to 2030. 
Therefore, a comparison of numerous disposable and reusable materials in glove manufacturing is presented within this article in an attempt to discover the ultimate industrial heavy-duty glove component.
In addition, you will find just about everything there is to know about glovework HD gloves and their possible alternatives in the case of heavy-duty applications…let's start with the following;
What is the nature of the task referred to as "heavy-duty"?
According to the Cambridge Dictionary, "heavy duty" is an adjective that describes something designed to be powerful enough to accomplish challenging tasks for an extended period.
It also refers to clothes, machinery, or equipment such as heavy-duty tools, which are more durable than ordinary.
This allows them to be used frequently, especially in unfavorable environments.
What exactly is a "heavy-duty job"?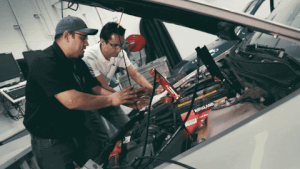 Heavy duty or heavy work indicates a job involving excessive force and physical power to complete a demanding task.
Furthermore, it may involve using machines and heavy tools on occasion.
Not only this term defines the industrial, construction, and machinery environment, but it also includes household activities.
To sum up;
You should wear proper clothing protection while working in any unfavorable or difficult situation for your safety. Protective and industrial gloves are one of these personal protective clothing.
But, what are these "industrial gloves" exactly?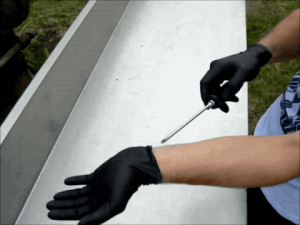 First, industrial gloves, as previously mentioned, are a sort of PPE, or personal protective clothing, also known as safety and work gloves (2).
These gloves are a form of safety gear that envelops and supports the hands and fingers while handling any project.
Therefore, it protects them from accidents or work injuries such as cuts, bruises, glass shards, tissue wounds, wood splinters, and heat or chemical burns.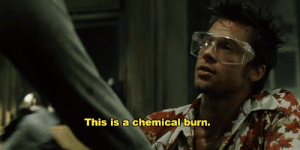 For this reason, regarding the work environment, work gloves come in a wide range of styles, designs, and materials.
Furthermore, the material properties of these gloves must be tear-resistant. At the same time, they must be simple to wear, comfortable, and flexible.
So, industrial gloves are made of thick materials with irregular patterns on the palm for better grip and less muscle fatigue.
Therefore, it is recommended if your job is in a workplace where your hands are constantly exposed to grease, oil, and other greasy substances.
Industrial gloves can be made out of rubber, latex, cotton, leather, Kevlar, and nitrile, depending on the job. They are also available as reusable or disposable gloves.
Gloveworks HD & MEDRUX PRO SERIES are one of the popular products available on the market for this inquiry. So, let's start!
What is Gloveworks HD?
AMMEX is a large importer of disposable gloves and personal protective equipment worldwide.
Under the Gloveworks HD name, the company, created in 1988, manufactures heavy-duty disposable nitrile gloves (3).
According to their website, glovework HD is a product line of industrial-grade gloves with a raised diamond texture (RDT) for heavier jobs.
The RDT feature delivers top performance with 60 percent more surface area and a texture that channels liquids away for a superb grip in wet or dry conditions.
In addition, they also have a reversed texture on the inside that aids air circulation, resulting in reduced heat and sweat.
For this reason, they claim that these gloves are used in various industries and applications.
What are the uses of Gloveworks HD products?
1. Automotive
Pesticides, grease, gasoline, and other petroleum-based substances are all protected by wearing such gloves.
2. Industrial
Those gloves are designed to be worn for extended periods, all the way until the end of the work shift.
3. Versatility
Manufacturing, paint shops, janitorial, plumbing, farming, and even food processing are just a few industries that also use them.
Gloveworks HD comprises four vibrant color options for color-coding by size, activity, or department: orange, green, blue, and black.
Furthermore, they provide total thickness in a spectrum of material thicknesses ranging from 6 to 8 mils.
What do you have as a backup option?
Since the beginning of the COVID-19 pandemic, we have faced a shortage of personal protective clothing (PPE) in hospitals and other medical facilities.
Countries and huge entities attempted to investigate the other potential alternatives that could help them overcome this crisis.
Therefore, we should always have a second option if something goes wrong.
Below, we'll provide the information you need to select a backup choice for each application in different facilities.
What other alternatives for Gloveworks HD?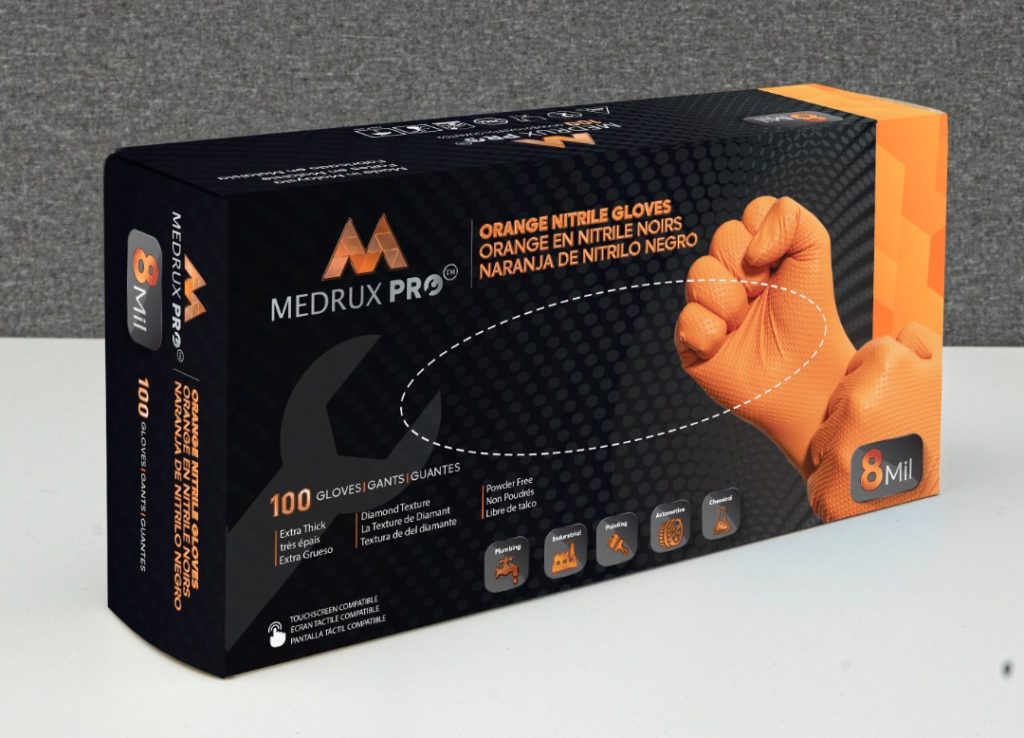 Matrix Pro Gloves are used in various sectors for a variety of purposes.
Choosing the best and safest glove will necessitate considering several aspects to determine which glove materials work best in your facility.
In the case of industrial gloves, disposable and reusable options are available.
⬇️⬇️
Click here to know more details on Medrux Pro Series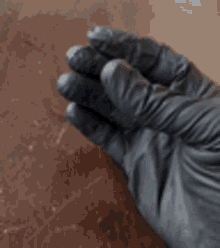 Other alternative glove materials you can consider
1. Chemical-resistant gloves
Polyvinyl Chloride (PVC) and Polyvinyl Alcohol (PVA) are two types of chemical-resistant gloves.
These gloves are too thin to protect you from cuts and abrasions while also protecting you from various chemicals.
What are the common uses of these gloves?
They could be used in maintenance, automotive, and plumbing.
What are their disadvantages?
If not thoroughly washed and dried after use, the most apparent problem might cause cross-contamination.
Bottom line: 
PVC and PVA are good alternatives for glove works HD if you use them properly.
2. Neoprene Gloves
These gloves are made of polychloroprene, a synthetic rubber that allows them to stretch without ruining their structure.
Neoprene gloves have excellent elastic properties and protective characteristics due to their manufacturing.
Because of its excellent tensile strength and high density, Neoprene gloves protect workers from abrasion and cuts.
They can be used as chemical-resistant gloves as well. However, this product has high resilience to heat and harsh weather.
As it happens, we can rely on waterproof neoprene gloves, which are often used for tasks such as carefully handling slippery or wet materials. This includes participation in water sports as well.
Furthermore, when the temperature drops dramatically in the winter, many workers use these gloves to keep their hands warm.
As nothing more than a way, they will not lose their hand flexibility while wearing them.
Bottom line:
Neoprene gloves are a good alternative for glove works HD as it offers protection from abrasions and chemicals, especially in the heat and harsh weather.
3. Spectra
It is a brand and unique material used mainly in the food processing industry, specifically when handling raw food, such as chicken, fish, and other meats.
These gloves can be bleached and cleaned multiple times before degrading, lasting for a decade or more.
4. Kevlar Gloves
These gloves are personal protection equipment (PPE) constructed of a durable synthetic fiber that protects workers from cuts, abrasions, and heat.
They're also lightweight, flexible, and pleasant to wear. They're frequently used in the automobile, steel, glass, and metal industries.
5. Fabric or Cotton Gloves
Fabric gloves are made of a fabric like cotton and polyester, which are common choices in various industries.
These gloves are thinner than typical work gloves, so they only provide limited protection against punctures, sharp objects, and hot surfaces.
But sometimes, they are used as liners inside more giant safety gloves to give merely modest heat and cold protection.
6. Leather Safety Gloves
Leather gloves are often considered fashionable, but they can also be incredibly beneficial in safety situations.
They give your hands an excellent grip while protecting your skin from fire sparks and sharp objects.
Therefore, many welding peruse leather gloves toce they protect their hands from intense heat.
The leather shields your hands from the friction of a rope sliding across your palms, another advantage of these gloves.
Because it is incredibly durable, these gloves are perfect for more demanding tasks.
Finally, one of the most common disadvantages of leather gloves is that they cause your hands to dry out. This is why putting a liner underneath is recommended.
7. Aluminized Gloves
Heat resistance is a significant property of these gloves.
They have a coating on the back of the hand and thumb that deflects heat away from workers when working in welding, foundries, or near high-heat furnaces and molten metal.
These gloves are also handy when working in freezing conditions.
A protective fabric on the palm region combined with aluminized textiles on the side and back of the glove is a fantastic combination for high-heat material handling.
In the end, there are two popular forms of aluminized combined gloves: Aluminized Carbon Kevlar Glove and Aluminized Rayon Glove.
8. Impact-Resistant Gloves:
Occupational exposure to prolonged vibrating hand tools causes hand-arm vibration syndrome (HAVS).
This syndrome affects the peripheral nerves of the hands and causes musculoskeletal problems to the wrists, forearms, and elbows (4).
For this reason, vibration-resistant gloves or impact-resistant gloves are aimed at helping reduce the effects of prolonged vibration on the hands.
These gloves are helpful for anyone who works with power tools or jackhammers.
Why?
Because their job is to absorb excess energy from tools or equipment, they are known as "energy absorbers."
Therefore, they're most commonly used in the fabrication sector, where workers are expected to use grinders for long periods.
They're also used in the construction and automotive industries to protect against the vibrations of pneumatic tools.
Final thoughts and conclusion
At the end of this article, we have provided you with a detailed guide for choosing suitable gloves with the best formulation for any application.
As previously stated, both disposable and reusable gloves have advantages and disadvantages.
First, most disposable gloves have a significant negative impact on the environment. As they are unrecyclable, millions pile up in landfills yearly.
Nitrile gloves can take decades to disintegrate(5), releasing acrylonitrile and butadiene into the environment.  As a result, they pollute the ecosystem.
Then reusable gloves, on the other hand, are far more efficient than disposable gloves.
They can be cleaned and reused over and over. In addition, when compared to disposable gloves, they are much more durable.
Last but not least, reusable gloves seem to be environmentally sustainable and eco-friendly. Since they are not discarded after being used but instead cleaned and stored until the next time they are needed.